Α Tool for Litigation Risk Analysis for Medical Liability Cases
---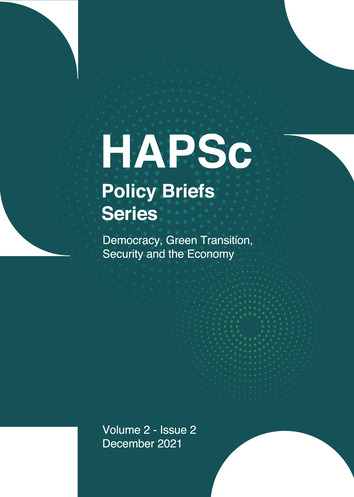 Δημοσιευμένα: Dec 29, 2021
Περίληψη
Mistakes in the context of medical care can occur anywhere in the healthcare system. On the one hand, the doctrinal uncertainties, which lie at the heart of the current medical liability system, combined with the inherent uncertainty of medical science and the human body's complexity, create an extremely "foggy" landscape. On the other hand, litigation is not always effective. Thus, it is essential to cope with the uncertainties in a reasoned way. This paper presents a tool for litigation risk analysis in medical liability cases which permits identification of the multiple uncertainties that will affect the potential outcome and the exploration of their interrelationships. The basic uses, purposes and features of the tool will be presented. In addition, its core advantages as well as and its aims, benefits and financial/social/scientific impact will be discussed.
Λεπτομέρειες άρθρου
Πώς να δημιουργήσετε Αναφορές

Vozikis, A., Panagiotou, A., & Karakolias, S. (2021). Α Tool for Litigation Risk Analysis for Medical Liability Cases. HAPSc Policy Briefs Series, 2(2), 268–277. https://doi.org/10.12681/hapscpbs.29514
Οι συγγραφείς των άρθρων που δημοσιεύονται στο περιοδικό διατηρούν τα δικαιώματα πνευματικής ιδιοκτησίας επί των άρθρων τους, δίνοντας στο περιοδικό το δικαίωμα της πρώτης δημοσίευσης. Άρθρα που δημοσιεύονται στο περιοδικό διατίθενται με άδεια Creative Commons 4.0 και σύμφωνα με την άδεια μπορούν να χρησιμοποιούνται ελεύθερα, με αναφορά στο/στη συγγραφέα και στην πρώτη δημοσίευση με δικαίωμα τροποποίησης μόνον με παρόμοια διανομή (αν αναμείξετε, τροποποιήσετε, ή δημιουργήσετε πάνω στο υλικό, πρέπει να διανείμετε τις δικές σας συνεισφορές υπό την ίδια άδεια όπως και το πρωτότυπο).
Λήψεις
Τα δεδομένα λήψης δεν είναι ακόμη διαθέσιμα.
Αναφορές
Baker, T. (2005). The Medical Malpractice Myth. Chicago: University of Chicago Press.
Bovbjerg, R.R. & Berenson, R.A. (2005). Surmounting Myths and Mindsets in Medical Malpractice. Washington, D.C.: Urban Institute.
Common Good Foundation (New York, NY) & Barringer, P. (2006).
Gitchell, R. L. & Plattner, A. (1997). Mediation: A Viable Alternative to Litigation for Medical Malpractice Cases. DePaul J. Health Care L., 2, 421.
Grad, F.P. (1986). "Medical Malpractice and the Crisis of Insurance Availability: The Waning Options", Case W. Res., 36, 1058-1221.
Hoffer, D. P. (1996). Decision Analysis as a Mediator's Tool. Harv. Negot. L. Rev., 1, 113.
Hope-European Hospital and Healthcare Federation (2012). Mediation in Healthcare. Brussels. Belgium: HOPE Publications.
Lewis & Roca LLP Lawyers (n.d.). Legal Risk Evaluation Services Using Decision Tree Analysis, Law from a Business Perspective.
Panagiotou, A. (2016). Clinical Guidelines as the fundamental criterion for the establishment of "Fault" in Medical Liability: Advantages, issues and proposals. Rostrum of Asclepius/Vima tou Asklipiou, 15(1), 27-59.
Riga, M., Vozikis, A., & Pollalis, Y. (2014). Medical Errors in Greece: An Economic Analysis of Compensations Awarded by Civil Courts (2000-2009). Open Journal of Applied Sciences, 4 (4), 168-175.
Victor M. (1985). The Proper Use of Decision Analysis to Assist Litigation Strategy, 40 BUS. LAWYER 617
Victor, M. B. (1990). Litigation Risk Analysis™ and ADR. Donovan
Leisure Newton & Irvine ADR Practice Book, ed. John H. Wilkinson. Wiley Law Publications.
Victor, M. B. (2014). Decision tree analysis: A means of reducing litigation uncertainty and facilitating good settlements. Ga. St. UL Rev., 31, 715.
Vliamos, S. & Hatzis, A. (2009). The Assessment of Compensatory Damages for Medical Error by the Greek Courts: An Economic Analysis, in: Baltas, N., & Brox, J.A. (eds.), The Global Economics of a Changing Environment. Waterloo, North Waterloo: Academic Press.
Vozikis, A. & Riga, M. (2008). Medical Errors in Greece: The Economic Perspective through the Awards of Administrative Courts. Journal of Society, Economy and Health, 2, 22-44.