From the Greek Revolution of 1821 to the Metapolitefsi: Historiographical Debates in Greece across Two Centuries
---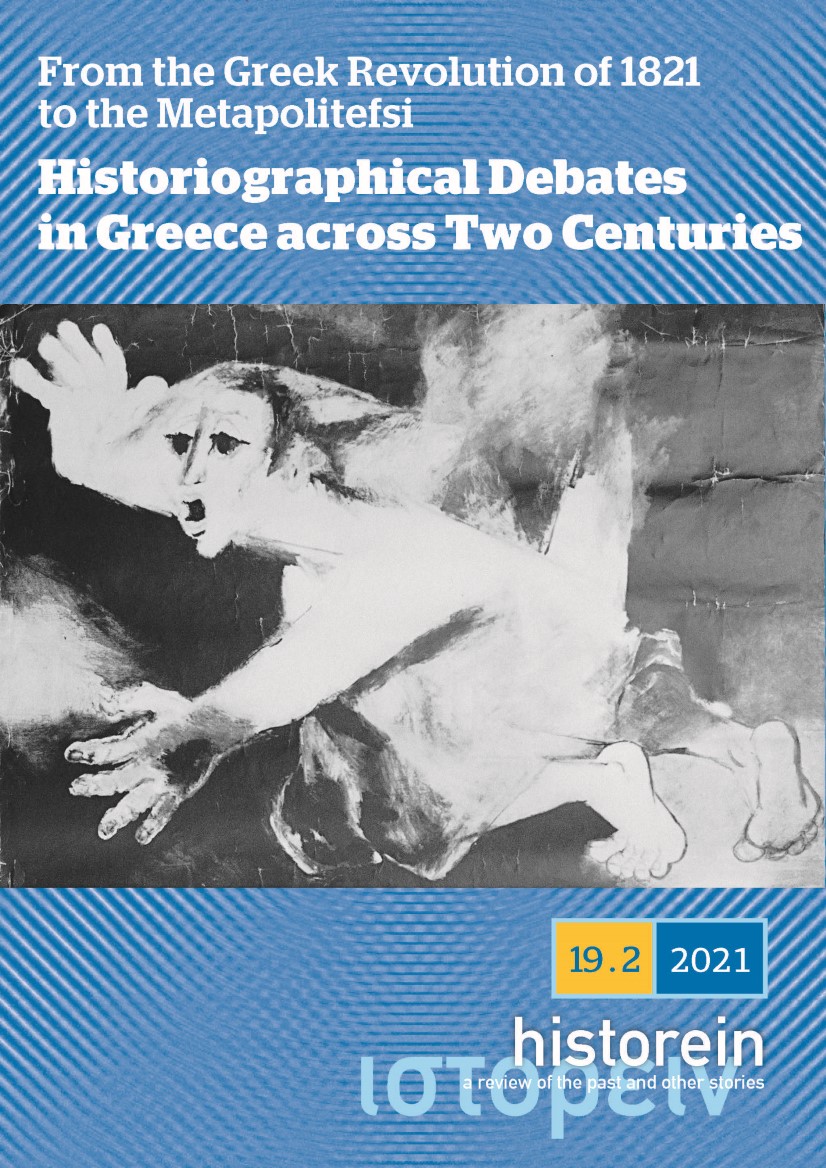 Published: Jul 6, 2021
Keywords:
Greek War of Independence modern Greek historiography
Abstract
Nowadays, with the celebration of the Greek state's bicentennial, the exploration of how the national past was debated, historicised and narrated through historiographical and political means holds an interesting position: by examining how certain pasts entered the national canon, how events and figures were pantheonised, and how history and memory wars were conducted, we may be able to assess why and how nation-states commemorate themselves and formulate narratives about the shared past. Using the past as a symbolic resource, the agents of political and social power seek to provide the definitive version of how and why did we arrive at the present. Simultaneously, these official versions of the past are constantly contested by opposing social forces, which frequently manage to have their versions merge with, incorporated into or stand alongside those of their opponents. It is through these procedures, namely historiographical debates such as these explored in this issue of Historein, that the past turns into history.
Article Details
How to Cite

Karamanolakis, V., & Triantafyllou, C. (2021). From the Greek Revolution of 1821 to the Metapolitefsi: Historiographical Debates in Greece across Two Centuries. Historein, 19(2). https://doi.org/10.12681/historein.25634
This work is licensed under a Creative Commons Attribution-NonCommercial-ShareAlike 4.0 International License.
The copyright for articles in this journal is retained by the author(s), with first publication rights granted to the journal. By virtue of their appearance in this open access journal, articles are free to use (with the exception of the non-granted right to make derivative works) with proper attribution for non-commercial uses (licence
Creative Commons 4.0
). EKT/NHRF retains the worldwide right to reproduce, display, distribute, and use articles published in
Historein
in all formats and media, either separately or as part of collective works for the full term of copyright. This includes but is not limited to the right to publish articles in an issue of the Journal, copy and distribute individual reprints of the articles, authorize reproduction of articles in their entirety in another EKT/NHRF publication, and authorize reproduction and distribution of articles or abstracts thereof by means of computerized retrieval systems.
Downloads
Download data is not yet available.