The Search for an Exit from the Dictatorship and the Transformation of Greek Conservatism, 1967-1974
---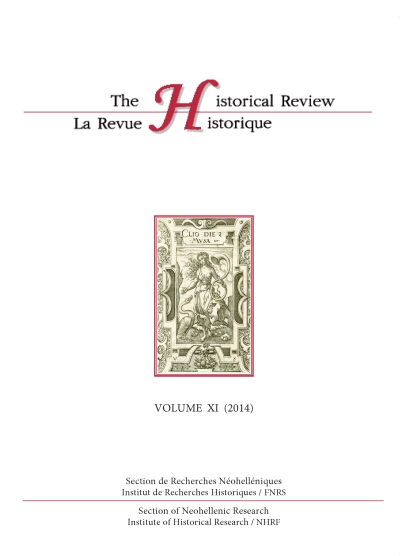 Abstract
The purpose of this paper is to examine the process of transformation of Greek conservatism that evolved during the dictatorship from a current identified with the restrictive practices of the post-Civil War political system to a tenet of the democratic regime established in 1974. The realization that the military coup was not just the manifestation of anti-communism, the dominant ideology of the post-Civil War period, but also of an anti-parliamentary spirit permeating the armed forces, the prolongation of military rule that led to the crystallization of differences between the military regime and the conservative political class and an apprehension that the dictatorship might fuel uncontrollable social and political polarization are three inter-related factors that explain this transformation.
Article Details
How to Cite

Rizas, S. (2014). The Search for an Exit from the Dictatorship and the Transformation of Greek Conservatism, 1967-1974. The Historical Review/La Revue Historique, 11, 9–30. https://doi.org/10.12681/hr.331
The copyright for articles in this journal is retained by the author(s), with first publication rights granted to the journal. By virtue of their appearance in this open access journal, articles are free to use with proper attribution in educational and other non-commercial sectors. The Historical Review/La Revue Historique retains the right to publish papers that appear in the journal in collective volumes published by the Institute for Neohellenic Research/National Hellenic Research Foundation.
Sample acknowledgement: Reprinted with permission from the author. Original publication in the The Historical Review/La Revue Historique www.historicalreview.org
This work is licensed under a Creative Commons Attribution-NonCommercial-ShareAlike 4.0 Greece License. To view a copy of this license, visit http://creativecommons.org/licenses/by-nc-sa/4.0/ or send a letter to Creative Commons, 543 Howard Street, 5th Floor, San Francisco, California, 94105, USA
Downloads
Download data is not yet available.
References
Constantinos Svolopoulos (ed.), Κωνσταντίνος Καραμανλής. Αρχείο, γεγονότα και κείμενα [Constantinos Karamanlis: Archive, facts and texts], Vol. VII, Athens: Ekdotiki Athinon, 1995

Dionysios Alikaniotis (ed.), Κείμενα Παναγιώτη Κανελλόπουλου από τον αγώνα του κατά της δικτατορίας, 1967-1974 [Panayotis Kanellopoulos' texts from his struggle against the dictatorship, 1967-1974], Athens: Society of the Friends of Panayotis Kanellopoulos, 1987

James E. Miller (ed.), Foreign Relations of the United States, 1964-1968, Vol. XVI, Washington, DC, 2000

Leonidas Papagos, Σημειώσεις, 1967-1977 [Notes, 1967-1977], Athens: Goulandris Horn Foundation, 1999

Nicos Alivizatos, Οι πολιτικοί θεσμοί σε κρίση. Όψεις της ελληνικής εμπειρίας, 1922-1974 [Political institutions in crisis: Aspects of Greece's experience, 1922-1974], Athens: Themelio, 1984

Serge Berstein and Jean-Pierre Rioux, The Cambridge History of Modern France: The Pompidou Years, 1969-1974, Cambridge: Cambridge University Press, 2000

Evanthis Hatzivassiliou, Ο ελληνικός φιλελευθερισμός. Το ριζοσπαστικό ρεύμα, 1932-1979 [Greek liberalism: The radical current, 1932-1979], Athens: Patakis, 2010

Theodoros Couloumbis, John Petropoulos and Harry J. Psomiades, Foreign Interference in Greek Politics: An Historical Perspective, New York: Pella, 1976

Theodore Couloumbis, …71 …74. Σημειώσεις ενός πανεπιστημιακού [...71 ...74: Notes of a professor], Athens: Patakis, 2002

Samuel Huntington, Political Order in Changing Societies, New Haven: Yale University Press, 1968

Spyros Markezinis, Αναμνήσεις, 1972-1974 [Memoirs, 1972-1974], Athens: Spyros Markezinis Publications, 1979

Constantinos Tsatsos, Λογοδοσία μιας ζωής [Accounting for a life], Athens: Publications of the Friends, 2000, Vol. II

Sotiris Rizas, Οι Ηνωμένες Πολιτείες, η δικτατορία των συνταγματαρχών και το Κυπριακό ζήτημα, 1967-1974 [The United States, the dictatorship of the colonels and the Cyprus Question, 1967-1974], Athens: Patakis, 2002

Laurie Van Hook (ed.), Foreign Relations of the United States, 1969-1976, Vol. XXX, Washington, DC, 2000

Stavros Psycharis, Τα παρασκήνια της αλλαγής [The background of change], Athens: Papazisis Publications, 1976