Acute hypoadrenocorticism (adrenal crisis) in the dog: a report on six clinical cases
---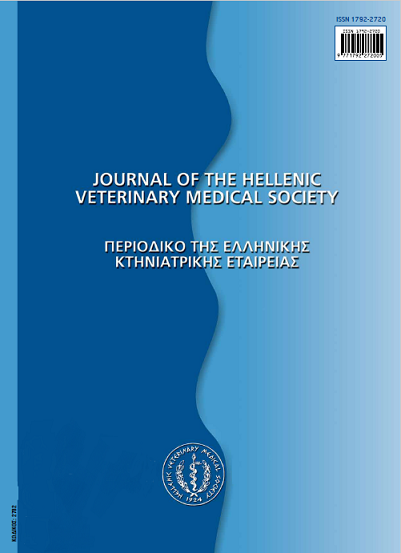 Published: Nov 10, 2017
Keywords:
acute hypoadrenocorticism emergency treatment ACTH stimulation test maintenance treatment
Abstract
Medical records of six dogs admitted with acute hypoadrenocorticism were reviewed. All 6 animals were bradycardic and had prolonged capillary refilling time. Hypothermia was detected in 5/6 animals. Clinicopathological evaluation on admission revealed anemia (3/6 dogs), increased (2/6) and normal (2/6) lymphocyte and eosinophil counts, azotemia and hyperkalemia (6/6), hyponatremia, in 5/6 dogs in which sodium was measured with a sodium (Na) : potassium (K) ratio lower than 24, hypoglycemia (2/6) and hypercalcemia, hypocholosterolemia, increased serum alkaline phosphatase and alaninoaminotransferase activities, one dog each. Urine specific gravity was lower than 1025 in 4 dogs. Thoracic radiographs and abdominal ultrasonography disclosed microcardia (2/6), pleural effusion (2/6) and ascites (1/6). Two dogs (2/6), also, presented atrial standstill or atrioventricular block, detected on electrocardiograms. In all 6 animals emergency treatment included the use of intravenous normal saline and glucocorticoids (dexamethasone) immediately after the completion of an ACTH stimulation test with tetracosactide. Two dogs died, one during the 1st day and the other on the 4th day of hospitalization, the latter after the sudden appearance of severe hemorrhagic gastroenteritis. Hospitalization time in the remaining 4 dogs ranged from 3 to 10 days. Prolongation of hospitalization was associated with worsening of anemia, hypoalbuminemia, neurologic complications and non-responsive azotemia. Four dogs (4/6) were discharged on oral prednisolone and fluodrocortisone, but one died after a week for unknown reasons. Acute hypoadrenocorticism is a life threatening condition requiring emergency treatment for a successful outcome. Its inclusion in the differential diagnosis of canine emergencies, presented with acute weakness and gastrointestinal signs, is mandatory, but for its confirmation a complete laboratory and, most importantly, an ACTH stimulation test are always required.
Article Details
How to Cite

KASABALIS (Δ. ΚΑΣΑΜΠΑΛΗΣ) D., SOUBASIS (Ν. ΣΟΥΜΠΑΣΗΣ) N., PARDALI (Δ. ΠΑΡΔΑΛΗ) D., SAVAS (Ι. ΣΑΒΒΑΣ) I., PAVLIDOU (Κ. ΠΑΥΛΙΔΟΥ) K., PETANIDES (Θ.Α. ΠΕΤΑΝΙΔΗΣ) T. Α., PAPADIMITRIOU (Δ. ΠΑΠΑΔΗΜΗΤΡΙΟΥ) D., VARLAMI (Β. ΒΑΡΛΑΜΗ) V., & KOUTINAS (Α. ΚΟΥΤΙΝΑΣ) A. (2017). Acute hypoadrenocorticism (adrenal crisis) in the dog: a report on six clinical cases. Journal of the Hellenic Veterinary Medical Society, 62(1), 13–20. https://doi.org/10.12681/jhvms.14829
Authors who publish with this journal agree to the following terms:
· Authors retain copyright and grant the journal right of first publication with the work simultaneously licensed under a Creative Commons Attribution Non-Commercial License that allows others to share the work with an acknowledgement of the work's authorship and initial publication in this journal.
· Authors are able to enter into separate, additional contractual arrangements for the non-exclusive distribution of the journal's published version of the work (e.g. post it to an institutional repository or publish it in a book), with an acknowledgement of its initial publication in this journal.
· Authors are permitted and encouraged to post their work online (preferably in institutional repositories or on their website) prior to and during the submission process, as it can lead to productive exchanges, as well as earlier and greater citation of published work.
Downloads
Download data is not yet available.
References
Adamantos S, Boag A (2008) Total and ionized calcium concentrations in dogs with hypoadrenocorticism. Vet Ree 163:25-26.
Adler JA, Drobatz KJ, Hess RS (2007) Abnormalities of serum electrolyte concentrations in dogs with hypoadrenocorticism. J Vet Intern Med 21:1168-1173.
Boujon CE, Bornard-Jaunin V, Scharer V, Rossi GL, Bestetti GE (1994) Pituitary gland changes in canine hypoadrenocorticism: a functional and immunocytochemical study. J Comp Pathol 111:287-295.
Boyssen SR (2008) Fluid and electrolyte therapy in endocrine disorders: diabetes mellitus and hypoadrenocorticism. Vet Clin North Am Small Anim Pract 38:699-717.
Churcher RK, Watson ADJ, Eaton A (1999) Suspected myelinolysis following rapid correction of hyponatremia in a dog. J Am Anim Hosp Assoc 35:493-497.
Elliott J, Dobson JM, Dunn JK, Herrtage ME, Jackson KF (1991) Hypercalcemia in the dog: a preliminary study of 40 cases. J Small Anim Pract 32:564-571.
Feldman EC, Nelson RW (2004) Hypoadrenocorticism In: Canine and Feline Endocrinology. 3rd ed Saunders WB St. Louis pp 394-439.
Gow AG, Gow DJ, Bell R, Simpson JW, Chandler ML, Evans H, Berry JL, Herrtage ME, Mellanby RJ (2009) Calcium metabolism in eight dogs with hypoadrenocorticism. J Small Anim Pract 50:426- 430.
Greco DS (2007) Hypoadrenocorticism in small animals. Clin Tech Small Anim Pract 22:32-35.
Hughes AM, Nelson RW, Famula TR, Bannasch DL (2007) Clinical features and heritability of hypoadrenocorticism in Nova Scotia Duck Tolling Retrievers: 25 cases. J Am Vet Med Assoc 231:407-412.
Kelch WJ, Smith CA, Lynn RC, Carin SA, New JC (1996) Canine hypoadrenocorticism (Addison's disease). Comp Cont Educ Pract Vet 20:921-934.
Kintzer PP, Peterson ME (1997) Treatment and long term follow-up of 205 dogs with hypoadrenocorticism. J Vet Intern Med 11:43-49. Klein SC, Paterson ME (2010a) Canine hypoadrenocorticism: Part I. Can Vet J 51:63-69.
Klein SC, Paterson ME (2010b) Canine hypoadrenocorticism: Part II. Can Vet J 51:179-184.
Lane IF, Matwichuk CL, Carpenter LG, Behrend EN (1999) Profound post-anaesthetic hypoglycemia attributable to glucocorticoid deficiency in 2 dogs. Can Vet J 40:497-500.
Langlais-Burgess L, Lumsden JH, Mackin A (1995) Concurrent hypoadrenocorticism and hypoalbuminemia in dogs: A retrospective study. J Am Anim Hosp Assoc 31:307-311.
Lathan P, Tyler J (2005a) Canine Hypoadrenocorticism: Pathogenesis and clinical features. Comp Cont Educ Pract Vet 27:121-131.
Lathan P, Tyler J (2005b) Canine Hypoadrenocorticism: Diagnosis and treatment. Comp Cont Educ Pract Vet 27:110-120.
MacMillan KL (2003) Neurologic complications following treatment of canine hypoadrenocorticism. Can Vet J 44:490-492.
Medinger TL, Williams DA, Bruyette DS (1993) Severe gastrointestinal hemorrhage in three dogs with hypoadrenocorticism. J Am Vet Med Assoc 202:1869-1872.
Meeking S (2007) Treatment of acute adrenal insufficiency. Clin Tech Small Anim Pract 22:36-39.
Mellian C, Peterson ME (1996) Diagnosis and treatment of naturally occurring hypoadrenocorticism in 42 dogs. J Small Anim Pract 37:268-275.
Mellian C, Peterson ME (1999) Radiographic findings in dogs with naturally occurring primary hypoadrenocorticism. J Am Anim Hosp Assoc 35:208-212.
Milenkovic A, Markovic D, Zdravkovic D, Peric T, Milenkovic T, Vukovic R (2010) Adrenal crisis provoked by dental infection: a case report and review of the literature. Oral Surg Oral Med Oral Pathol Oral Radiol Endod 110:325-329.
Nieger R, Ramsey I, O'Connor J, Hurley KJ, Mooney CT (2002) Trilostane treatment of 78 dogs with pituitary dependent hyperadrenocorticism 150:799-804.
Nielsen L, Bell R, Zoia A, MEllor DJ, Neiger R, Ramsey I (2008) Low ratios of sodium to potassium in the serum of 238 dogs. Vet Ree 162: 431-435.
Peterson ME, Kintzer PP, Kass PH (1996) Pre-treatment clinical and laboratory findings in dogs with hypoadrenocorticism: 225 cases (1979-1993). J Am Vet Med Assoc 208:85-91.
Ramsey IK, Tebb A, Harris E, Evans H, Herrtage ME (2005) Hyperparathyroidism in dogs with hyperadrenocorticism. J Small Anim Pract 46:531-536.
Roth L, Tyler RD (1999) Evaluation of low sodium : potassium ratios in dogs. J Vet Diagn Invest 11:60-64.
Schaer M (2001) The treatment of acute adrenal insufficiency in the dog. J Vet Emerg Crit Care 11:7-14.
Scott-Moncrief (2010) Hypoadrenocorticism In: Textbook of Veterinary Internal Medicine 7th ed, WB Saunders St. Louis pp 1847-1856.
Son-Il Pak (2000) The clinical implication of sodium-potassium ratios in dogs. J Vet Sci 1:61-65.
Tag LT, Day TK (2008) Electrocardiographic assessment of hyperkalemia in dogs and cats J Vet Emerg Crit Care 18:61-67.
Willard MD, Schall WD, McMaw DE, Nachreiner RF (1982