Ultrasonographic diagnosis of pregnancy in the mare
---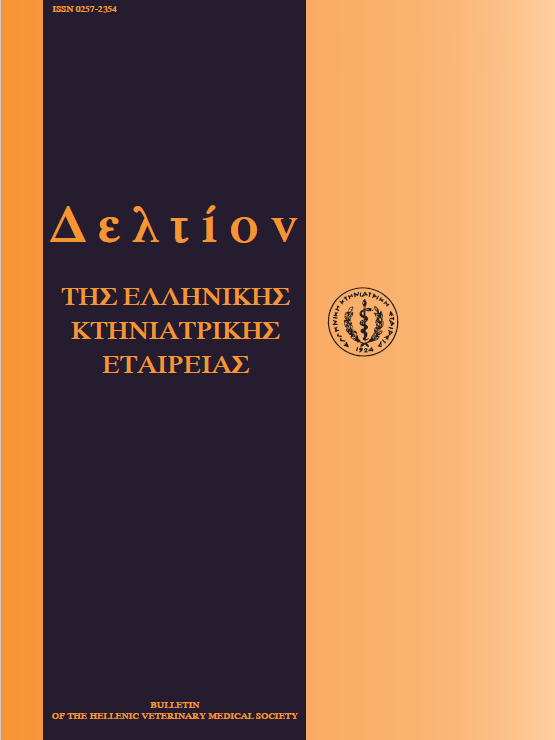 Abstract
The ultrasonographic examination of the uterus makes early pregnancy diagnosis in the mare possible by day 9 (day 0: day of ovulation). After a brief description of the examination procedure and a report on some anatomical and embryological features of the horse, the ultrasonographic findings at different stages of pregnancy, as well as those of twin pregnancy are described. Pregnancy findings are differentiated from pathological ones. Finally, the method is evaluated based on its advantages and disadvantages.
Article Details
How to Cite

YPSILANTIS (Π. ΥΨΗΛΑΝΤΗΣ) P. (2018). Ultrasonographic diagnosis of pregnancy in the mare. Journal of the Hellenic Veterinary Medical Society, 52(4), 308–316. https://doi.org/10.12681/jhvms.15463
Authors who publish with this journal agree to the following terms:
· Authors retain copyright and grant the journal right of first publication with the work simultaneously licensed under a Creative Commons Attribution Non-Commercial License that allows others to share the work with an acknowledgement of the work's authorship and initial publication in this journal.
· Authors are able to enter into separate, additional contractual arrangements for the non-exclusive distribution of the journal's published version of the work (e.g. post it to an institutional repository or publish it in a book), with an acknowledgement of its initial publication in this journal.
· Authors are permitted and encouraged to post their work online (preferably in institutional repositories or on their website) prior to and during the submission process, as it can lead to productive exchanges, as well as earlier and greater citation of published work.
Downloads
Download data is not yet available.
References
White Ι, Rüssel A, Wright Ι. Whyte Τ. Real-time ultrasonic scanning in the diagnosis of pregnancy and the estimation of gestational age in cattle. Vet Ree 1985,117: 5-8
Irie M, Ohmoto K, Kumaga S. Diagnosis of pregnancy in pigs by real time ultrasonic B-mode scan. Jap J Zootech Sci 1984, 55: 381-388
White I, Rüssel A, Fowler D. Real-time ultrasonic scanning in the diagnosis of pregnancy and the determination of fetal numbers in sheep. Vet Ree 1984,115:140-143
Buckrell B. Applications of ultrasonography in reproduction in sheep and goats. Theriogenology 1988,29: 71-84
Bondestam S, Aitalo I, Karkkainen M. Real-time ultrasound pregnancy diagnosis in the bitch. J Small Anim Pract 1983, 24:145-151
Davidson A, Nyland T, Tsutsui T. Pregnancy diagnosis with ultrasound in the domestic cat. Vet Radiol 1986,27:109-114
Ypsilantis P, Saratsis Ph. Early pregnancy diagnosis in the rabbit by real time ultrasonography. World Rabbit Science 1999,7(2): 95-99
Simpson D, Greenwood R, Ricketts S, Rossdale P, Sanderson M, Allen W. Use of ultrasound echography for early diagnosis of single and twin pregnancy in the mare. J Reprod Fertil 1982, Suppl 32: 431-439
Μιχαήλ Σ. Συγκριτική ανατομική των κατοικίδιων θηλαστικών. 2η έκδοση. Υπηρεσία Δημοσιευμάτων ΑΠΘ. Θεσσαλονίκη 1985:594
Ginther Ο, Pierson R. Ultrasonic anatomy and pathology of the equine uterus. Theriogenology 1984,21: 505-514
Adams G. Ultrasonographic examination of the mare's reproductive tract. In : Robinson Ν (ed) Current Therapy in Equine Medicine 3. W.B.Saunders Co, Philadelphia, 1992, p. 648-656
Ginther Ο. Mobility of the early equine conceptus. Theriogenology 1983,19: 603-611
Leith G, Ginther O. Characterization of intrauterine mobility of the early equine conceptus. Theriogenology 1984,22: 401- 408
Ginther O. Ultrasonic imaging and reproductive events in the mare. Verlag Equiservises, Cross Plains, Wisconsin, USA, 1986
Kahn W, Leidl W. Die Ultraschalldiagnostik (Echographie) in der gynäkologischen Untersuchung der Stute. Tierartz Prax 1984,12: 203-210
Ginther O. Fixation and orientation of the early equine conceptus. Theriogenology 1983,19: 613-623
Ginther O. Ultrasonic evaluation of the reproductive tract of the mare: The single embryo. J Equine Vet Sci 1984,4: 75-81
McKinnon A, Voss J, Squires E, Carnevale. Diagnostic Ultrasonography. In: McKinnon AO and Voss JL (eds) Equine Reproduction. Lea and Febiger, Philadelphia, London, 1993, p. 266-302
Valon F, Segard F, Chaff aux S. Echotomographie en temps reel de l'utérus chez la jument. Bull Acad Vet Fr 1982, 55: 187-211
Kahn W. Veterinary Reproductive Ultrasonography. Mosby-Wolfe, London, 1994, p. 11-82
McKinnon A, Squires E, Pickett Β. Equine reproductive ultrasonography. Animal Reproduction Laboratory, Bulletin No 04. Fort Collins, Colorado State University, 1988
Kahn W, Leidl W. Die Ultraschall-Biometrie von Pferdenfeten in utero und die sonographische Darstellung ihrer Organe. Dtsch tierarztl Wschr 1987,94: 509-515
Ginther O, Douglas R. The outcome of twin pregnancies in mares. Theriogenology 1982,18: 237-244
Ginther O. Twinning in mares: a review of recent studies. J Equine Vet Sci 1982,2:127-135
Hughes J, Stabenfeldt G, Evans J. Clinical and endocrine aspects of the estrous cycle of the mare. Proc Am Assoc Equine Pract 1972,119-151
Simpson D, Greenwood R, Ricketts S, Rossdale P. Use of ultrasound echography for early diagnosis of single and twin pregnancy in the mare. J Reprod Fertil 1982, Suppl 32:431-439
McKinnon A. Diagnosis of pregnancy. In: McKinnon AO and Voss JL (eds) Equine Reproduction. Lea and Febiger, Philadelphia, London, 1993, p.501-508
Squires E, Voss J, Villahoz M, Shideler R. Use of ultrasound in broodmare reproduction. Proc Am Assoc Equine Pract 1983,27-43
Ginther O, Bergrfelt D, Leith G, Scraba S. Embryonic loss in mares: incidence and ultrasonic morphology. Theriogenology 1985,24:73-86
Woods G, Baker C. Hillman R. Schlafer D. Recent studies relating to early embryonic death in the mare. Equine Vet J 1985, Suppl 3:104-107