Quality policy in the veterinary diagnostic laboratory; the paradigm of application of Good Laboratory Practice
---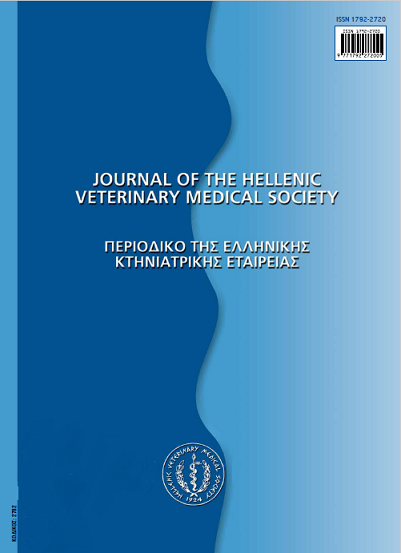 Published: Dec 21, 2017
Keywords:
quality standard operating procedure (SOP) veterinary laboratory
Abstract
A quality system such as the Good Laboratory Practice (GLP) in a veterinary diagnostic laboratory is concerned with the organizational Nprocess and the conditions under which laboratory work is planned, performed, monitored, recorded, archived and reported. The key persons for applying a quality system are the Management (provides resources), the Director (overall responsibility for the technical conduct of analyses Nand for the interpretation, analysis and reporting of results) and the Quality Assurance Person (inspects operational phases and audits documents for the purpose of assuring management that the facilities, equipment, personnel, methods, practices, records and controls are in conformance not only with applicable rules and regulations but also with Standard Operating Procedures and Laboratory Protocols). Furthermore, the Standard Operating Procedures (SOPs) that govern all aspects of daily activities at the laboratory are an essential foundation for the production of reliable data as they, by definition, describe how to perform certain routine laboratory tests or activities. The standardization of methods used for a series of critical phases, such as storage and processing of samples is required in order to eliminate systematic errors and to improve the precision, specificity and long-range stability of laboratory performance.
The correct identification of all samples needs to be systematically checked. For the validation of methods used, particularly in the absence of chemical standards it is helpful to employ inter- and mainly intra laboratory controls. Finally, the disposal of chemical substances and thesafety of the personnel are also of vital interest. All these principles are applicable to a veterinary diagnostic laboratory in order to promote the quality and validity of the data with ultimate goal the contribution to a reliable diagnosis.
Article Details
How to Cite

ATHANASIOU (Λ.Β. ΑΘΑΝΑΣΙΟΥ) L. V. (2017). Quality policy in the veterinary diagnostic laboratory; the paradigm of application of Good Laboratory Practice. Journal of the Hellenic Veterinary Medical Society, 65(3), 139–148. https://doi.org/10.12681/jhvms.15528
Authors who publish with this journal agree to the following terms:
· Authors retain copyright and grant the journal right of first publication with the work simultaneously licensed under a Creative Commons Attribution Non-Commercial License that allows others to share the work with an acknowledgement of the work's authorship and initial publication in this journal.
· Authors are able to enter into separate, additional contractual arrangements for the non-exclusive distribution of the journal's published version of the work (e.g. post it to an institutional repository or publish it in a book), with an acknowledgement of its initial publication in this journal.
· Authors are permitted and encouraged to post their work online (preferably in institutional repositories or on their website) prior to and during the submission process, as it can lead to productive exchanges, as well as earlier and greater citation of published work.
Downloads
Download data is not yet available.
References
Allen LC (2013) Role of a quality management system in improving patient safety - laboratory aspects. Clin Biochem 46:1187-1193.
Bennett G, Evans J, Roadcap N (1988) The human element of quality assurance, Good Laboratory Practices: An Agrochemical Perspective, ACS Symposium Series No 369.
Caporale V, Nannini D, Ricci L (1998) Quality assurance in veterinary diagnostic laboratories. Rev Sci Tech 17: 459-468.
Ezzelle J, Rodriguez-Chavez IR, Darden JM, Stirewalt M, Kunwar N, Hitchcock R, Walter T, D'Souza MP (2008) Guidelines on good clinical laboratory practice: bridging operations between research and clinical research laboratories. J Pharm Biomed Anal 46:18-29.
Flatland B, Freeman KP, Friedrichs KR, Vap LM, Getzy KM, Evans EW, Harr KE (2010) ASVCP quality assurance guidelines: control of general analytical factors in veterinary laboratories. Vet Clin Pathol 39:264-277.
Flatland B (2012) Veterinary laboratory quality management--it takes a village. Vet Clin Pathol 41:171-173.
Flatland B, Freeman KP, Vap LM, Harr KE (2013) ASVCP guidelines: quality assurance for point-of-care testing in veterinary medicine. Vet Clin Pathol 42:405-423.
Freeman KP, Bauer N, Jensen AL, Thoresen S (2006) Introduction to ISO 15189: a blueprint for quality systems in veterinary laboratories. Vet Clin Pathol 35:157-171.
Freeman KP, Gruenwaldt J (1999) Quality control validation in veterinary laboratories. Vet Clin Pathol 28:150-155.
Gunn-Christie RG, Flatland B, Friedrichs, Szladovits B, Harr KE, Ruotsalo K, Knoll JS, Wamsley HL, Freeman KP (2012)
ASVCP quality assurance guidelines: control of preanalytical, analytical, and postanalytical factors for urinalysis, cytology, and clinical chemistry in veterinary laboratories. Vet Clin Pathol 41:18-26.
Harr KE, Flatland B, Nabity M, Freeman KP (2013) ASVCP guidelines: allowable total error guidelines for biochemistry. Vet Clin Pathol 42: 424-436.
Hendriks R, Van den Eynde H, Coussement W (2008) Responsibilities of test facility management and sponsor in a GLP environment. Annali dell'Istituto superiore di sanita 44:407-408.
Kilinc C (2009) Laboratory quality management systems: missions, goals and activities in quality assurance. Clin Biochem 42:301-302.
Lindgren V (2008) To err is human; to follow the SOP divine. Int J Cancer 123: 979-980.
Plebani M, Chiozza ML, Sciacovelli L (2013) Towards harmonization of quality indicators in laboratory medicine. Clin Chem Lab Med 51:187-195.
Sacchini F, Freeman KP (2008) Quality documentation challenges for veterinary clinical pathology laboratories. J Vet Diagn Invest 20:266-273.
Schneider, K (1983). Faking it. The case against Industrial Bio- Test Laboratories. Amicus Journal (Natural Resources Defense Council) 14-26.
Vap LM, Harr KE, Arnold JE, Freeman KP, Getzy K, Lester S, Friedrichs KR (2012) ASVCP quality assurance guidelines: control of preanalytical and analytical factors for hematology for mammalian and nonmammalian species, hemostasis, and crossmatching in veterinary laboratories. Vet Clin Pathol 41: 8-17.
Wiegers AL (2002) The age of competence: an update on the international laboratory accreditation scene for veterinary testing laboratories. J Vet Diagn Invest 14: 89-96.
Wiegers AL (2003) Valid methods: the quality assurance of test method development, validation, approval, and transfer for veterinary testing laboratories. J Vet Diagn Invest 15:303-310.