Case report of urinary tract infection in sows of a commercial pig unit
---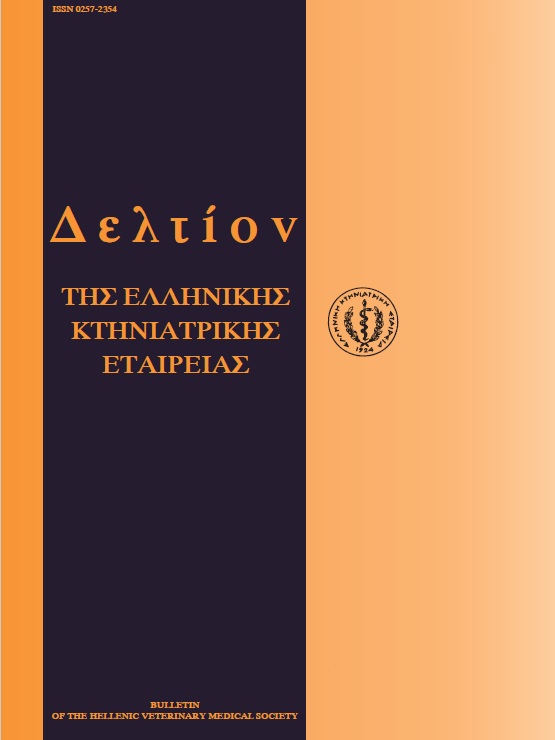 Abstract
In this paper, a case of urinary tract infection in sows of a commercial pig unit is presented for the first time in Greece. Within a period of one year, 21 cases of specific infection were recorded, representing 5.8% of the farrowings in the farm. The symptoms were obvious around the 3rd to 4th week post mating and were keeping on for 2 to 7 days. Anorexia, thirst, blood in the urine and subsequent death or survival with gradual loss of body condition were the main findings. A significant correlation between the number of sows that died, and the number of sows showing anorexia (p<0,05), or showing hypothermia (p<0,05) was observed. The average number of live born piglets at the last parturition compared to the respective figure during the previous parturitions was markedly reduced (p<0,05). The findings of microscopic and biochemical examination of the urine were indicative of infection, while biochemical examinations of blood samples of diseased sows have shown significantly increased urea (BUN) and creatinine levels (p<0,05). Bacteriological culture of urine samples have shown the presence of increased numbers of bacteria (>106/ml) such as Escherichia coli and Actinomyces suis in almost all ill sows. It is concluded that porcine urinary tract infections may cause serious problems for pig enterprises as may be directly correlated with reproductive performance and viability of the sows.
Article Details
How to Cite

SAOULIDIS (Κ. ΣΑΟΥΛΙΔΗΣ) K., KRITAS (Σ.Κ. ΚΡΗΤΑΣ) S. K., SARRIS (Κ. ΣΑΡΡΗΣ) K., ROUBIES (Ν. ΡΟΥΜΠΙΕΣ) N., & KYRIAKIS (Σ.K. ΚΥΡΙΑΚΗΣ) S. C. (2018). Case report of urinary tract infection in sows of a commercial pig unit. Journal of the Hellenic Veterinary Medical Society, 51(4), 272–276. https://doi.org/10.12681/jhvms.15685
Section
Research Articles
This work is licensed under a Creative Commons Attribution-NonCommercial 4.0 International License.
Authors who publish with this journal agree to the following terms:
· Authors retain copyright and grant the journal right of first publication with the work simultaneously licensed under a Creative Commons Attribution Non-Commercial License that allows others to share the work with an acknowledgement of the work's authorship and initial publication in this journal.
· Authors are able to enter into separate, additional contractual arrangements for the non-exclusive distribution of the journal's published version of the work (e.g. post it to an institutional repository or publish it in a book), with an acknowledgement of its initial publication in this journal.
· Authors are permitted and encouraged to post their work online (preferably in institutional repositories or on their website) prior to and during the submission process, as it can lead to productive exchanges, as well as earlier and greater citation of published work.
Downloads
Download data is not yet available.
References
Berner Η. Untersuchungen zum Vorkommen von Harnwegsinfektionen beim Schwein. 1. Mitteilung: Harnwegsinfektionen bei Muttersauen in Ferkelerzeugerbetrieben. Tierarztl Umsch 1981, 36:162-171
Berner H. Untersuchungen zum Vorkommen von Harnwegsinfektionen bei Muttersauen. 2. Mitteilung: Harnwegsinfektionen bei Schlachtschweinen. Tierarztl
Busse FW, Moller K, Both G, Commichau C. Zur Frage der Beziehungen zwischen Fruchtbarkeitsstorungen und Harnwegsinfektionen beim Schwein. 3. Mitteilung: Keimspektrum und Sensibilität gegen Antibiotika. Tierarztl Umsch 1982,37: 703-710
Carr J, Walton R. Bacterial flora of the urinary tract of pigs associated with cystitis and pyelonephritis. Vet Ree 1993,132: 575-577
Wendt M. Urinary system disorders of pigs. Proc. 15th International Pig Veterinary Society Congress, Birmingham, England 1998 1:195-201
Soltys MA, Spratling FR. Infectious cystitis and pyelonephritis of pigs: a preliminary communication. Vet Ree 1957,69: 500-504
Jones JET. Corynebacterium suis infection in pigs. Proc. 5th International Pig Veterinary Society Congress, Zagreb, Yugoslavia, 1978, M22
Jones JET, Dagnall GJR. The carriage of Coryneb acter ium suis in male pigs. J Hyg Camb 1984,93: 381-388
Pijoan C, Lastra A, Leman A. Isolation of Coryneb act er ium suis from the prepuce of the boars. J Am Vet Med Assoc 1983,183,428-429
Dee SA, Carlson AR, Corey MM. New observations on the epidemiology of Eubacterium suis. Comp Cont Educ Prac Vet, 1993,15:345-348
Carr J, Walton R, Done S. Cystitis and pyelonephritis in the sow. In Practice 1995,17: 71-79
Wendt M, Vesper C. Occurrence of Eubacterium suis in breeding herds. Proc. 12th International Pig Veterinary Society Congress, The Hague, The Netherlands, 1992,349
Wendt M, Liebhold M, Drommer W. Scanning electron microscopy of bladder epithelium with emphasis to Eubacterium suis infection. Proc. 12th International Pig
Veterinary Society Congress, The Hague, The Netherlands,1992,350
Jones JET. Cystitis and pyelonephritis associated with Corynebacterium suis infection in sows. Vet Ann 1984, 24: 138-142
Sobestiansky J, Wendt M, Mores N. Studies on the prevalence of Eubacterium suis in boars on farms in Concordia/Brazil. Proc. 12th International Pig Veterinary Society Congress, The Hague, The Netherlands, 1992,348
Wendt M, Liebhold M, Drommer W. Rasterelektronenmikroskopische Untersuchungen an der Harnblase von Sauen unter besonderer Berücksichtigung einer Eubacterium-suis-Infektion. J Vet Med Β 1994,41:126-138
Berner H, Bolz W, Marx D. Untersuchungen zur Ätiologie der Puerperalerkrankungen der Sau unter Berücksichtigung der Erkrankung der Harnwege. Tierarztl Umsch 1968,23: 51-58
Berner H. Die Bedeutung chronischer Erkrankungen der Harnwege bei der Entstehung von Puerperalstorungen und Mastitiden der Muttersau. Dtsch tierarztl. Wschr 1971, 78:233-256
Berner H. Cystitis in der MMA-Diagnostik. Prakt Tierarzt, Colleg vet XVIII, 1987,124-130
Berner H. Die Bedeutung von Harnwegsinfektionen fur die Entstehung der puerperalen Endometritis beim Schwein. Tierarztl Umsch 1984, 39: 450-458
Moller K, Busse FW, Both G. Zur Frage der Beziehungen zwischen Fruchtbarkeitsstorungen und Harnwegsinfektionen beim Schwein. 2. Mitteilung: Einfluss des Alters und der Aufstallungsart. Tierarztl Umsch 1981,36: 624-631
Both G, Moller Κ, Busse FW. Zur Frage der Beziehungen zwischen Fruchtbarkeitsstorungen und Harninfektionen beim Schwein. 1. Mitteilung: Untersuchung an Harnproben mittels bakteriologischer Teststreifen. Tierarztl Umsch 1980,35:468-473
Plonait H, Bickhardt K. Lehrbuch der Schweinekrankheiten. Verlag Paul Parey, Berlin, 1988
Muller-Peddinghaus R, Schaefer B, Greiffenhagen U, Wirth W, Trautwein G. Beitrag zur Pathologie, Klinik und Ätiologie der Glomerulonephritis und interstitiellen Nephritis des Hundes. Beri Munch Tierarztl Wschr 1976,89: 7-11
Bilkei G, Goos T. Evaluation of the occurrence of SUGD (Swine Urogenital Disease) in a large pig production unit. Proc. 13th International Pig Veterinary Society Congress,
Bangkok, Thailand, 1994,472