Metabolie epidermal necrosis (hepatocutaneous syndrome) in the dog: A clinical and pathological review of 6 spontaneous cases
---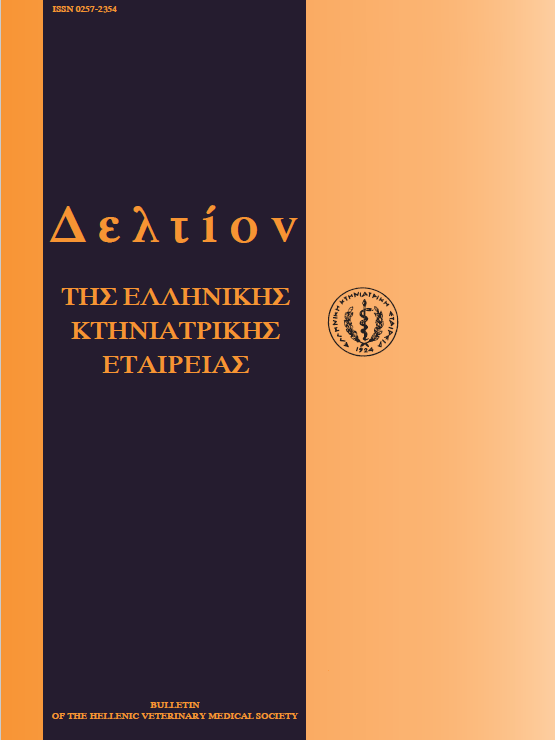 Abstract
Metabolic epidermal necrosis was diagnosed in 6 dogs admitted to the Clinic of Companion Animal Medicine, Faculty of Veterinary Medicine, A.U.T., between 1989 and 1998. Four of these animals were males and 2 females with an age range of 8 to 11.5 years. Bilaterally symmetrical (5/6) or asymmetrical (1/6) skin lesions characterized by alopecia – hypotrichosis (5/6), erythema (6/6), depigmentation (3/6), epidermal colarettes (3/6), ulcers and erosions (6/6), crusts (6/6), footpad and nose hyperkeratosis (5/6), edema (4/6), exudation (3/6), pustules (2/6), scales (2/6) and papules (1/6) were observed in all of the dogs. These lesions were located on the limbs (6/6), the external genitalia (5/6), ventral abdomen (4/6), mucocutaneos junctions (4/6), pressure points (3/6), distal extremities (3/6), nasal philthrum (3/6), muzzle (2/6), axillae (1/6) and on the dorsal aspect of the body trunk (1/6). The most important clinicopathologic findings included anemia (5/6), leucocytosis (3/6), thrombocytopenia (1/6), hypoalbuminaemia (4/5), hyperglycemia (3/6), increased alkaline phosphatase (4/6) and alanino-aminotransferase (5/6) activities, hypocalcaemia (2/5), proteinuria (1/6) and glycosuria (3/6). Liver histopathology, carried out in 4 dogs, revealed vacuolar hepatopathy in all of them. The same underlying disease was suspected in one additional case, whereas pancreatic glucagonoma was a possibility for the remaining dog. Systemic an/or topical treatment, that was attempted in 3 dogs, was unrewarding. All the 6 dogs died (3/6) or were euthanized (3/6) 2 to 17 months after the appearance of the skin lesions.
Article Details
How to Cite

KOUTINAS (X.K. ΚΟΥΤΙΝΑΣ) C. K., KOUTINAS (Α.Φ. ΚΟΥΤΙΝΑΣ) A. F., SARIDOMICHELAKIS (Μ.Ν. ΣΑΡΙΔΟΜΙΧΕΛΑΚΗΣ) M. N., KALDRYMIDOU (Ε. ΚΑΛΔΡΥΜΙΔΟΥ) H., & ROUBIES (Ν. ΡΟΥΜΠΙΕΣ) N. (2018). Metabolie epidermal necrosis (hepatocutaneous syndrome) in the dog: A clinical and pathological review of 6 spontaneous cases. Journal of the Hellenic Veterinary Medical Society, 52(1), 37–48. https://doi.org/10.12681/jhvms.15406
Authors who publish with this journal agree to the following terms:
· Authors retain copyright and grant the journal right of first publication with the work simultaneously licensed under a Creative Commons Attribution Non-Commercial License that allows others to share the work with an acknowledgement of the work's authorship and initial publication in this journal.
· Authors are able to enter into separate, additional contractual arrangements for the non-exclusive distribution of the journal's published version of the work (e.g. post it to an institutional repository or publish it in a book), with an acknowledgement of its initial publication in this journal.
· Authors are permitted and encouraged to post their work online (preferably in institutional repositories or on their website) prior to and during the submission process, as it can lead to productive exchanges, as well as earlier and greater citation of published work.
Downloads
Download data is not yet available.
References
Walton D.K, Center SA, Scott D.W, Collins Κ. Ulcerative dermatosis associated with diabetes mellitus in the dog: a report of four cases. J. Am. Anim. Hosp. Assoc, 1986,22:79 - 88.
Miller W.H.Jr, Scott D.W., Buerger R.G, Shanley K.J, Paradis M, McMurdy MA, Angarano D.W. Necrolytic migratory erythema in dogs: A hepatocutaneous syndrome. J. Am. Anim. Hosp. Assoc, 1990,26: 573-581.
Gross T.L, Song M.D, Havel P.J, Ihrke P.J. Superficial necrolytic dermatitis (Necrolytic Migratory Erythema) in dogs. Vet. Pathol, 1993, 30: 75-81.
Stewart L.J. Newly reported skin disease syndromes in the dog. Vet. Clin. North Am. Small Anim. Pract, 1990, 20:1603 -1605.
Poisson L, Longeart L, Bartel G, Le Net J.L., George C, Paillassou P. Syndrome hepatocutene chez deux chiens. Point Vet, 1992,24:173 -179.
Scott D.W., Miller W.H, Griffin G.E. Necrolytic migratory erythema. In: Kirk R.W, Muller G.H. (editors) Small Animal Dermatology, 5th edition. W.B. Saunders, Philadelphia, 1995. pp 706-710.
Bloom S.R., Polak J.M. Glucagonoma syndrome. Am. J. Med, 1987,82 (suppl 5B): 25-35.
Guillansseau P.H, Guillansseau C, Villet R, Kaloustian E. Les glucagonomes. Aspects cliniques, biologiques, anatomopathologiques et therapeutics (Reuve generale de 130 cas). Gastr. Clin. Biol, 1982,6:1029 -1041.
Doyle J A , Schroeter AL, Rogers R.S. Hyperglucagonemia and necrolytic migratory erythema in cirrhosis – possible pseudoglucagonoma syndrome. Br. J. Dermatol, 1979, 100:581 - 587.
Goodenberger D.M., Lawley T.J, Strober W, Wyatt L, Sangree M.H. Jr, Sherwin R, Rosenbaum H, Braverman I, Katz S.I. Necrolytic migratory erythema without glucagonoma. Arch. Dermatol, 1979,115:1429 -1432.
Thivolet J. Necrolytic migratory erythema without glucagonoma. Arch. Dermatol, 1981,117: 4.
Walker N.P.J. Atypical necrolytic migratory erythema in association with a jejunal adenocarcinoma. J. R. Soc. Med, 1982,75:134 -135.
Kasper CS, McMurry Κ. Necrolytic migratory erythema without glucagonoma versus canine superficial necrolytic dermatitis - is hepatic impairment a clue to pathogenesis?. J.
Am. Acad. Dermatol, 1991, 25: 534 - 541.
McNeil P.E. The underlying pathology of the hepatocutaneous syndrome: A report of 18 cases. In: Ihrke P.J, Mason LS., White S.D. (editors), Advances in Veterinary Dermatology, Vol 2. Pergamon Pres, Oxford, 1993. pp. 113 -129.
Jacobson L.S, Kirberger R.M, Nesbit J.W. Hepatic ultrasonography and pathological findings in dogs with hepatocutaneous syndrome: new concepts. J. Vet. Intern. Med, 1995, 6: 399 - 404.
Nyland T.G, Barthez P.Y, Ortega T.M, Davis CR. Hepatic ultrasonographic and pathologic findings in dogs with canine superficial necrolytic dermatitis. Vet. Rad. Ultr, 1996, 37:200-205.
Gross T.L, O'Brien T.D, Davies A.P, Long R.E. Glucagon - producing pancreatic endocrine tumors in two dogs with superficial necrolytic dermatitis. J. Am. Vet. Med. Assoc, 1990,12:1619 -1622.
Bond R, McNeil P.E., Evans H, Srebernik N. Metabolic epidermal necrosis in two dogs with different underlying diseases. Vet. Ree, 1995, 136: 466 - 477.
Miller W.H.Jr, Anderson W.I, McCann J.P. Necrolytic migratory erythema in a dog with a glucagon – secreting endocrine tumour. Vet. Dermatol, 1991, 2:179 -182.
Torres S.M.F, Caywood D.D., O' Brien T.D, O' Leary T.P, McKeever P.J. Resolution of superficial necrolytic dermatitis following excision of a glucagon - secreting pancreatic neoplasm in a dog. J. Am. Anim. Hosp. Assoc, 1997, 33:313 - 319.
Turnwald G.H, Foil C S , Wolfsheimer K.J., Williams M.D, Rougeau B.L. Failure to document hyperglucagonemia in a dog with diabetic dermatopathy resembling necrolytic
migratory erythema. J. Am. Anim. Hosp. Assoc, 1989, 25:363- 369.
Boden G. Insulinoma and glucagonoma. Semin. Oncol, 1987, 14: 253 - 262.
Miller S.J. Nutritional deficiency and the skin. J. Am. Acad. Dermatol, 1989, 21:1 - 30.
Patel A, Whitbread T.J, McNeil P.E. A case of metabolic epidermal necrosis in a cat. Vet. Dermatol, 1995,7:221 - 226.
Yager J.A, Wilcock B.P. Color Atlas and Text of Surgical Pathology of the Dog and Cat. Wolfe, London, 1994, pp. 78 - 80.
Bhathena S.J, Higgins G.A, Recant L. Glucagonoma and glucagonoma syndrome. In: Unger R.H, Orci L. (editors) Glucagon: Physiology, Pathophysiology, and Morphology of the pancreatic α - cells. Elsevier, New York, 1981. pp. 413 - 438.
Κουτίνας Α.Φ. Μεταβολική νέκρωση της επιδερμίδας. Στο: Παθολογία του Σκύλου και της Γάτας. Τεύχος Α'. Δερματολογία - Ενδοκρινολογία και Μεταβολικά Νοσήματα. Σύγχρονη Παιδεία, θεσσαλονίκη, 1999. σελ. 247 - 250.
Franchimont C, Pierard G.E, Luycbx A.S, Gerald J , Lapiere CM. Angioplastie necrolytic migratory erythema. Am. J. Dermatopathol, 1982,4: 485 - 495.
Ackerman A.B. Histologie Diagnosis of Inflammatory Skin Diseases. A Method of Pattern Analysis. Lea and Febiger, Philadelphia, 1978. pp. 512 - 514.
Kheir S.M, Omura E.F, Grizzle W.E, Herrera G.A, Lee I. Histologic variation in the skin lesions of the glucagonoma syndrome. Am. J. Surg. Pathol, 1986,10: 445 - 453.
Reedy L.M. Feline miliary dermatitis with emphasis on dermatomycosis. Comp. Cont. Ed. Pract. Vet, 1980, 2: 833 - 838.
Gross T.L, Ihrke P. J, Walder E. J. Veterinary Dermatopathology. Mosby Year-Book, St Louis, 1992. pp. 46 - 48.
Van der Loos T.L.J.M, Lambrecht E.R, Lambers J.C.C.A. Successful treatment of glucagonoma-related necrolytic migratory erythema with dacarbazine. J. Am. Acad. Dermatol, 1987,16: 468 - 472.
Layer G, Zuna I , Lorenz A, Zerban H, Haberkorn U, Bannasch P, van Kaick G, Rath U. Computerized ultrasound B-scan texture analysis of experimental diffuse parenchymal liver disease: correlation with histopathology and tissue composition. J. Clin. Ultrasound, 1991,19:193 - 201.
Kelly W.R. The liver and biliary system. In: Jubb KVF, Kennedy PC, Palmer N. (editors), Pathology of domestic animals, 4th ed. Academic Press Inc., San Diego, 1993. pp 319 - 406.
Κουτίνας Α.Φ, Σαριδομιχελάκης M.N. Η ινσουλινοθεραπεία και το πρόβλημα της μη ανταπόκρισης σε αυτή (ινσουλινοαντοχή) στον απλό σακχαρώδη διαβήτη του σκύλου και
της γάτας. Πρακτικά 5ου Πανελλήνιου Συνεδρίου Κτηνιατρικής Μικρών Ζώων, 1996. σελ. 27 - 43.
Peterson Μ.Ε. Diagnosis and management of insulin resistance in dogs and cats with diabetes mellitus. Vet. Clin. North. Am. Small Anim. Pract, 1995,25: 691 - 713.
Chastain C.B., Franklin R.T, Ganjam V.K, Madsen R.W. Evaluation of the hypothalamic pituitary - adrenal axis in clinically stressed dogs. J. Am. Anim. Hosp. Assoc, 1986,22:435-442.
Feldman E.C, Nelson R.W. Diabetes mellitus. In: Canine and Feline Endocrinology and Reproduction, 2nd edition. W.B. Saunders, Philadelphia, 1996. pp. 339 - 391.
Von Schenck H, Thorell J.I, Berg J , Bojs G, Dymling J.F, Hallengren B, Ljungberg O, Tibblin S. Metabolic studies and glucagon gel filtration pattern before and after surgery in
a case of glucagonoma syndrome. Acta Med. Scand, 1979, 205:155 -162.
Pullman T.N, Lavender A.R, Aho I. Metabolism, 1967,16:358.
Serrato M, Earle D.P. Proc. Soc. Exp. Biol. Med, 1959, 102:701.
Hellman J , Loppnow H. Hyperplasia of somatostatin and pancreatic polypeptide immunoreactive cells in dogs with idiopathic atrophy of the exocrine pancreas. J. Vet. Med, Series A, 1991, 38: 80-89.
Patel Y.C, Zingg H.H., Fitzpatrick D, Srikant C.B. Somatostatin: some aspects of its physiology and pathophysiology. In: Bloom, S.R, Polak, J.M. (editors) Gut Hormones, 2nd edition. Churchill Livingstone, Edingburgh, 1981. pp 504 - 509.
Couto CG. Anemia. In: Nelson R.W, Couto CG. (editors) Small Animal Internal Medicine, 2nd edition. Mosby Year- Book, St. Louis, 1998, pp. 1169.
Miller W.H. Necrolytic migratory erythema in dogs: A cutaneous marker for gastrointestinal disease. In: Kirk R.W, Bonagura J.D. (editors), Current Veterinary Therapy XI. W.B. Saunders, Philadelphia, pp. 561 - 562.
Marks J.M. The Skin and Disorders of the Alimentary Tract. In: Fitzpatrick T.B, Eisen A.Z., Wolff Κ, Freedberg I.M, Austen K.F. (editors) Dermatology In General Medicine, 4rth ed. McGraw - Hill Inc. New York, 1993, pp. 2052-2053.
Foster A.P, Panciera D.L, Cooley A.J. Recognizing canine hepatocutaneous syndrome. Vet. Med, 1997, 92:1050 -1055.
Walton - Angarano D. Metabolic Epidermal Necrosis. In: Griffin CE, Kwochka KW, MacDonald JM (editors), Current Veterinary Dermatology. Mosby Year-Book, St Louis, 1993.pp 302- 305.