Lymph node cytology in the dog and cat
---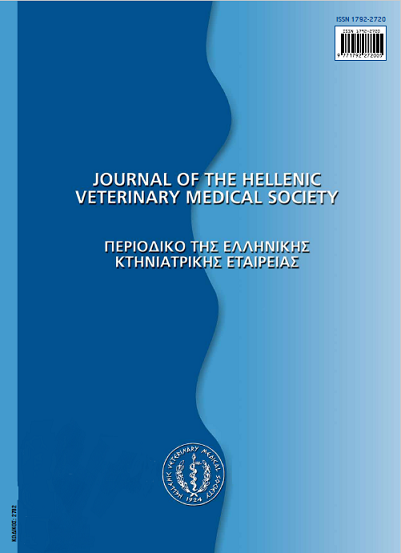 Published: Nov 29, 2017
Keywords:
lymph node lymphadenopathy cytology dog cat
Abstract
Lymph node (LN) cytology, a cost-effective and highly rewarding diagnostic technique, is performed routinely in the everyday practice. Localised or generalised lymphadenomegaly and clinical staging of malignant tumors comprise the main indications of this valuable diagnostic modality. The superficial and easily palpated submandibular, prescapular and popliteal LN can be easily positioned, while internal LN (i.e. mediastinal, mesenteric, sublumbar) may necessitate a surgical exploration or ultrasound guidance. Fine-needle biopsy and imprint smears from excised LN are the most common techniques to obtain the necessary material. Small lymphocytes constitute more than 80% of the normal LN population, with medium and large lymphocytes making up approximately the 5-15% of it. The occasional presence of plasma and mast cells, neutrophils, eosinophils and macrophages can also be noticed. Lymphadenomegaly, either localised or generalised, is mainly due to hyperplasia, inflammation or neoplasia. Hyperplastic LN may appear normal cytologically, but typically, small lymphocytes predominate (>50% of nucleated cells [NC]), in the context of a moderate increase of medium/large lymphocytes (<20%
of NC) and plasma cells (>5% of NC). Hyperplastic lymphadenopathy is indicative of a lymphoid proliferation secondary to a local (e.g. deep staphylococcal pyoderma) or generalised (e.g. leishmaniosis) antigenic stimulation. In primary or secondary lymphadenitis, LN are infiltrated by increased numbers of inflammatory cells, the predominance of which define the neutrophilic or purulent, eosinophilic, granulomatous or pyogranulomatous inflammation. Bacterial (e.g. Mycobacterium sp.), fungal (e.g. Histoplasma capsulatum) and protozoal (e.g. Leishmania infantum) infections, represent the leading etiologies of canine and feline lymphadenitis. In lymphoma, the most common neoplastic lymphadenopathy in both animal species, the predominance of medium and large (> 50% of NC) immature lymphocytes is observed. Metastatic neoplasia can be documented when non-lymphoid malignant cells (i.e. epithelial, mesenchymal) or increased numbers of normally present cells (i.e. mast cells), also bearing malignant features, are detected on LN cytology. Failure to establish a definitive diagnosis on LN cytology warrants a surgical biopsy and histopathology.
Article Details
How to Cite

MYLONAKIS (Μ.Ε. ΜΥΛΩΝΑΚΗΣ) M. E., KOUTINAS (Α.Φ. ΚΟΥΤΙΝΑΣ) A. F., & KRITSEPI-KONSTANTINOU (Μ. ΚΡΙΤΣΕΠΗ-ΚΩΝΣΤΑΝΤΙΝΟΥ) M. (2017). Lymph node cytology in the dog and cat. Journal of the Hellenic Veterinary Medical Society, 57(4), 330–338. https://doi.org/10.12681/jhvms.15063
Authors who publish with this journal agree to the following terms:
· Authors retain copyright and grant the journal right of first publication with the work simultaneously licensed under a Creative Commons Attribution Non-Commercial License that allows others to share the work with an acknowledgement of the work's authorship and initial publication in this journal.
· Authors are able to enter into separate, additional contractual arrangements for the non-exclusive distribution of the journal's published version of the work (e.g. post it to an institutional repository or publish it in a book), with an acknowledgement of its initial publication in this journal.
· Authors are permitted and encouraged to post their work online (preferably in institutional repositories or on their website) prior to and during the submission process, as it can lead to productive exchanges, as well as earlier and greater citation of published work.
Downloads
Download data is not yet available.
References
Bookbinder PF, Butt MT, Harvey HJ (1992) Determination of the number of mast cells in lymph node, bone marrow and buffy coat cytologic specimens from dogs. J Am Vet Med Assoc, 200:1648-1650.
Clarke CJ (1998) Lymphoreticular system. In: Manual of Small Animal Clinical Pathology. 1st ed, BSAVA, Gloucester:227-234.
Couto CG (2003) Lymphoma in the Cat and Dog. In: Small Animal Internal Medicine. 4th ed, Mosby, St Luis: 1123-1141.
Cowell RL, Dorsey KE, Meinkoth JH (2003) Lymph node cytology. Vet Clin Small Anim, 33:47-67.
Day MJ, Whitbread TJ (1995) Pathological diagnoses in dogs with lymph node enlargement. Vet Ree, 136:72-73.
Dunn JK, Gerber Κ (2005) Diagnostic cytology. In: BSAVA Manual of Small Animal Clinical Pathology. 2nd ed, BSAVA, Gloucester:305-339.
Dungan JR (1999) The lymph nodes. In: Diagnostic cytology and hematology of the dog and cat. 2nd ed, Mosby, St Louis:97-103.
Fournel-Fleury C, Magnol JP, Guelfi JF (1994) The lymph node. In: Color Atlas of Cancer Cytology of the Dog and Cat. 1st ed, Conference Nationales des Vétérinaires Specialises en Petits
Gösset ΚΑ, Root CR, Cleghorn Β, Church GH, Turk JR, Turk MAM (1987) Effects of heartworm and intestinal parasitic infections on hematology and peripheral lymph node cytology in Louisiana dogs. Vet Clin Pathol, 16:97-101.
Langenbach A, McManus PM, Hendrick MJ, Shofer FS, Sorenmo KU (2001) Sensitivity and specificity of methods of assessing the regional lymph nodes for evidence of metastasis in dogs and cats with solid tumors. J Am Anim Hosp Assoc, 218:1424-1428.
Lucas PF (1955) Lymph node smears in the diagnosis of lymphadenopathy. Blood, 10:1030.
Lucke VM, Davies JD, Wood CM, Whitbread TJ (1987) Plexiform vascularization of Lymph nodes: An unusual, but distinctive lymphadenopathy in cats. J Comp Pathol, 97:109-119.
Meinkoth JH, Cowell RL (2003) Recognistion of basic cell types and criteria of malignancy. Vet Clin Small Anim, 32:1209-1235.
Mills JN (1989) Lymph node cytology. Vet Clin Small Anim, 19:697-717.
Mooney SC, Patnaik AK, Hayes AA, MacEwen EG (1987) Generalized lymphadenopathy resembling lymphoma in cats: Six cases. J Am Vet Med Assoc, 190:897-900.
Moore FM, Emerson WE, Cotter SM, DeLellis RA (1986) Distinctive peripheral lymph node hyperplasia in young cats. Vet Pathol, 23:386-391.
Mylonakis ME, Koutinas AF, Billinis C, Leontides LS, Kontos V, Papadopoulos Ο, Rallis Τ, Fytianou A (2003) Evaluation of cytology in the diagnosis of acute canine monocytic ehrlichiosis
(Ehrlichia canis): a comparison between five methods. Vet Microbiol, 91:197-204.
Mylonakis ME, Papaioannou N, Saridomichelakis MN, Koutinas AF, Billinis C, Kontos VI (2005) Cytologic patterns of lymphadenopathy in dogs infected with Leishmania infantum. Vet Clin Pathol, 34:243-247.
Papazoglou LG, Koutinas AF, Plevraki AG, Tonus D (2001) Primary intranasal transmissible venereal tumor in the dog: a retrospective study of six spontaneous cases. J Vet Med A, 48:391-400.
Rakish PM, Latimer KS (2003) Cytology. In: Duncan & Prasse,s Veterinary Laboratory Medicine Clinical Pathology. 4th ed, Iowa State Press, Iowa:304-330.
Raskin RE (2001) Lymphoid system. In: Atlas of Canine and Feline Cytology. 1st ed, WB Saunders, Philadelphia:93-134.
Rogers KS, Barton CL, Landis M (1993) Canine and feline lymph nodes. Part I. Anatomy and function. Comp Cont Educ Pract Vet, 15:397-408.
Ruiz De Gopegui R, Penalba Β, Espada Y (2004) Causes of lymphadenopathy in the dog and cat. Vet Ree, 155:23-24.
Saridomichelakis MN, Koutinas AF, Mylonakis M (1998) An outbreak of sarcoptic mange among dogs in the area of Thessaloniki, Greece. Bui Hel Vet Med Soc, 49: 287-293.
Stockham SL, Scott MA (2002) Bone marrow and lymph nodes. In: Fundamentals of Veterinary Clinical Pathology. 1st ed, Iowa State Press, Iowa:228-250.
Taylor JA, Baker R (2000) The lymphatic system- Lymph Nodes, Spleen and Thymous. In: Color atlas of cytology of the dog and cat. 1st ed, Mosby, St Luis:71-82.
Thrall MA (1987) Cytology of lymphoid tissue. Comp Cont Educ Pract Vet, 9:104-112.
Twomay LN, Alleman AR (2005) Cytodiagnosis of feline lymphoma. Comp Cont Educ Pract Vet, 27:17-31.
Villiers E (2003) Cytology. In: BSAVA Manual of Canine and Feline Oncology. 2nd ed, BSAVA, Gloucester:24-37.
Williams LE, Packer RA (2003) Association between lymph node size and metastasis in dogs with oral malignant melanoma: 100 cases (1987-2001). J Am Vet Med Assoc, 222:1234-1236.