Urine sediment evaluation in the dog and cat
---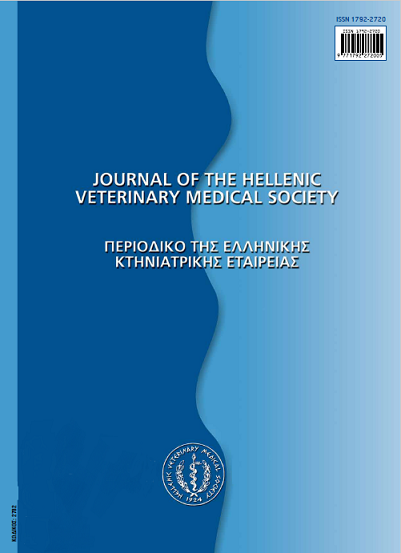 Published: Dec 15, 2017
Keywords:
urine sediment microscopic evaluation dog cat
Abstract
Microscopic examination of the urine sediment is an integral part of urinalysis and a useful, cost-effective diagnostic tool in the everyday practice. Diagnostic investigation of urinary diseases and several systemic metabolic diseases make the microscopic evaluation of urine sediment a priority along with the physical and biochemical examination of urine. The different methods of urine collection (midstream voiding, catheterization or percutaneous cystocentesis) have advantages and disadvantages and the clinician has to decide on the best fitted method of urine collection, according to the medical background of the animal and the case-specific objectives of urinalysis. Proper handling and timely analysis of urine sample are essential for a valid microscopic evaluation. The microscopic examination of urinary sediment is usually conducted in stained or unstained "wet-mounted" preparations; occasionally, air-dried Giemsa-stained sediment smears are examined.

Normal urine is sterile and may contain small numbers of cells (white and red blood cells, epithelial cells), few crystals, occasional casts, fat droplets and spermatozoa (male animals). In contrast, large numbers of cells or casts, presence of unusual types of crystals, neoplastic cells, parasites and microorganisms comprise abnormal findings, necessitating a more specialized diagnostic approach. This review focuses on the technical aspects pertaining to the proper sediment microscopic examination, the normally expected elements of sediment and the clinically relevant interpretation of abnormal findings.
Article Details
How to Cite

ALATZAS (Δ.Γ. ΑΛΑΤΖΑΣ) D. G., MYLONAKIS (Μ.Ε. ΜΥΛΩΝΑΚΗΣ) M. E., POLIZOPOULOU (Ζ.Σ. ΠΟΛΥΖΟΠΟΥΛΟΥ) Z. S., & KOUTINAS (Α.Φ. ΚΟΥΤΙΝΑΣ) A. F. (2017). Urine sediment evaluation in the dog and cat. Journal of the Hellenic Veterinary Medical Society, 63(2), 135–146. https://doi.org/10.12681/jhvms.15429
Authors who publish with this journal agree to the following terms:
· Authors retain copyright and grant the journal right of first publication with the work simultaneously licensed under a Creative Commons Attribution Non-Commercial License that allows others to share the work with an acknowledgement of the work's authorship and initial publication in this journal.
· Authors are able to enter into separate, additional contractual arrangements for the non-exclusive distribution of the journal's published version of the work (e.g. post it to an institutional repository or publish it in a book), with an acknowledgement of its initial publication in this journal.
· Authors are permitted and encouraged to post their work online (preferably in institutional repositories or on their website) prior to and during the submission process, as it can lead to productive exchanges, as well as earlier and greater citation of published work.
Downloads
Download data is not yet available.