Chronic or atrophie masticatory myositis in the dog. A report of two spontaneous cases
---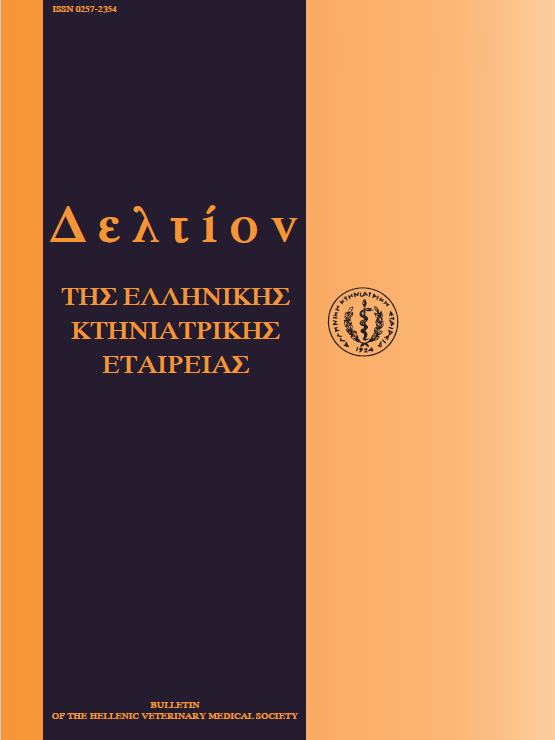 Abstract
Two young adult dogs (case 1: German wirehaired pointer male, case 2: mongrel female) were admitted to our Clinic because of a progressive, bilateral and symmetrical atrophy of the masticatory muscles, that was most obvious in the temporal muscles. No signs of mandibular dysfunction were detected in both animals. The clinical diagnosis of chronic or atrophic myositis was confirmed by the histopathology of temporal muscle biopsies, which revealed the typical of the disease lesions, such as myofiber degeneration, regeneration and atrophy, interstitial or perivascular cellular infiltrates, chiefly of lymphocytes and plasma cells plus perimysial fibrosis. Temporal muscle electromyography, done only in case 1, showed abnormal spontaneous activity indicating myositis. The use of prednisolone at immunosuppressive doses, with or without azathioprine, not only stopped the progression of the disease but resulted in a partial restoration of the masticatory muscle mass.
Article Details
How to Cite

KOUTINAS (Α.Φ. ΚΟΥΤΙΝΑΣ) A. F., VAMVAKIDIS (Χ. Δ. ΒΑΜΒΑΚΙΔΗΣ) C. D., POLIZOPOULOU (Ζ. ΠΟΛΥΖΟΠΟΥΛΟΥ) Z., LEKKAS (Σ. ΛΕΚΚΑΣ) S., & GEORGIADIS (Γ. ΓΕΩΡΓΙΑΔΗΣ) G. (2018). Chronic or atrophie masticatory myositis in the dog. A report of two spontaneous cases. Journal of the Hellenic Veterinary Medical Society, 50(1), 53–58. https://doi.org/10.12681/jhvms.15698
This work is licensed under a Creative Commons Attribution-NonCommercial 4.0 International License.
Authors who publish with this journal agree to the following terms:
· Authors retain copyright and grant the journal right of first publication with the work simultaneously licensed under a Creative Commons Attribution Non-Commercial License that allows others to share the work with an acknowledgement of the work's authorship and initial publication in this journal.
· Authors are able to enter into separate, additional contractual arrangements for the non-exclusive distribution of the journal's published version of the work (e.g. post it to an institutional repository or publish it in a book), with an acknowledgement of its initial publication in this journal.
· Authors are permitted and encouraged to post their work online (preferably in institutional repositories or on their website) prior to and during the submission process, as it can lead to productive exchanges, as well as earlier and greater citation of published work.
Downloads
Download data is not yet available.
References
Shelton GD, Cardinet GH IH, Bandman E. Canine masticatory muscle disorders: A study of 29 cases. Muscle Nerve 1987,10:753-766.
Smith MO. Idiopathic myositides in dogs. Semin Vet Med Surg (Small Anim) 1989,4:156-160.
Gilmour MA, Morgan RV, Moore FM. Masticatory myopathy in the dog: A retrospective study of 18 cases. J Am Anim Hosp Assoc 1995,28: 300-306.
Whitney JC. Eosinophilic myositis in dogs. Vet Ree 1955, 67: 1140-1143.
Whitney JC. Atrophic myositis in a dog: the differentiation of this disease from eosinophilic myositis. Vet Ree 1957,69:130-131.
Orvis JS, Cardinet GH III. Canine muscle fiber types and susceptibility of masticatory muscles to myositis. Muscle Nerve 1981,4:354-359.
Shelton GD, Bandman E, Cardinet GH III. Electrophoretic comparisons of myosins from masticatory muscles and selected limb muscles in the dog. Am J Vet Res 1985,46:493-498.
Shelton GD, Cardinet GH III, Bandman E, Cuddon P. Fiber type-specific autoantibodies in a dog with eosinophilic myositis. Muscle Nerve 1985,8: 783-790.
Blot S. Myopathies in domestic carnivores. Part I. The skeletal striated muscle: structure, function and symptomatology. Europ J Comp Anim 1996, VI (1): 42-45.
Griffiths IR, Duncan JD, McQueen A, Quick C, Miller R. Neuromuscular disease in the dog: Some aspects of its investigation and diagnosis. J Small Anim Pract 1973,14:533-
Farnbach GC. Myositis in the dog. Compend Cont Ed Pract Vet 1979,1:183-188.
Shelton GD, Cardinet GH III. Canine masticatory muscle disorders. In: Kirk RW (ed) Current Veterinary Therapy X Small Animal Practice. WB Saunders, Philadelphia, 1989:816-819.
Braund KG. Endogenous causes of myopathies in dogs and cats. Vet Med 1997,92(7):618-628.
Scott DW, deLaHunta A. Eosinophilic polymyositis in a dog. Cornell Vet 1974,64:47-57.
Man M. The peripheral blood picture in myositis and atrophy of head muscles in dogs. Ir Vet J 1971,25:189-193.
Blot S, Fuhrer L. Myopathies in domestic carnivores. Part 2 Review of conditions. Europ J Comp Anim 1996, VI(l):56-57.
Brogdon JD, Brightman AH, McLaughlin SA. Diagnosing and treating masticatory myositis. Vet Med 19912, 86(12):1164-1170.
Averill DR. Diseases of the muscle. Vet Clin North Am (Small Anim Pract) 1980,10(1); 223-235.
Vamvakidis CD, Koutinas AF, Kanakoudis G, Georgiadis G, Saridomichelakis M. Masticatory and skeletal muscle myositis in Old World canine visceral leishmaniasis. Vet Ree 1998, in press.
Kornegay JN, Corgacz EJ, Dawe DL, Bowen JM, White NA, DcBuysscher EV. Polymyositis in dogs. J Am Vet Med Assoc 1980,176:431-438.
Greene CE, Lorenz MD, Munnell JF, Prasse KW, White ΝΑ, Bowen JM. Myopathy associated with hyperadrenocorticism in the dog. J Am Vet Med Assoc 1979,174:1310-1315.
Behrend En, Kemppeinen RJ. Glucocorticoid therapy: Pharmacology, indications and complications. Vet Clin North Am (Small Anim Pract) 1997,27(2): 187-213.