Effect of Iodine (Iodine Polyvinylpyrrolidone complex) on Brucella strains
---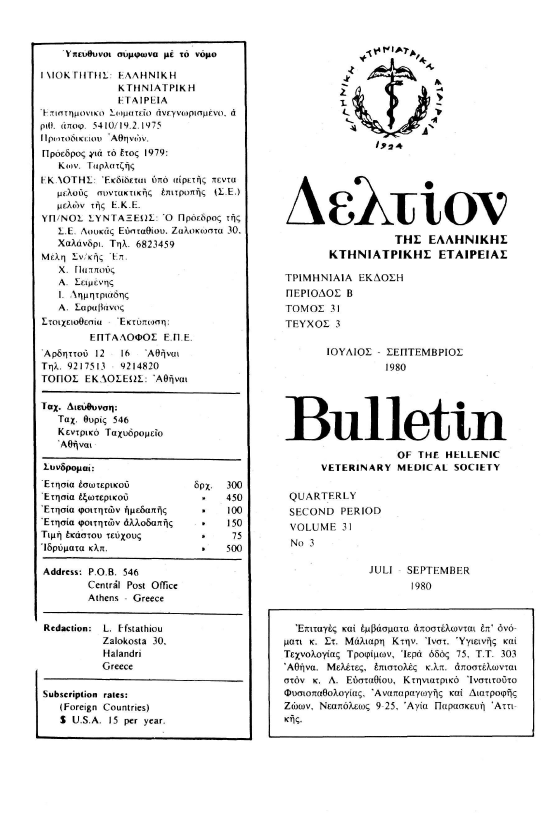 Abstract
The possible inhibitory effect of iodine polyvinylpyrrolidone complex (Betadine solution 10%) on the growth of Brucella melitensis Rev.I strain and Br. abortus S. 19 strain, was tested. Dilutions of the product up to 1:10.000 were mixed, in equal volumes, with suspensions of the above strains and inoculated to tryptose-agar medium in petri dishes after lapses of contact time ranging from 30" up to 30'. Following 7 days in 37°C was proved that the growth of Rev. I. strain was completely inhibited even by the highest dilution. The growth of S. 19 in the dilutions 1:6400 and 1:10000 of the product, required 30' of contact before to be minimised
Article Details
How to Cite

ΣΕΪΜΕΝΗΣ Α., & ΣΚΥΡΙΑΝΟΣ Γ. (2019). Effect of Iodine (Iodine Polyvinylpyrrolidone complex) on Brucella strains. Journal of the Hellenic Veterinary Medical Society, 31(3), 145–149. https://doi.org/10.12681/jhvms.21455
Authors who publish with this journal agree to the following terms:
· Authors retain copyright and grant the journal right of first publication with the work simultaneously licensed under a Creative Commons Attribution Non-Commercial License that allows others to share the work with an acknowledgement of the work's authorship and initial publication in this journal.
· Authors are able to enter into separate, additional contractual arrangements for the non-exclusive distribution of the journal's published version of the work (e.g. post it to an institutional repository or publish it in a book), with an acknowledgement of its initial publication in this journal.
· Authors are permitted and encouraged to post their work online (preferably in institutional repositories or on their website) prior to and during the submission process, as it can lead to productive exchanges, as well as earlier and greater citation of published work.
Downloads
Download data is not yet available.
References
Glawischnig, E., Brandi, Ε. (1974): Study of the effect of Eutadinesolution with respect to its use in mastitis prevention. Report. Veter. Med.Clin., Inst. Milk Hyg. and Milk Techn., Univ Vet. Med. Vienna.
Hale, L.M. (1972): Uses of Povidone-iodine in ophtalmie surgery with comments upon its antimicrobial activity. Proc. Symp. Therap. Adv. and New Clinic Implications, p. 70-78.
Joress, S.M.(1962): Acomparison of Povidone-iodine with other agents used for surgical scrubs. Annals Surg., 155, 296.
Lowbury, E.J.C., Lilly, H.A., Bull, J.P.(1963): Disinfection of bands. Br. Med.J., 1:1251-1256.
Plotkin, S.A. (1972): The effect of Povidone-iodine on several viruses. As per n. 2,p.9-16.
Polk, H.C. (1972): Comparative study for degerming hands heavily contaminated with pathogenic bacteria. As per n. 2,p.70-78.
Saggers, B.A., Steward, G.T. (1964): Polyvinyl-Pyrrolidone-Iodine:An assessment of antibacterial activity. J. Hyg. (Camb), 62, 509.
Willinger, H(1974): Suitability of Betaisodona-solution for antisepsis of stalls. Report. Inst. Bacteriol. and Anim. Health, Univ. Vet. Med.Vienna.