The Question of Authenticity in Migrant Self-Translation
---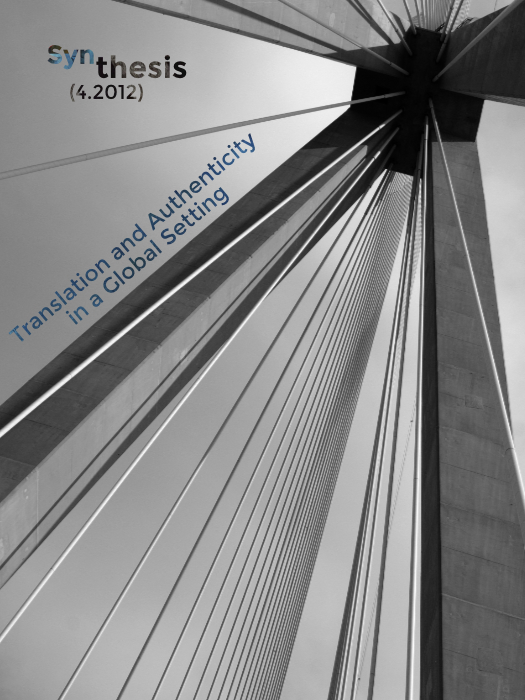 Published: May 1, 2012
Keywords:
immigration translation memoirs language self-representation
Abstract
Through the reading of Smaro Kamboureli's and Ariel Dorfman's translingual memoirs, this essay examines how the trope of authenticity figures in migrant narratives of self-formation in-between languages. With attention to the strategies of self-translation through which each text navigates the disjunction between mother tongue and foreign language, speech and writing, narrated and narrating selves, the essay argues that while both texts do away with mimetic notions of self-representation, each rearticulates the ethos of authenticity as constitutive of the process of writing the self in translation.
Article Details
How to Cite

Bohórquez, P. (2012). The Question of Authenticity in Migrant Self-Translation. Synthesis: An Anglophone Journal of Comparative Literary Studies, (4), 50–61. https://doi.org/10.12681/syn.17284
The copyright for articles in this journal is retained by the author(s), with first publication rights granted to the journal. By virtue of their appearance in this open access journal, articles are free to use with proper attribution. Synthesis retains the worldwide right to reproduce, display, distribute, and use published articles in all formats and media, either separately or as part of collective works for the full term of copyright. This includes but is not limited to the right to publish articles in an issue of the Journal, copy and distribute individual reprints of the articles, authorize reproduction of articles in their entirety, and authorize reproduction and distribution of articles or abstracts thereof by means of computerized retrieval systems.
Downloads
Download data is not yet available.
References
Anthias, Floya. "Where do I Belong? Narrating Collective Identity and Translocational Positionality." Ethnicities 2.4 (2002): 491-514.
Bhabha, Homi. The Location of Culture. London: Routledge, 1994.
Barnstone, Willis. The Poetics of Translation: History, Theory, Practice. New Haven: Yale UP, 1993.
Barthes, Roland. Writing Degree Zero. Trans. Annette Lavers and Colin Smith. London: Cape, 1967.
Besemeres, Mary. Translating One's Self: Language and Selfhood in Cross-Cultural Autobiography. European Connections. Ed. Peter Collier. 3. Oxford: Peter Lang, 2002.
Bhabha, Homi. The Location of Culture. London: Routledge, 1994.
Bohórquez, Paola. "Psychic and Ethical Dimensions of Language Loss." Journal of Intercultural Studies 30.2 (2009): 157-172.
Caruth, Cathy. Unclaimed Experience: Trauma, Narrative and History. Baltimore: The Johns Hopkins UP, 1996.
Chambers, Iain. Migrancy, Culture, Identity. London: Routledge, 2001.
Cheng, Anne Anlin. The Melancholy of Race. New York: Oxford UP, 2001.
Clifford, James. Routes: Travel and Translation in the Late Twentieth Century. Cambridge: Harvard UP, 1997.
Cronin, Michael. Across the Lines: Travel Language and Translation. Cork, Ireland: Cork UP, 2000.
Cutter, Martha J. Lost and Found in Translation: Contemporary Ethnic American Writing and the Politics of Language Diversity. Chapel Hill: The University of North Carolina Press, 2005.
Deleuze, Gilles, and Félix Guattari. Kafka: Toward a Minor Literature. Trans. Dana Polan. Minneapolis: Minnesota UP, 1986.
Derrida, Jacques. The Ear of the Other: Otobiography, Transference, Translation. Trans. Peggy Kamuf. New York: Schocken Books, 1985.
Dingwaney, Anurhada and Carol Maier. Between Languages and Cultures: Translation and Cross-Cultural Texts. Pittsburgh: U of Pittsburgh P, 1995.
Dorfman, Ariel. "Footnotes to a Double Life." The Genius of Language: Fifteen Writers Reflect on Their Mother Tongues. Ed. Wendy Lesser. New York: Pantheon Books, 2004. 206-217.
Dorfman, Ariel. Heading South, Looking North: A Bilingual Journey. New York: Farrar, Straus, and Giroux, 1998.
Dorfman, Ariel. Rumbo Al Sur, Deseando El Norte: Un Romance En Dos Lenguas. Trans. Ariel Dorfman. Buenos Aires: Editorial Planeta, 1998.
Dorfman, Ariel. "The Wondering Bigamist of Language." Lives in Translation: Bilingual Writers on Identity and Creativity. Ed. Isabelle de Courtivron. New York: Palgrave Macmillan, 2003. 29-37.
Eakin, Paul John. Touching the World: Reference in Autobiography. Princeton: Princeton UP, 1992.
Israel, Nico. Outlandish: Writing between Exile and Diaspora. Stanford: Stanford UP, 2000.
Johnson, Barbara. "Taking Fidelity Philosophically." Difference in Translation. Ed. Joseph F. Graham. Ithaca: Cornell UP, 1985. 142-148.
Kamboureli, Smaro. "Of Black Angels and Melancholy Lovers: Ethnicity and Writing in Canada." Us/Them: Translation, Transcription and Identity in Post-Colonial Literary Cultures. Ed. Gordon Collier. Amsterdam: Rodopi, 1992. 51-62.
Kamboureli, Smaro. Borrowed Tongues: Life Writing, Migration and Translation. Waterloo: Wilfrid Laurier UP, 2012.
Kamboureli, Smaro. in the second person. Edmonton: Longspoon Press, 1985.
Kamboureli, Smaro. "Sounding the Difference: An Interview with Smaro Kamboureli and Lola Tostevin." By Janice Williamson. The Canadian Forum 66.765 (1987): 33-38.
Kamboureli, Smaro. "The Technology of Ethnicity: Canadian Multiculturalism and the Language of the Law". Multicultural States: Rethinking Difference and Identity. Ed. David Benett. New York: Routledge, 1998. 208-222.
Karpinski, Eva C. "'Borrowed Tongues': Life Writing and Translation in Immigrant Women's Narratives." Diss., York University, 2003.
Mazzotti, José Antonio. "Bilingualism, Quechua Poetry, and Migratory Fragmentations in Present-Day Peru." Bilingual Games: Some Literary Investigations. Ed. Doris Sommer. New York: Palgrave Macmillan. 97-119.
Seyhan, Azade. Writing Outside the Nation. Princeton: Princeton UP, 2001.
Todorov, Tzvetan. "Bilingualism, Dialogism and Schizophrenia." New Formations.17 (1992): 17-25.
Venuti, Lawrence. The Scandals of Translation: Towards an Ethics of Difference. New York: Routledge, 1998.