Parragirls Past, Present: Unlocking Memories of Institutional 'Care': Witnessing and Creative Reparation in the Aftermath of Parramatta Girls Home
---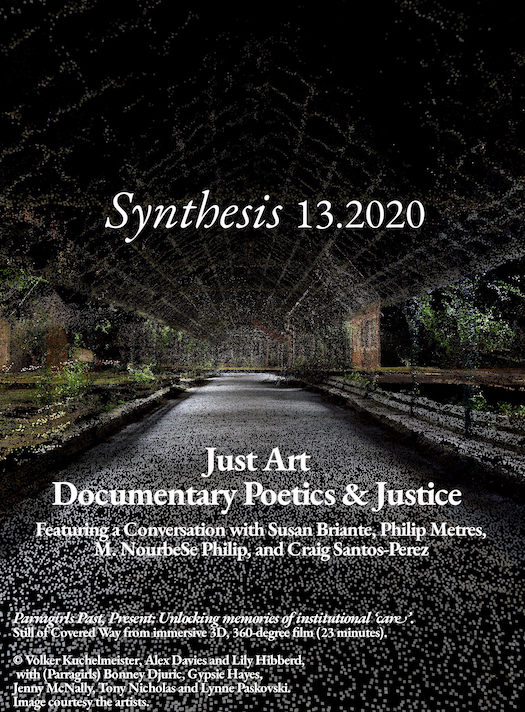 Published: Jul 19, 2021
Keywords:
just art documentary poetics justice Parragirls Past Present Unlocking Memories of Institutional 'Care' Parramatta Girls Home Lily Hibberd trauma collective memory
Article Details
How to Cite

Toth, N., & Hibberd, L. (2021). Parragirls Past, Present: Unlocking Memories of Institutional 'Care': Witnessing and Creative Reparation in the Aftermath of Parramatta Girls Home. Synthesis: An Anglophone Journal of Comparative Literary Studies, (13), 94–114. https://doi.org/10.12681/syn.27563
The copyright for articles in this journal is retained by the author(s), with first publication rights granted to the journal. By virtue of their appearance in this open access journal, articles are free to use with proper attribution. Synthesis retains the worldwide right to reproduce, display, distribute, and use published articles in all formats and media, either separately or as part of collective works for the full term of copyright. This includes but is not limited to the right to publish articles in an issue of the Journal, copy and distribute individual reprints of the articles, authorize reproduction of articles in their entirety, and authorize reproduction and distribution of articles or abstracts thereof by means of computerized retrieval systems.
Downloads
Download data is not yet available.
References
Australian Government, Royal Commission into Institutional Responses to Child Sexual Abuse. Report of Case Study No 7: Child sexual abuse at the Parramatta Training School for Girls and the Institution for Girls in Hay. (2014, www.childabuseroyalcommission.gov.au/case- studies/case-study-07-parramatta-training-school-girls. Accessed 17 July 2019).
Beugnet, Martine and Lily Hibberd (eds). Screen. Absorbed in Experience: New Perspectives on Immersive Media 61.4 (Winter 2020): 586- 593.
Caruth, Cathy. Ed. Trauma. Explorations in Memory, John Hopkins UP, 1995.
Classen, C, O. Gronskaya Palesh et R. Aggarwal. « Sexual revictimisation: a review of the empirical literature » Trauma, Violence & Abuse 6.2 (2005): 103-129.
Commonwealth of Australia, Human Rights and Equal Opportunities Commission. Bringing them home, National Inquiry into the Separation of Aboriginal and Torres Straight Islander Children from their Families. (1997,
https://www.humanrights.gov.au/our-
work/bringing-them-home-report-1997. Accessed 30 November 2020).
Detue, Frédérik and Charlotte Lacoste. "What Testimony Does to Literature." Synthesis 13(2020): 22-36.
Goffman, Erving. 1963. Stigma. Notes on the Management of Spoiled Identity, [1963]. London: Penguin, 1990.
Hibberd, Lily with Bonney Djuric, Parragirls: Reimagining Parramatta Girls Home through art and memory Sydney: New South Press, 2019.
Hibberd, Lily, and Naomi Toth, "Témoigner en dehors de la loi. Parragirls Past, Present" in Joana Etchart and Franck Miroux. Eds. Les Pratiques de vérité et de réconciliation dans les sociétés émergeant de situations violentes. (Institut francophone pour la justice et la démocratie, 2020.
Lacoste, Charlotte. Séductions du bourreau, négation des victimes. (Paris: Presses Universitaires de France, 2014.
MacFarlane, Kit. "Cinema for Claustrophiles: Virtual Reality at the Adelaide Film Festival and Beyond", Metro: Media and Education Magazine 200 (2019): 128–135.
Quadara, A. and C. Hunter. Principles of trauma-informed approaches to child sexual abuse: A discussion paper. (Sydney: Royal Commission into Institutional Responses to Child Sexual Abuse, 2016).
Sullivan, Corrinne. "Aboriginal Inmate Experiences of Parramatta Girls home." (Australian Aboriginal Studies 2 (2017): 84-97.
Taylor, Gideon. "Where morality meets money", in Michael J. Bayzler And Roger P. Alford. Eds. Holocaust Restitution. Perspectives on the Litigation and its Legacy. New York: New York UP, 2006. (Ch. 13).
Tynan, Lauren. Changing Places: Cootamundra to Parramatta Girls Home. North Parramatta: Parramatta Female Factory Precinct Inc., 2018.
Valentine, Alana. Parramatta Girls. Sydney: Currency Press, 2007.Valentine, Alana. Eyes to the Floor. Sydney: Currency Press, 2008.
Wood, Charlotte, The Natural Way of Things. Sydney: Allen and Unwin, 2016.