Psychological and Neuropsychological complications of patients with Covid - 19, after their hospitalization in Intensive Care Units
---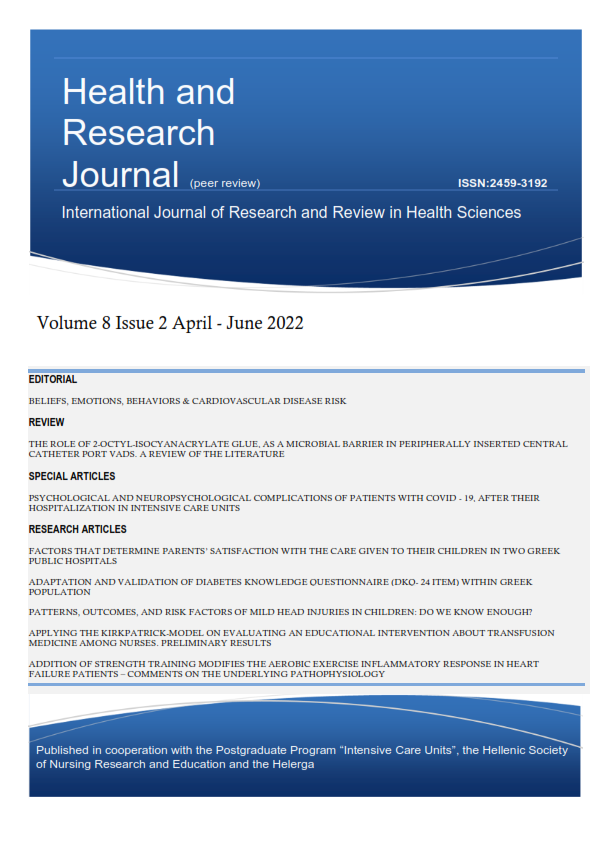 Published: Apr 3, 2022
Keywords:
covid-19 neuropsychological compications icu treatment post intensive care syndrome post traumatic stress disorder
Abstract
The globally recognized COVID-19 pandemic has brought about unprecedented and unexpected upheavals in science data. The consequences of SARS-CoV-2 are evident in public health and primarily in almost every human system. Due to the extent of the damage that it sometimes causes to the body, it is possible that patients need to be treated in an Intensive Care Unit.
In particular, during the hospitalization not only organic problems were observed, but also psychological, neuropsychological and neuropsychiatric disorders, which are caused by the nature of the virus. Important findings show that the mental health effects of the virus are not limited to the time frame of hospitalization in the ICU but remain after discharge.
Post-intensive care syndrome, post-traumatic stress disorder and fatigue are some of the most important persistent effects, so their in-depth understanding is considered necessary.
Article Details
How to Cite

Biagkis, N., Anthopoulou, I., & Kapadochos, T. (2022). Psychological and Neuropsychological complications of patients with Covid - 19, after their hospitalization in Intensive Care Units. Health & Research Journal, 8(2), 90–96. https://doi.org/10.12681/healthresj.27135
A) OPEN ACCESS POLICY

The journal "Health and Research Journal", follows an open access policy both for submission and accessing of articles.

Specifically the journal:

1. Claims no financial or any other gain from the author or authors of an article, neither for submission to the journal for publication, nor for revision and modification when peer reviewed.

2. Claims no financial or any other gain by articles' authors or by readers of the journal, for reading or downloading any article.

3. Reserves the right for the content and format of the printed article, not to be altered and to be used freely, preserving the form, the logo, the layout and the text as it is, a true copy of the file provided by the journal, with free access. (See also section C. Copyright Policy)

[The aforementioned apply equally for everyone and there is not any differentiation, restriction or other specific condition]

You can also ask more on the subject, from the editorial team of the journal, by sending mail to the journal. 


B) SELF-ARCHIVING POLICY

The journal "Health and Research journal", allows self-archiving of articles by the author or authors, under the following terms.

The journal allows:

1. The free self-archiving from the author, of a pre-printed article, at any stage of preparation it is, without limitations. As pre-printed, we consider the work that the author has not submitted yet to the journal and that certainly has not yet been peer reviewed.

2. The free self-archiving from the author, of the final, pre-printed article, that has been corrected and reviewed from the journal, with the expressed obligation to indicate that the article will be published by the journal "Health and Research Journal" and that it has been reviewed (or it is currently reviewed) by the journal's peer review process.

3. The free self-archiving from the author, of the final, printed article that has been published in the journal ""Health and Research Journal" with the expressed obligation to use only the printed pdf file of the journal (exact copy), that has the same logo, format and layout, as it is shared freely by the journal.

For more information on self-archiving policy, please contact the following link: OASIS (Open Access Scholarly Information Sourcebook)

You can also ask more on the subject, from the editorial team of the journal, by sending mail to journal.


C) COPYRIGHT POLICY

The journal "Health and Research Journal" reserves the rights for copyright of the content of the website and also the copyright of the articles published.

Specifically:

1. Does not allow any reproduction of part or whole of the content of the journal's website, if the original source is not explicitly stated.

2. Does not allow the usage, by third party, of journal's direct links to the pdf files (printed articles), if the original source is not explicitly stated (necessarily the name of the journal and optionally: year, volume, issue, pages).

3. All the members of the editorial board accept and comply with the national and international laws regarding copyrighted material, plagiarism and text-piracy, both for the content of the journal's website, as for the content of the published articles.

You can also ask more on the subject, from the editorial team of the journal, by sending mail to the journal.


D) PLAGIARISM POLICY

The journal "Health and Research Journal", reserves the right for detecting plagiarism, including duplicate publication of the author's own work, in whole or in part without proper citation, either with the use of special software or manually, at any stage before publication. For published articles by the journal, originality may also be checked after specific private complaint.

In case of plagiarism detection:

1. If the percentage of the manuscript's plagiarism is below 26%, the journal will contact and inform the author, asking for further revision and resubmission.

2. If the percentage of the manuscript's plagiarism is over 25%, the journal will contact and inform the author about the rejection of the article, without editorial review. Author is then advised to fully revise the manuscript before its new sumbission.
Downloads
Download data is not yet available.
References
Sheehy LM. Considerations for postacute rehabilitation for survivors of COVID-19. JMIR Public Health and Surveil-lance. JMIR Publications Inc 2020;6(2):1-8
Chang MC, Park D. Incidence of Post-Traumatic Stress Dis-order after Coronavirus Disease. Healthcare 2020;8(4):373.
Kemp HI, Corner E, Colvin LA. Chronic pain after COVID-19: implications for rehabilitation. British Journal of Anaesthe-sia 2020;125(4):436–40.
Islam KU, Iqbal J.. An Update on Molecular Diagnostics for COVID-19. Frontiers in cellular and infection microbiology 2020;10:560616.
Halpin SJ, McIvor C, Whyatt G, Adams A, Harvey O, McLean L, et al. Postdischarge symptoms and rehabilita-tion needs in survivors of COVID-19 infection: A cross-sectional evaluation. Journal of Medical Virology 2021;93(2):1013–22.
Liu D, Baumeister RF, Veilleux JC, Chen C, Liu W, Yue Y, et al. Risk factors associated with mental illness in hospital discharged patients infected with COVID-19 in Wuhan, China. Psychiatry Research 2020;292:113297.
University of John Hopkins. COVID-19 Map - Johns Hop-kins Coronavirus Resource Center 2020.
Wijeratne T, Crewther S. Post-COVID 19 Neurological Syn-drome (PCNS); a novel syndrome with challenges for the global neurology community. Journal of the Neurological Sciences 2020;419:117179.
Liang X, Zhu Y, Fang Y. COVID-19 and post-traumatic stress disorder: A vicious circle involving immunosuppres-sion. CNS Neuroscience and Therapeutics 2020;26(8):876–8.
Mohamadian M, Chiti H, Shoghli A, Biglari S, Parsamanesh N, Esmaeilzadeh A. COVID‐19: Virology, biology and novel laboratory diagnosis The journal of gene medicine. 2021;23(2):e3303.
Mazza MG, De Lorenzo R, Conte C, Poletti S, Vai B, Bollettini I, et al. Anxiety and depression in COVID-19 survivors: Role of inflammatory and clinical predictors. Brain, Behavior, and Immunity 2020;89:594–600/.
Hosey MM, Needham DM. Survivorship after COVID-19 ICU stay. Nature Reviews Disease Primers 2020;6(1):1–2.
Cai X, Hu X, Ekumi IO, Wang J, An Y, Li Z, et al. Psychologi-cal Distress and Its Correlates Among COVID-19 Survivors During Early Convalescence Across Age Groups. American Journal of Geriatric Psychiatry 2020;28(10):1030–9.
Kaseda ET, Levine AJ. Post-traumatic stress disorder: A dif-ferential diagnostic consideration for COVID-19 survivors. Clinical Neuropsychologist 2020;34(7–8):1498–514.
Wiertz CMH, Vints WAJ, Maas GJCM, Rasquin SMC, van Horn YY, Dremmen MPM, et al. COVID-19: Patient Charac-teristics in the First Phase of Postintensive Care Rehabilita-tion. Archives of Rehabilitation Research and Clinical Translationlation 2021;000:100-108.
Mayo Clinic Staff. COVID-19 (coronavirus): Long-term ef-fects. Mayo Clinic 2020.
Tucker P, Czapla C. Post-COVID-19 Stress Disorder: Another Emerging Consequence of the Global Pandemic. Psychiat-ric Times 2021;38(1):1–11.
Sher L. Post-COVID syndrome and suicide risk. QJM: An International Journal of Medicine 2021;114(2):95-98.
Coomes EA, Haghbayan H. Interleukin‐6 in COVID‐19: a systematic review and meta‐analysis. Reviews in medical virology 2020;30(6):1-9.
Mulchandani R, Lyngdoh T, Kakkar AK. Deciphering the COVID‐19 cytokine storm: Systematic review and meta‐analysis. European journal of clinical investigation 2021;51(1):e13429.
Lamprecht B. Is there a post-COVID syndrome? Pneu-mologe 2020;17(6):398–405.
Bienvenu OJ, Gerstenblith TA. Posttraumatic Stress Disorder Phenomena After Critical Illness. Critical Care Clinics 2017;33(3):649–58.
Soh M, Hifumi T, Iwasaki T, Miura Y, Otani N, Ishimatsu S. Impaired mental health status following intensive care unit admission in a patient with COVID‐19. Acute Medicine & Surgery 2020;7(1):e562.
Tingey JL, Bentley JA, Hosey MM. COVID-19: Understand-ing and Mitigating Trauma in ICU Survivors. Psychological Trauma: Theory, Research, Practice, and Policy 2020;12(S1):S100-S104.
Morin L, Savale L, Pham T, Colle R, Figueiredo S, Harrois A, et al. Four-Month Clinical Status of a Cohort of Patients af-ter Hospitalization for COVID-19. JAMA - Journal of the American Medical Association 2021;325(15):1525–34.
Ahmed H, Patel K, Greenwood DC, Halpin S, Lewthwaite P, Salawu A, et al. Long-term clinical outcomes in survivors of severe acute respiratory syndrome (SARS) and Middle East respiratory syndrome (MERS) coronavirus outbreaks after hospitalisation or ICU admission: A systematic review and meta-analysis. Journal of Rehabilitation Medicine 2020;52(5):1-11.
Wang S, Mosher C, Perkins AJ, Gao S, Lasiter S, Khan S, et al. Post-intensive care unit psychiatric comorbidity and quality of life. Journal of Hospital Medicine 2017;12(10):831–5.
Garrigues E, Janvier P, Kherabi Y, Le Bot A, Hamon A, Gou-ze H, et al. Post-discharge persistent symptoms and health-related quality of life after hospitalization for COVID-19. Journal of Infection 2020;81(6):e4–e6.
Kamal M, Abo Omirah M, Hussein A, Saeed H. Assessment and characterisation of post-COVID-19 manifestations. In-ternational Journal of Clinical Practice 2021;75(3):e13746.