ΕΚΤΙΜΗΣΕΙΣ ΠΑΝΩ ΣΕ ΑΡΙΘΜΟΓΡΑΜΜΗ: Η ΠΕΡΙΠΤΩΣΗ ΤΩΝ ΚΛΑΣΜΑΤΩΝ ΚΑΙ ΤΩΝ ΔΕΚΑΔΙΚΩΝ ΑΡΙΘΜΩΝ
---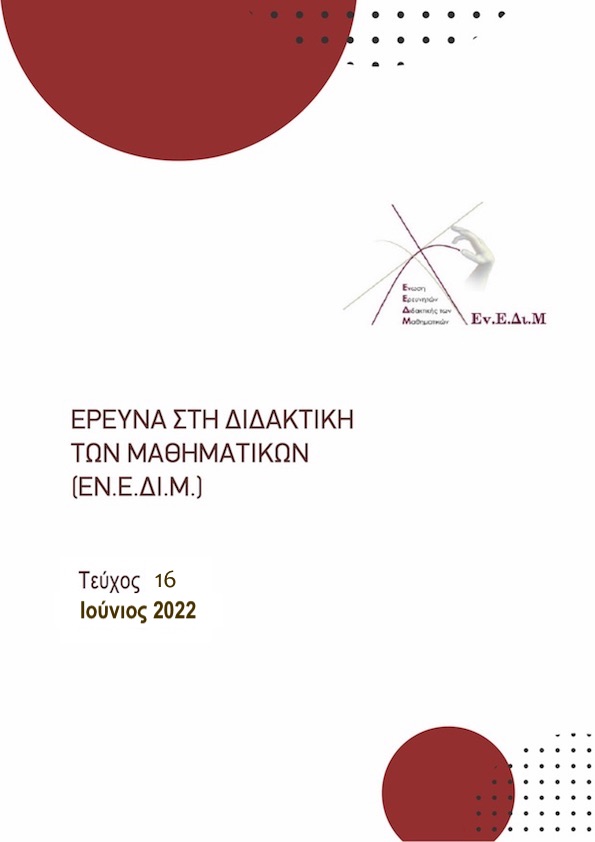 Δημοσιευμένα: Μαΐ 31, 2022
Περίληψη
Σκοπός της παρούσας εργασίας είναι να εξετάσει την ικανότητα παιδιών και ενηλίκων να πραγματοποιούν εκτιμήσεις με ρητούς αριθμούς πάνω σε αριθμογραμμή. Για τον σκοπό αυτό, σχεδιάστηκαν δύο έργα, τα οποία παρουσιάστηκαν σε 46 παιδιά Στ΄ τάξης και 42 ενήλικες, και αφορούσαν: α) την εκτίμηση της θέσης ρητών αριθμών πάνω στην αριθμογραμμή (Number to Position Task) και β) την εκτίμηση αριθμητικού μεγέθους ρητού αριθμού σε συγκεκριμένη θέση πάνω στην αριθμογραμμή (Position to Number Task). Αν και οι επιδόσεις των δύο ηλικιακών ομάδων διαφοροποιήθηκαν σημαντικά, με τους ενήλικες να υπερτερούν (84%) σε σχέση με τα παιδιά (55%), η επιτυχία των παιδιών δεν διαφοροποιήθηκε από την παρουσία ενδιάμεσων σημείων αναφοράς πάνω στην αριθμογραμμή. Ωστόσο, το μέγεθος των αριθμών (αριθμοί μικρότεροι ή μεγαλύτεροι από την μονάδα), το είδος των ρητών αριθμών (κλάσματα και δεκαδικοί αριθμοί) και το είδος του έργου έπαιξαν καθοριστικό ρόλο στην πραγματοποίηση των εκτιμήσεων και για τις δύο ηλικιακές ομάδες.
Λεπτομέρειες άρθρου
Πώς να δημιουργήσετε Αναφορές

Δεσλή (Despina Desli) Δ., & Τριανταφύλλου (IRINI TRIANTAFILLOU) Ε. (2022). ΕΚΤΙΜΗΣΕΙΣ ΠΑΝΩ ΣΕ ΑΡΙΘΜΟΓΡΑΜΜΗ: Η ΠΕΡΙΠΤΩΣΗ ΤΩΝ ΚΛΑΣΜΑΤΩΝ ΚΑΙ ΤΩΝ ΔΕΚΑΔΙΚΩΝ ΑΡΙΘΜΩΝ . Έρευνα στη Διδακτική των Μαθηματικών, (16), 5–25. ανακτήθηκε από https://ejournals.epublishing.ekt.gr/index.php/enedim/article/view/29626
Αυτή η εργασία είναι αδειοδοτημένη υπό το CC Αναφορά Δημιουργού 4.0.
Οι συγγραφείς των άρθρων που δημοσιεύονται στο περιοδικό διατηρούν τα δικαιώματα πνευματικής ιδιοκτησίας επί των άρθρων τους, δίνοντας στο περιοδικό το δικαίωμα της πρώτης δημοσίευσης. Άρθρα που δημοσιεύονται στο περιοδικό διατίθενται με άδεια
Creative Commons BY
 και σύμφωνα με την άδεια μπορούν να χρησιμοποιούνται ελεύθερα, με αναφορά στο/στη συγγραφέα και στην πρώτη δημοσίευση.
Λήψεις
Τα δεδομένα λήψης δεν είναι ακόμη διαθέσιμα.