Genesis of alpinotype fissure minerals from Thasos Island, Northern Greece - Mineralogy, mineral chemistry and crystallizing environment.
---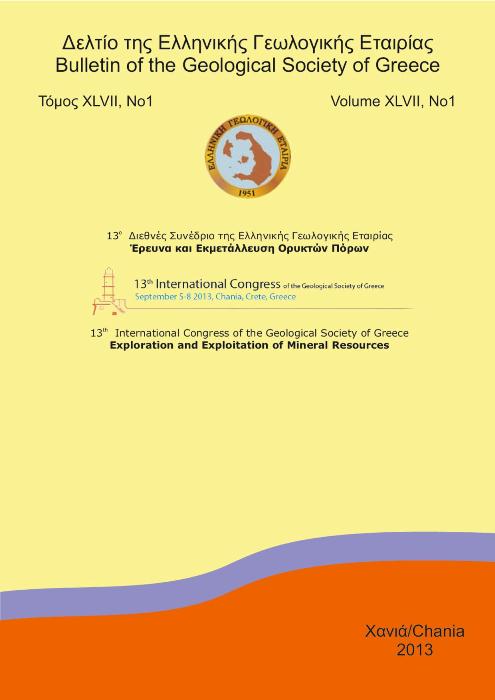 Published: Dec 2, 2013
Keywords:
Alpinotype fissure-minerals Thasos island Rhodope
Abstract
Alpinotype fissure-minerals in Thasos Island are hosted in gneisses, amphibolites, Mn-rich schists and calc-silicate layers, and marbles of the Carboniferous-Permian Pangeon Unit, which represents the lower tectonostratigraphic unit of the southern Rhodope metamorphic core complex. Alpinotype fissures crosscut metamorphic fabrics and are closely related to the exhumation processes of the core complex during the Oligocene-Miocene. Most mineralized fissures occur close to a major detachment fault, which separates gneisses from marbles and amphibolites. The mineralogy of the alpinotype fissures is closely related to the host rocks: amphibolite-hosted fissures include adularia, albite, quartz, titanite, apatite, actinolite, chlorite, calcite, hematite and rutile. Fissures in para- and orthogneisses- and in metapegmatites are characterized by smoky and clear quartz, adularia, muscovite and hematite. Fissures within spessartite-piemontite schists contain quartz, chlorite, spessartite, hematite, rutile, albite, epidote and traces of zircon. Finally fissures in calc-silicate layers include Mn-grossular, quartz and Mn-clinozoisite. Hydrothermal alteration halos surrounding the fissures may suggest leaching of the wall rocks as a potential mechanism for mineral deposition. Scepter quartz crystals consist of a lower Tessinhabit crystal and several generations of upper prismatic quartz crystals, suggesting several stages of crystallization and changing P-T-x conditions with time. Chlorite geothermometry indicates temperatures of formation in the range between 286 and 366 °C. Tessin habit quartz was deposited from CO2-bearing fluids, probably at the transition from a compressional to an extensional tectonic regime and was later dissolved by meteoric water dominated fluids resulting in the formation of quartz scepters. Oxidizing conditions are indicated by the widespread occurrence of hematite in the mineralization. The studied area represents a unique mineralogical geotope. Its geological-mineralogical heritage should be protected through establishment of a mineralogical-petrological geopark that will also promote sustainable development of the area.
Article Details
How to Cite

Voudouris, P., Constantinidou, S., Kati, M., Mavrogonatos, C., Kanellopoulos, C., & Volioti, E. (2013). Genesis of alpinotype fissure minerals from Thasos Island, Northern Greece - Mineralogy, mineral chemistry and crystallizing environment. Bulletin of the Geological Society of Greece, 47(1), 468–476. https://doi.org/10.12681/bgsg.11024
Section
Petrology and Mineralogy
This work is licensed under a Creative Commons Attribution-NonCommercial 4.0 International License.
Authors who publish with this journal agree to the following terms:
Authors retain copyright and grant the journal right of first publication with the work simultaneously licensed under a Creative Commons Attribution Non-Commercial License that allows others to share the work with an acknowledgement of the work's authorship and initial publication in this journal.
Authors are able to enter into separate, additional contractual arrangements for the non-exclusive distribution of the journal's published version of the work (e.g. post it to an institutional repository or publish it in a book), with an acknowledgement of its initial publication in this journal. Authors are permitted and encouraged to post their work online (preferably in institutional repositories or on their website) prior to and during the submission process, as it can lead to productive exchanges, as well as earlier and greater citation of published work.
Downloads
Download data is not yet available.