Amethyst occurrences in Tertiary volcanic rocks of Greece: mineralogical and genetic implications
---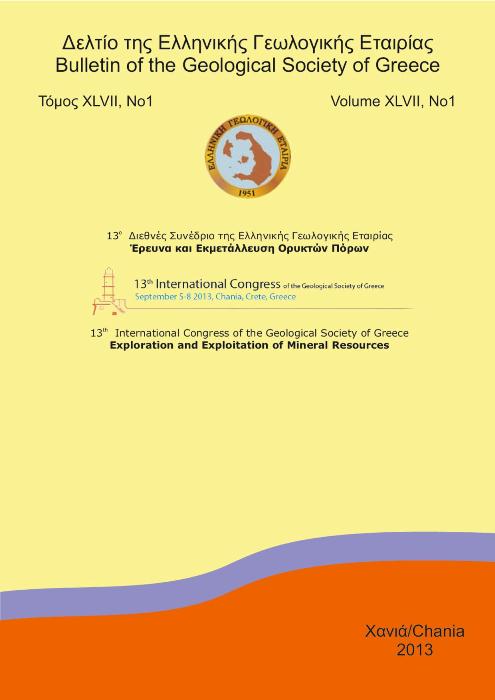 Published: Δεκ 2, 2013
Keywords:
amethyst volcanic rock hydrothermal alterations gemstones
Abstract
Epithermal-altered volcanic rocks in Greece host gem-quality amethyst veins in association with various silicates, carbonates, oxides, sulfides and halides. Host rocks are Oligocene to recent calc-alkaline to shoshonitic lavas and pyroclastics of intermediate- to acid composition. The amethyst-bearing veins occur in the periphery of porphyry-type and/or high-sulfidation epithermal mineralized centers in northern Greece (e.g. Sapes, Kirki, Kornofolia/Soufli, Lesvos island) and on Milos island in the active Aegean Volcanic Arc. Hydrothermal alteration around the quartz veins includes sericitic, K-feldspar (adularia), argillic, propylitic and zeolitic types. Precipitation of amethyst in the northern Greece occurrences, took place during the final stages of the magmatic-hydrothermal activity from near-neutral to alkaline fluids, as indicated by the presence of gangue adularia, calcite, smectite, chlorite, sericite, pyrite, zeolites (laumontite, heulandite, clinoptilolite), analcime and minor amounts of barite, halite, epidote and fluorite in the quartz veins. Amethyst at Milos Island (Chondro Vouno and Kalogries-Vani areas), is accompanied by barite, smectite and lepidocrocite. Colloform-crustiform banding with alternations of amethyst, chalcedony and/or carbonates is a common characteristic of the studied amethyst-bearing veins. Fluid inclusion- and mineralogical data suggest that the studied amethyst were formed at: 174-246 °C (Sapes area), 100-175 °C (Kirki and Kornofolia areas) and 223-234°C (Lesvos island). The amethyst formation requires oxidizing conditions and is probably the result of mixing between meteoric or seawater with upwelling hydrothermal fluids. The involvement of seawater in the studied mineralization is supported by the presence of halite and abundant barite in the veins. Finally, the studied amethyst deposits should be evaluated as potential gemstone sources in Greece.
Article Details
How to Cite

Voudouris, P., Psimis, I., Mavrogonatos, C., Kanellopoulos, C., Kati, M., & Chlekou, E. (2013). Amethyst occurrences in Tertiary volcanic rocks of Greece: mineralogical and genetic implications. Bulletin of the Geological Society of Greece, 47(1), 477–486. https://doi.org/10.12681/bgsg.11026
Section
Petrology and Mineralogy
This work is licensed under a Creative Commons Attribution-NonCommercial 4.0 International License.
Authors who publish with this journal agree to the following terms:
Authors retain copyright and grant the journal right of first publication with the work simultaneously licensed under a Creative Commons Attribution Non-Commercial License that allows others to share the work with an acknowledgement of the work's authorship and initial publication in this journal.
Authors are able to enter into separate, additional contractual arrangements for the non-exclusive distribution of the journal's published version of the work (e.g. post it to an institutional repository or publish it in a book), with an acknowledgement of its initial publication in this journal. Authors are permitted and encouraged to post their work online (preferably in institutional repositories or on their website) prior to and during the submission process, as it can lead to productive exchanges, as well as earlier and greater citation of published work.
Downloads
Download data is not yet available.