The contribution of CSR during the covid-19 period in Greece: A step forward
---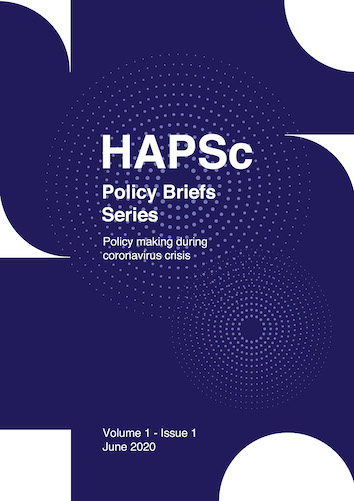 Abstract
The spread of the Covid-19 brought global institutions, societies, states and economies in a critical position as they encounter a new worldwide multilevel crisis. At the same time, states have had to handle this crisis acquiring an interventionist role, protecting the social and economic cohesion, providing better health care services for their citizens and investing in scientific research, as a means to restrict this new pandemic. In order to handle that situation and its consequences, the use of all the available resources became necessary as well as the improvement of the cooperation between the private and the public sector. In Greece private sector has shown an unprecedented willingness for Greece's CSR tradition, to contribute government's efforts.
Article Details
How to Cite

Kritas, D., Tzagkarakis, S. .-. I., Atsipoulianaki, Z., & Sidiropoulos, S. (2020). The contribution of CSR during the covid-19 period in Greece: A step forward. HAPSc Policy Briefs Series, 1(1), 238–243. https://doi.org/10.12681/hapscpbs.24971
This work is licensed under a Creative Commons Attribution 4.0 International License.
Authors retain copyright and grant the journal right of first publication with the work simultaneously licensed under a Creative Commons Attribution License that allows others to share the work with an acknowledgement of the work's authorship and initial publication in this journal.
Downloads
Download data is not yet available.
References
Marom, S. - Robert Lussier, R. N. (2020). Corporate Social Responsibility during the Coronavirus Pandemic: An Interim Overview, Business and Economic Research, vol. 10(2): 250-269:
https://doi.org/10.5296/ber.v10i2.17046
Skouloudis, A., Evangelinos, K., Nikolaou, I. and Filho, W.L. (2011), An overview of corporate social responsibility in Greece: perceptions, developments and barriers to overcome. Business Ethics: A European Review, 20: 205-226.
Stampoulis., M. & Dimitriou, V. (2015), The Emergence of CSR in Greece at Local Level – Synergies Between SMES and Local Authorities chapter in Rontos. K., Filipe J. A., Nagopoulos N. , Vavouras I. (eds), Towards A Society with a More Fair Economy or an Economy with a More Social Face: The Contribution of Scientific Social Knowledge to the Alternative Models of Socioeconomic Development, NOVA Science Publishers, New York: ISBN: 978-1-63482-900-7