A Comparative Analysis of COVID-19 Effects on air Pollution in Ten EU Cities in 2020
---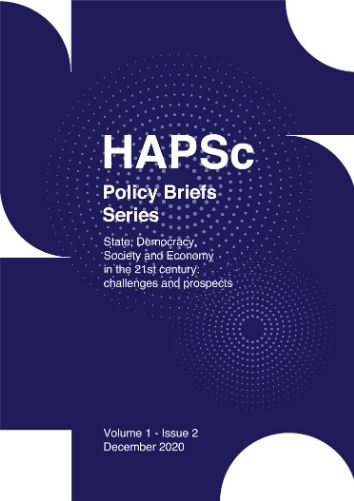 Δημοσιευμένα: Dec 29, 2020
Περίληψη
The global pandemic has arguably induced many dramatic changes at all levels worldwide. The occurrence of some silver linings on the environment brought about a glimmer of hope and optimism. However, these are seen as rather short-lived and temporary mainly linked to lower economic output and the imposition of restrictive measures by the national governments to contain the spreading of the coronavirus. In such a context, the restart of the economy plausibly raises many concerns about the durability of those in the long run. An environmental sector that has attracted particular attention is air pollution which has seen significant improvements in urban centers and most polluted cities during the pandemic. Evidence shows that air pollution in the EU has decreased in 2020 as a result of reduced consumption of fossil fuels, road transport, lower economic output, and industrial activity, however, strong signs of retreat to pre-coronavirus levels are observed. The aim of this policy brief is to examine the effects of COVID-19 on air pollution by breaking down and comparing the average concentrations of three pollutants, nitrogen dioxide (NO2), and particulate matter (PM2.5), and (PM10), per month in ten major European cities in 2020 with the use of data from the European Environment Agency.
Λεπτομέρειες άρθρου
Πώς να δημιουργήσετε Αναφορές

Melidis, M., & Tzagkarakis, S. I. (2020). A Comparative Analysis of COVID-19 Effects on air Pollution in Ten EU Cities in 2020. HAPSc Policy Briefs Series, 1(2), 167–174. https://doi.org/10.12681/hapscpbs.26494
Οι συγγραφείς των άρθρων που δημοσιεύονται στο περιοδικό διατηρούν τα δικαιώματα πνευματικής ιδιοκτησίας επί των άρθρων τους, δίνοντας στο περιοδικό το δικαίωμα της πρώτης δημοσίευσης. Άρθρα που δημοσιεύονται στο περιοδικό διατίθενται με άδεια Creative Commons 4.0 και σύμφωνα με την άδεια μπορούν να χρησιμοποιούνται ελεύθερα, με αναφορά στο/στη συγγραφέα και στην πρώτη δημοσίευση με δικαίωμα τροποποίησης μόνον με παρόμοια διανομή (αν αναμείξετε, τροποποιήσετε, ή δημιουργήσετε πάνω στο υλικό, πρέπει να διανείμετε τις δικές σας συνεισφορές υπό την ίδια άδεια όπως και το πρωτότυπο).
Λήψεις
Τα δεδομένα λήψης δεν είναι ακόμη διαθέσιμα.
Αναφορές
Helm, D. (2020). The environmental impacts of the coronavirus. Environmental & Resource Economics, 76: 21–38.
Melidis, M. (2020). What are the effects of COVID-19 on the environment?. HAPSc Policy Briefs Series, 1(1): 251-257.
Saadat, S., Rawtani, D. and Hussain, C. M. (2020). Environmental perspective of COVID-19. Science of The Total Environment, 138870.
Zambrano-Monserrate, M. A., Ruano, M. A. and Sanchez-Alcalde, L. (2020). Indirect effects of COVID-19 on the environment. Science of the Total Environment, 728, 138813.