Η Πολιτική για την Κλιματική Αλλαγή και η Ψυχική Υγεία
---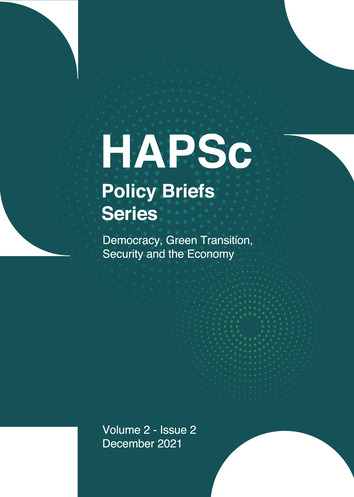 Δημοσιευμένα: Dec 29, 2021
Λέξεις-κλειδιά:
Κλιματική αλλαγή περιβάλλον ψυχική υγεία
Περίληψη
Η κλιματική αλλαγή αποτελεί ένα μείζον πρόβλημα που καλείται να αντιμετωπίσει η σύγχρονη κοινωνία. Η επίδραση της ανθρώπινης δραστηριότητας στο περιβάλλον, σε παγκόσμιο επίπεδο, έχει επιφέρει μη αναστρέψιμες αρνητικές επιδράσεις στην καθημερινότητά τους και στην ψυχική τους υγεία. Η παρούσα ερευνητική μελέτη στοχεύει στη διερεύνηση της κλιματικής αλλαγής, των επιπτώσεών της στη ψυχική υγεία του πληθυσμού και της χάραξης στρατηγικών αντιμετώπισης. Η μεθοδολογία που ακολουθήθηκε περιλάμβανε την αναζήτηση σχετικής βιβλιογραφίας και ερευνητικών δεδομένων, τα οποία συλλέχθηκαν μέσα από την ηλεκτρονική βάση δεδομένων Google Scholar, Pub-med, μέσα από άρθρα, περιοδικά, διπλωματικές εργασίες και διδακτορικές διατριβές. Η μελέτη καθιστά ξεκάθαρο ότι η κλιματική αλλαγή επηρεάζει τη ψυχική υγεία του πληθυσμού, γεγονός που απαιτεί περαιτέρω διερεύνηση και σχεδιασμό για την υλοποίηση κατάλληλων προγραμμάτων ενημέρωσης και υιοθέτησης συνηθειών και συμπεριφορών, για την αντιμετώπιση και τον περιορισμό των περιβαλλοντικών συνεπειών της.
Λεπτομέρειες άρθρου
Πώς να δημιουργήσετε Αναφορές

Douki, S., Tzagkarakis, S. I., & Spyridakis, E. (2021). Η Πολιτική για την Κλιματική Αλλαγή και η Ψυχική Υγεία. HAPSc Policy Briefs Series, 2(2), 298–306. https://doi.org/10.12681/hapscpbs.29517
Οι συγγραφείς των άρθρων που δημοσιεύονται στο περιοδικό διατηρούν τα δικαιώματα πνευματικής ιδιοκτησίας επί των άρθρων τους, δίνοντας στο περιοδικό το δικαίωμα της πρώτης δημοσίευσης. Άρθρα που δημοσιεύονται στο περιοδικό διατίθενται με άδεια Creative Commons 4.0 και σύμφωνα με την άδεια μπορούν να χρησιμοποιούνται ελεύθερα, με αναφορά στο/στη συγγραφέα και στην πρώτη δημοσίευση με δικαίωμα τροποποίησης μόνον με παρόμοια διανομή (αν αναμείξετε, τροποποιήσετε, ή δημιουργήσετε πάνω στο υλικό, πρέπει να διανείμετε τις δικές σας συνεισφορές υπό την ίδια άδεια όπως και το πρωτότυπο).
Λήψεις
Τα δεδομένα λήψης δεν είναι ακόμη διαθέσιμα.
Αναφορές
Alley, R., Bernsten, T., Bindoff NI., Chen Z., et al. (2007). Climate Change 2007: The Physical Scientific Basis, Summary for Policymakers. New York: Cambridge University Press.
Becken, S., Zammit, C., & Hendrikx, J. (2015). Developing Climate Change Maps for Tourism: Essential Information or Awareness Raising? Journal of Travel Research, 54(4), 430–441.
Berry, H. L., Waite, T. D., et al. (2018). The case for systems thinking about climate change and mental health. Nature Climate Change, 8(4), 282-290.
Berry, H. L., Bowen, K., & Kjellstrom, T. (2010). Climate change and mental health: a causal pathways framework. Int J Public Health, 55(2):123–132
Burke, M., González, F., et al. (2018). Higher temperatures increase suicide rates in the United States and Mexico. Nature climate change, 8(8), 723-729.
Carleton, T. A. (2017). Crop-damaging temperatures increase suicide rates in India. Proceedings of the National Academy of Sciences, 114(33), 8746-8751.
Centers for Disease Control and Prevention (2018). Mental Health Services for Children Policy Brief.
Clayton, S., Devine-Wright, P., et al. (2015). Psychological research and global climate change. Nature climate change, 5(7), 640-646.
Coêlho, A. E., Adair, J. G. & Mocellin, J. S. (2004). Psychological responses to drought in northeastern Brazil. Revista Interamericana de Psicologia/Interamerican Journal of Psychology, 38(1).
Dar, K. A., Iqbal, N., Prakash, A. & Paul, M. A. (2018). PTSD and depression in adult survivors of flood fury in Kashmir: The payoffs of social support. Psychiatry research, 261, 449-455.
Dean, K. L., Langley, A. K., et al. (2008). School-based disaster mental health services: Clinical, policy, and community challenges. Professional Psychology: Research and Practice, 39(1), 52.
Doupnik, S. K., Esposito, J., & Lavelle, J. (2018). Beyond mental health crisis stabilization in emergency departments and acute care hospitals. Pediatrics, 141(5).
Ellis, N. R., & Albrecht, G. A. (2017). Climate change threats to family farmers' sense of place and mental wellbeing: A case study from the Western Australian Wheatbelt. Social Science & Medicine, 175, 161-168.
Field, C. B., Barros, V., Stocker, T. F., & Dahe, Q. (Eds.) (2012). Managing the risks of extreme events and disasters to advance climate change adaptation: special report of the intergovernmental panel on climate change. Cambridge: Cambridge University Press.
Fontalba-Navas, A., Lucas-Borja, M. E., Gil-Aguilar, V., Arrebola, J. P., Pena-Andreu, J. M., & Perez, J. (2017). Incidence and risk factors for post-traumatic stress disorder in a population affected by a severe flood. Public health, 144, 96-102.
Grineski, S. E., Flores, A. B., Collins, T. W. & Chakraborty, J. (2020). Hurricane Harvey and Greater Houston households: comparing pre‐event preparedness with post‐event health effects, event exposures, and recovery. Disasters, 44(2), 408-432.
Hayes, K., Blashki, G., et al. (2018). Climate change and mental health: Risks, impacts and priority actions. International journal of mental health systems, 12(1), 1-12.
Laderman, M., Dasgupta, A., et al. (2018). Tackling the mental health crisis in emergency departments: look upstream for solutions. Health Affairs Blog, 26, January.
Liu, J., Potter, T., & Zahner, S. (2020). Policy brief on climate change and mental health/well-being. Nursing outlook, 68(4), 517–522.
O'Neill B.C., Kriegler E., Riahi K., Ebi K.L., Hallegatte S., Carter T.R., van Vuuren D.P. (2014). A new scenario framework for climate change research: the concept of shared socioeconomic pathways. Climatic Change, 122(3), 387–400.
Page, L. A., Hajat, S., et al. (2012). Temperature-related deaths in people with psychosis, dementia and substance misuse. The British Journal of Psychiatry, 200(6), 485-490.
Rowan, K., McAlpine, D. D. & Blewett, L. A. (2013). Access and cost barriers to mental health care, by insurance status, 1999–2010. Health affairs, 32(10), 1723-1730.
Thomas, F., Sabel, C. E., Morton, K., Hiscock, R., & Depledge, M. H. (2014). Extended impacts of climate change on health and wellbeing. Environmental Science & Policy, 44, 271– 278.
Trang, P. M., Rocklöv, J., et al. (2016). Heatwaves and hospital admissions for mental disorders in northern Vietnam. PloS one, 11(5), 0155609.
UNESCO (2017). High Level Objective 3. Increased resilience to Climate Change and variability and enhanced safety efficiency and effectiveness of all ocean based activities through scientifically-founded servises, adaptation and mitigation strategies.
Wang, X., Lavigne, E., Ouellette-kuntz, H., & Chen, B. E. (2014). Acute impacts of extreme temperature exposure on emergency room admissions related to mental and behavior disorders in Toronto, Canada. Journal of affective disorders, 155, 154-161.
WHO (1975). Promoting health in the human environment. Geneva: WHO.
Zalon, M. L. (2019). Preparing older citizens for global climate change: Collaborate and advocate to meet patient needs' and'implement policy change. American Nurse Today, 14(2), 5-10.