Effects of Greenwashing on the Markets of the Western World
---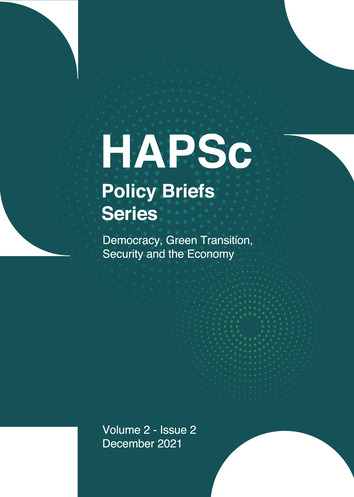 Δημοσιευμένα: Dec 29, 2021
Περίληψη
With the beginning of the new century, more and more consumers from the western world have taken a step further towards sustainable decisions. This leads them to be conscious of the company they support and buy from. In order to keep up with consumers' expectations, some companies have decided to promote a positive image of environmental performance, yet their real environmental performance has not changed. This practice is called greenwashing. This paper aims to take a closer look at this issue by using some case studies, and to inform the reader for some of the effects the act of greenwashing has brought into the surface in the western world.
Λεπτομέρειες άρθρου
Πώς να δημιουργήσετε Αναφορές

Mysirli, T., & Axarli, D. (2021). Effects of Greenwashing on the Markets of the Western World. HAPSc Policy Briefs Series, 2(2), 95–101. https://doi.org/10.12681/hapscpbs.29496
Οι συγγραφείς των άρθρων που δημοσιεύονται στο περιοδικό διατηρούν τα δικαιώματα πνευματικής ιδιοκτησίας επί των άρθρων τους, δίνοντας στο περιοδικό το δικαίωμα της πρώτης δημοσίευσης. Άρθρα που δημοσιεύονται στο περιοδικό διατίθενται με άδεια Creative Commons 4.0 και σύμφωνα με την άδεια μπορούν να χρησιμοποιούνται ελεύθερα, με αναφορά στο/στη συγγραφέα και στην πρώτη δημοσίευση με δικαίωμα τροποποίησης μόνον με παρόμοια διανομή (αν αναμείξετε, τροποποιήσετε, ή δημιουργήσετε πάνω στο υλικό, πρέπει να διανείμετε τις δικές σας συνεισφορές υπό την ίδια άδεια όπως και το πρωτότυπο).
Λήψεις
Τα δεδομένα λήψης δεν είναι ακόμη διαθέσιμα.
Αναφορές
Aggarwal, P. & Kadyan, A. (2014). Greenwashing: the darker side of CSR. International Journal of Innovative Research and Practices, 2(5), 22-35.
de Freitas Netto, S., Sobral, M., Ribeiro, A., & Soares, G. (2020). Concepts and forms of greenwashing: a systematic review. Environmental Sciences Europe, 32, 19.
De Jong, M., Harkink, K. & Barth, S. (2018). Making Green Stuff: effects of corporate greenwashing on consumers. Journal of Business and Technical Communication, 32(1), 77-112.
De Vries, G., Terwel, B., Ellemers, N. & Daamen, D. (2015). Sustainability or Profitability? How Communicated Motives for Environmental Policy Affect Public Perceptions of Corporate Greenwashing. Department of Social and Organizational Psychology. Leiden University. Leiden. the Netherlands.
Furlow, N. (2010). Greenwashing in the new millennium. Journal of Applied Business and Economics, 10(6), 22.
ter Beest, N. (2020). Does the degree of competition in an industry influence firms' level of greenwashing?. Faculty of Economics & Business. University of Groningen.