New Mediterranean Marine biodiversity records (June 2013)
---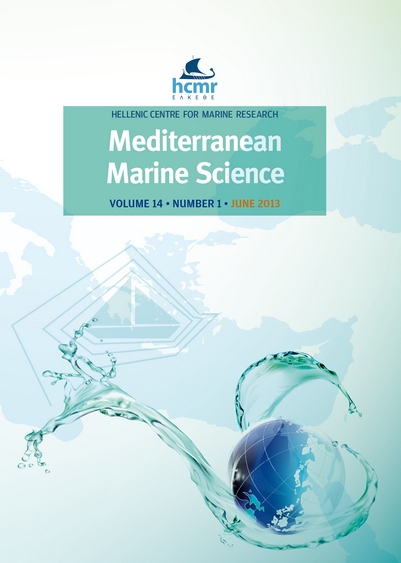 Abstract
This paper concerns records of species that have extended their distribution in the Mediterranean Sea. The finding of the rare brackish angiosperm Althenia filiformis in the island of Cyprus is interesting since its insertion in the Red Data Book of the Flora of Cyprus is suggested. The following species enriched the flora or fauna lists of the relevant countries: the red alga Sebdenia dichotoma (Greece), the hydrachnid mite Pontarachna adriatica (Slovenia), and the thalassinid Gebiacantha talismani (Turkey). Several alien species were recorded in new Mediterranean localities. The record of the burrowing goby Trypauchen vagina in the North Levantine Sea (Turkish coast), suggests the start of spreading of this Lessepsian immigrant in the Mediterranean Sea. The findings of the following species indicate the extension of their occurrence in the Mediterranean Sea: the foraminifer Amphistegina lobifera (island of Zakynthos, Greece), the medusa Cassiopea andromeda (Syria), the copepod Centropages furcatus (Aegean Sea), the decapod shrimp Melicertus hathor (island of Kastellorizo, Greece), the crab Menoethius monoceros (Gulf of Tunis), the barnacles Balanus trigonus, Megabalanus tintinnabulum, Megabalanus coccopoma and the bivalves Chama asperella, Cucurbitula cymbium (Saronikos Gulf, Greece).
Article Details
How to Cite

SIOKOU, I., ATES, A., AYAS, D., BEN SOUISSI, J., CHATTERJEE, T., DIMIZA, M., DURGHAM, H., DOGRAMMATZI, K., ERGUDEN, D., GERAKARIS, V., GREGO, M., ISSARIS, Y., KADIS, K., KATAGAN, T., KAPIRIS, K., KATSANEVAKIS, S., KERCKHOF, F., PAPASTERGIADOU, E., PESIC, V., POLYCHRONIDIS, L., RIFI, M., SALOMIDI, M., SEZGIN, M., TRIANTAPHYLLOU, M., TSIAMIS, K., TURAN, C., TZIORTZIS, I., D'UDEKEM D'ACOZ, C., YAGLIOGLU, D., ZAOUALI, J., & ZENETOS, A. (2013). New Mediterranean Marine biodiversity records (June 2013). Mediterranean Marine Science, 14(1), 238–249. https://doi.org/10.12681/mms.450
Section
Collective Article A
Authors who publish with this journal agree to the following terms:
Authors retain copyright and grant the journal right of first publication with the work simultaneously licensed under a Creative Commons

Attribution Non-Commercial

License that allows others to share the work with an acknowledgement of the work's authorship and initial publication in this journal.
Authors are able to enter into separate, additional contractual arrangements for the non-exclusive distribution of the journal's published version of the work (e.g. post it to an institutional repository or publish it in a book), with an acknowledgement of its initial publication in this journal.
Authors are permitted and encouraged to post their work online (preferably in institutional repositories or on their website) prior to and during the submission process, as it can lead to productive exchanges, as well as earlier and greater citation of published work (See The Effect of Open Access).
Downloads
Download data is not yet available.