Porcine malignant hyperthermia during sevoflurane anaesthasia
---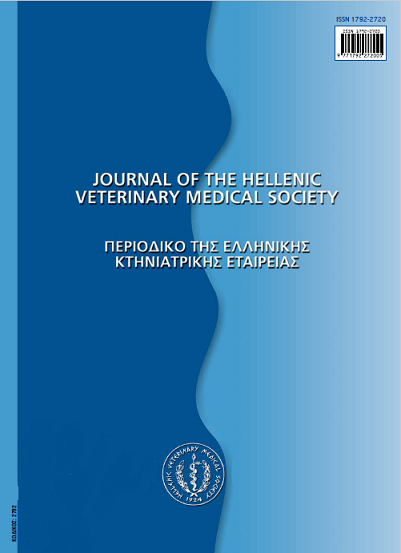 Published: Nov 27, 2017
Keywords:
malignant hyperthermia pig sevoflurane anaesthesia
Abstract
During a surgical procedure, in a pig, under general anaesthesia with sevoflurane, the animal developed malignant hyperthermia. Malignant hyperthermia was expressed only by a progressive increase of rectal temperature without early symptoms from the cardiopulmonary system. The delayed onset of the malignant hyperthermia may be due to the co-administration of a number of drugs at the pre-anaesthetic phase as well as during the surgical procedure.
Article Details
How to Cite

KOSTOMITSOPOULOS (Ν.Γ. ΚΩΣΤΟΜΗΤΣΟΠΟΥΛΟΣ) N. G., BALAFAS (Ε. ΜΠΑΛΑΦΑΣ) E., MANGIARAS (Γ. ΜΑΝΤΖΙΑΡΑΣ) G., PARONIS (Ε. ΠΑΡΩΝΗΣ) E., ALEXAKOS (Π. ΑΛΕΞΑΚΟΣ) P., & KARAYANNAKOS (Π.Ε. ΚΑΡΑΓΙΑΝΝΑΚΟΣ) P. E. (2017). Porcine malignant hyperthermia during sevoflurane anaesthasia. Journal of the Hellenic Veterinary Medical Society, 57(2), 122–126. https://doi.org/10.12681/jhvms.15015
Authors who publish with this journal agree to the following terms:
· Authors retain copyright and grant the journal right of first publication with the work simultaneously licensed under a Creative Commons Attribution Non-Commercial License that allows others to share the work with an acknowledgement of the work's authorship and initial publication in this journal.
· Authors are able to enter into separate, additional contractual arrangements for the non-exclusive distribution of the journal's published version of the work (e.g. post it to an institutional repository or publish it in a book), with an acknowledgement of its initial publication in this journal.
· Authors are permitted and encouraged to post their work online (preferably in institutional repositories or on their website) prior to and during the submission process, as it can lead to productive exchanges, as well as earlier and greater citation of published work.
Downloads
Download data is not yet available.
References
Bradley WG, Ward M, Murchison D, Hall LW, Woolf Ν (1973) Clinical, electrophysiological and pathological studies in malignant hyperpyrexia. Proc R Soc Med, 66:67-68
Brodbelt DC, Taylor PM (1998) Delayed onset malignant hyperthermia in two pigs. Vet Ree, 143:76-78
Brodbelt DC, Taylor PM. (1999) Comparison of two combinations of sedatives before anaestetising pigs with halothane and nitrous oxide. Vet Ree, 145(10):283-287
Ehler W.J, Mack JW, Jr Brown D.L., Davis RF (1985) Avoidance of malignant hyperthermia in a porcine model for experimental open heart surgery. Lab Anim Sci, 35:172-175
Endo M. (1997) Calcium release from the sarcoplasmic reticulum. Phys Rev, 57:71-108
Fruen BR, Mickelson JR, Louis CF (1997) Dantrolene inhibition of sarcoplasmatic reticulum Ca++ release by direct and specific action at skeletal muscle ryanodine receptors. J Biol Chem, 272(43):26965-26971
Geers R, Decanniere C, Ville H, Van Hecke Ρ, Goedseels V, BosschaertsL, Deley J, Janssens S, Nierynck W (1992) Identification of halothane gene carriers by use in vivo 3 IP nuclear magnetic resonance spectroscopy in pigs. Am J Vet Res, 53(9):1711-1714
Gronert GA, Milde JH (1981) Variations in onset of porcine malignant hyperthermia. Anesth Analg, 60(7):499-503
Gronert GA (1980) Malignant hyperthermia. Anesthesiology, 53(5):395-423
Hall LW, Trim CM, Woolf Ν (1972) Further studies of porcine malignant hyperthermia. BMJ 1972,ii: 145-148
Hall LW, Woolf Ν, Bradley JWP, Jolly DW (1966) Unusual reaction to suxamethonium chloride. BMJ, ii:1305
Houde A, Pommier SA, Roy R (1993) Detection of the ryanodine receptor mutation associated with malignant hyperthermia in purebred swine populations. J Anim Sci, 71(6): 1414-1418
Kaplan RF (1991) Malignant hyperthermia. Am Soc Anesthesiol, Ann Refresher Course Lee, San Francisco, No 231:1-7
Kobayashi S, Bannister ML, Gangopadhyay JP, Hamada T, Parness J, Ikemoto Ν (2005) Dantrolene stabilizes domain interactions within ryanodine receptor. J Biol Chem, 280(8):6580-6587
Palnitkar SS, Mickelson JR, Louis CF, Parness J (1997) Pharmacological distinction between dantrolene and ryanodine binding sites: evidence from normal and malignant hyperthermia - susceptible porcine skeletal muscle. Biochem J, 326:847-852
Putney JWJr (1979) Stimulus-permeability coupling: Role of calcium in the receptor regulation of membrane permeability. Pharmacol Rev, 30:209-245
Smith AC, Ehler WJ, Swindle MM (1997) Anesthesia and analgesiain swine. In Anesthesia and analgesia in laboratory animals. Kohn DF, Wixson SK, White WJ, Benson GJ ed., Academic Press,: 324-326
Swindle MM (1998) Surgery, anesthesia and experimental techniques in swine. Iowa State Press ed.,: 37-38
Swindle MM, Smith AC, Hepburn BJS (1988) Swine as models in experimental surgery. J Invest Surg, 1(1): 65-79
Woolf Ν, Hall LW, Thome C, Down M, Walker RG (1970) Serum creatine-phosphokinase levels in pigs reacting abnormally to halogenated anaesthetics. BMJ, iii:386-387