Endoscopic and histological findings in teats of dairy goats
---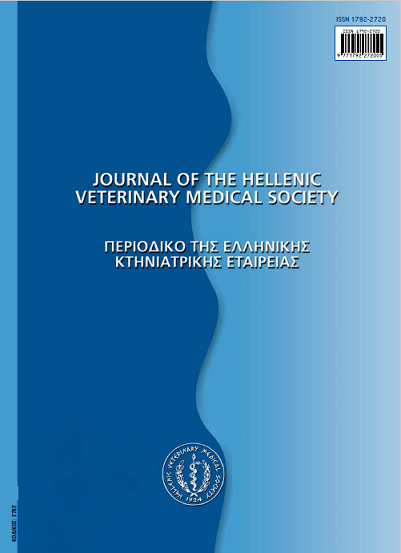 Published: Dec 15, 2017
Keywords:
endoscopy goat lesion teat
Abstract
Objective of the study was to study the endoscopic examination of teats of dairy goats and to explore the nature and the prevalence of lesions therein. Potentially abnormal findings were further investigated with histological examination. The study was performed in 510 teats from dairy goats, which were collected from slaughterhouses. The endoscopic findings were correlated with those of the histological examination. Of  the total teats examined, 16% (82/510) had abnormal findings
at the area of teat cistern. The most common finding (66 teats) wast hickness and nodular proliferation of the teat cistern. Diaphragms at the teat cistern were also common (19 teats), while cysts and abnormal findings located at the area of teat cistern were noticed only in 5 and 4 teats, respectively. Variations in the colour of the mucosa of the teat cistern were noticed in 29 cases; in 7 cases teat cistern mucosa was red, in 14 yellow and in 8 red and yellow. Endoscopic examination appears
to be an effective technique that might potentially allow evaluation of teat abnormalities in living dairy goats.
Article Details
How to Cite

KIOSSIS (Ε. ΚΙΟΣΣΗΣ) E., BROZOS (Χ.Ν. ΜΠΡΟΖΟΣ) C. N., PAPAIOANNOU (Ν. ΠΑΠΑΪΩΑΝΝΟΥ) N., TZANIDAKIS (Ν. ΤΖΑΝΙΔΑΚΗΣ) N., & BOSKOS (Κ. ΜΠΟΣΚΟΣ) C. (2017). Endoscopic and histological findings in teats of dairy goats. Journal of the Hellenic Veterinary Medical Society, 63(4), 265–272. https://doi.org/10.12681/jhvms.15439
Section
Research Articles
Authors who publish with this journal agree to the following terms:
· Authors retain copyright and grant the journal right of first publication with the work simultaneously licensed under a Creative Commons Attribution Non-Commercial License that allows others to share the work with an acknowledgement of the work's authorship and initial publication in this journal.
· Authors are able to enter into separate, additional contractual arrangements for the non-exclusive distribution of the journal's published version of the work (e.g. post it to an institutional repository or publish it in a book), with an acknowledgement of its initial publication in this journal.
· Authors are permitted and encouraged to post their work online (preferably in institutional repositories or on their website) prior to and during the submission process, as it can lead to productive exchanges, as well as earlier and greater citation of published work.
Downloads
Download data is not yet available.