Histopathological findings in canine dirofilariosis
---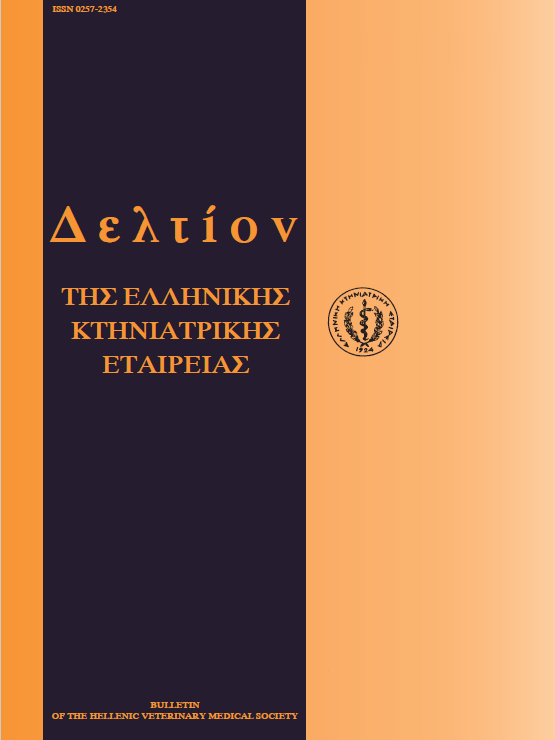 Abstract
The lesions found in ten dogs with severe chronic dirofilariosis were studied. In the lungs, the most significant changes were observed in the endarterium of the pulmonary artery branches. Also, remarkable were the vascular thrombosis and the granulomatous inflammatory response of the pulmonary parenchyma. The presence of severe granulomatous inflammation in the endarterium of the pulmonary artery branches in one dog, is considered significant, because this finding has been reported only in cat In the liver, congestion, intravascular coagulation in the portal system and fibrosis were found. The severity of hepatic lesions was not correlated with the number of adult heartworms found in the posterior vena cava. The kidneys showed mild to moderate membranoproliferative glomerulonephritis and intravenus blood coagulation.
Article Details
How to Cite

KALDRYMIDOU (Ε. ΚΑΛΔΡΥΜΙΔΟΥ) E., PSYCHAS (Β. ΨΥΧΑΣ) B., POUTAHIDIS (Θ. ΠΟΥΤΑΧΙΔΗΣ) T., PAPAIOANNOU (Ν. ΠΑΠΑΪΩΑΝΝΟΥ) N., & POLIZOPOULOU (Ζ. ΠΟΛΥΖΟΠΟΥΛΟΥ) Z. (2018). Histopathological findings in canine dirofilariosis. Journal of the Hellenic Veterinary Medical Society, 50(4), 326–334. https://doi.org/10.12681/jhvms.15732
Section
Research Articles
This work is licensed under a Creative Commons Attribution-NonCommercial 4.0 International License.
Authors who publish with this journal agree to the following terms:
· Authors retain copyright and grant the journal right of first publication with the work simultaneously licensed under a Creative Commons Attribution Non-Commercial License that allows others to share the work with an acknowledgement of the work's authorship and initial publication in this journal.
· Authors are able to enter into separate, additional contractual arrangements for the non-exclusive distribution of the journal's published version of the work (e.g. post it to an institutional repository or publish it in a book), with an acknowledgement of its initial publication in this journal.
· Authors are permitted and encouraged to post their work online (preferably in institutional repositories or on their website) prior to and during the submission process, as it can lead to productive exchanges, as well as earlier and greater citation of published work.
Downloads
Download data is not yet available.