Spontaneous remission of localized myasthenia gravis manifested as megaesophagus in a dog
---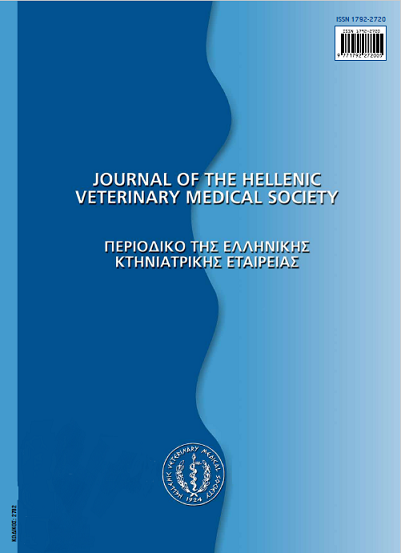 Published: Nov 13, 2017
Keywords:
acquired megaesophagus localized myasthenia gravis dog
Abstract
A 2.5-year-old male German shepherd-cross dog was admitted for progressively deteriorating regurgitations ofone-month duration. Physical examination was unremarkable, apart from a poor body condition; also, neurological examination did not reveal any abnormality. In thoracic survey radiographs, a generalized esophageal dilation, consistent with megaesophagus, was well visualized. An increased nicotinic acetylcholine receptor antibody titer confirmed the diagnosis of acquired focal myasthenia gravis expressed as megaesophagus in this patient. The only help offered to the dog was a modification of its feeding habits (upright position, small and frequent meals). Within two months of the initial admission and prior to institution of specific treatment for myasthenia gravis, the dog experienced spontaneous and complete clinical remission and remained healthy for the next two years, eating again the normal way, but unfortunately was lost to follow-up. The favourable outcome of megaesophagus due to localized myasthenia gravis is discussed accordingly.
Article Details
How to Cite

SOUBASIS (Ν. ΣΟΥΜΠΑΣΗΣ) N., MYLONAKIS (Μ.Ε. ΜΥΛΩΝΑΚΗΣ) M. E., PATSIKAS (Μ.Ν. ΠΑΤΣΙΚΑΣ) M. N., POLIZOPOULOU (Ζ. ΠΟΛΥΖΟΠΟΥΛΟΥ) Z., & KOUTINAS (Α.Φ. ΚΟΥΤΙΝΑΣ) A. F. (2017). Spontaneous remission of localized myasthenia gravis manifested as megaesophagus in a dog. Journal of the Hellenic Veterinary Medical Society, 61(1), 36–39. https://doi.org/10.12681/jhvms.14874
Authors who publish with this journal agree to the following terms:
· Authors retain copyright and grant the journal right of first publication with the work simultaneously licensed under a Creative Commons Attribution Non-Commercial License that allows others to share the work with an acknowledgement of the work's authorship and initial publication in this journal.
· Authors are able to enter into separate, additional contractual arrangements for the non-exclusive distribution of the journal's published version of the work (e.g. post it to an institutional repository or publish it in a book), with an acknowledgement of its initial publication in this journal.
· Authors are permitted and encouraged to post their work online (preferably in institutional repositories or on their website) prior to and during the submission process, as it can lead to productive exchanges, as well as earlier and greater citation of published work.
Downloads
Download data is not yet available.
References
Bartges JW, Nielson DL (1992) Reversible megaesophagus associated with atypical primary hypoadrenocorticism in a dog. J Am Vet Med Assoc, 201:889-891.
Dewey CW (2003) Disorders of the peripheral nervous system. In: A Practical Guide to Canine and Feline Neurology. 1st ed, Iowa State Press, Iowa: pp 367-412.
Gaynor AR, Shofer FS, Washabau RJ (1997) Risk factors for acquired megaesophagus in dogs. J Am Vet Med Assoc, 211:1406-1412.
Inzana KD. Peripheral nerve diseases. In: Textbook of Veterinary Internal Medicine. 6th ed, Saunders Elsevier, St Luis: pp 887-900.
Johnson BM, DeNovo RC, Mears EA (2009) Canine megaesophagus. In: Kirk's Current Veterinary Therapy XIV. 14th ed, Saunders Elsevier, St Luis: pp 486-492.
Mears EA, Jenkins CC (1997) Canine and feline megaesophagus. Compend Contin Educ Pract Vet, 19:313-326.
Mylonakis ME, Rallis T, Koutinas AF, Leontides LS, Patsikas M, Florou M, Papadopoulos E, Fytianou A (2006) Clinical signs and clinicopathologic abnormalities in dogs with clinical spirocercosis: 39 cases (1996-2004). J Am Vet Med Assoc 228:1063-1067.
Otte MA, Graves TK, Marks SL (2003) Canine acquired myasthenia gravis. Standards of Care: Emergency and Critical Care Medicine, 5:6-10.
Penderis J (2008) Junctionopathies: Disorders of the neuromuscular junction. In: A Practical Guide to Canine and Feline Neurology. 2nd ed, Wiley-Blackwell, Iowa: pp 517-557.
Shelton DG (1990) Acquired myasthenia gravis: selective involvement of esophageal, pharyngeal and facial muscles. J Vet Intern Med, 4:281- 284.
Shelton DG, Schule A, Kass PH (1997) Risk factors for acquired myasthenia gravis in dogs: 1.154 cases (1991-1995). J Am Vet Med Assoc, 211:1428-1431.
Shelton GD (1998) Myasthenia gravis: Lessons from the past 10 years. J Small Anim Pract, 39:368-372.
Shelton DG (2002) Myasthenia gravis and disorders of neuromuscular transmission. Vet Clin North Am Small Anim Pract, 32:189-206.
Tarns TR (2003) Diseases of the esophagus. In: Handbook of Small Animal Gastroenterology. 2nd ed, Saunders, St Luis: pp 118-158.
Washabau RJ (2005) Disorders of the pharynx and oesophagus. In: BSAVA Manual of Canine and Feline Gastroenterology. 2nd ed, British Small Animal Veterinary Association, Gloucester: pp 133-150.
Dvir E, Kirberger RM, Malleczek D (2001) Radiographic and computed tomographic changes and clinical presentations of spirocercocis in the dog. Vet Radiol Ultrasound, 42:119-129.
Wartous BJ (2002) The esophagus. In: Kirk's Thrall Textbook of Veterinary Diagnostic Radiology. 4th ed, Saunders Elsevier, Philadelphia: pp 329-349.