Superovulation of prepubertal and young pubertal gilts with PMSG
---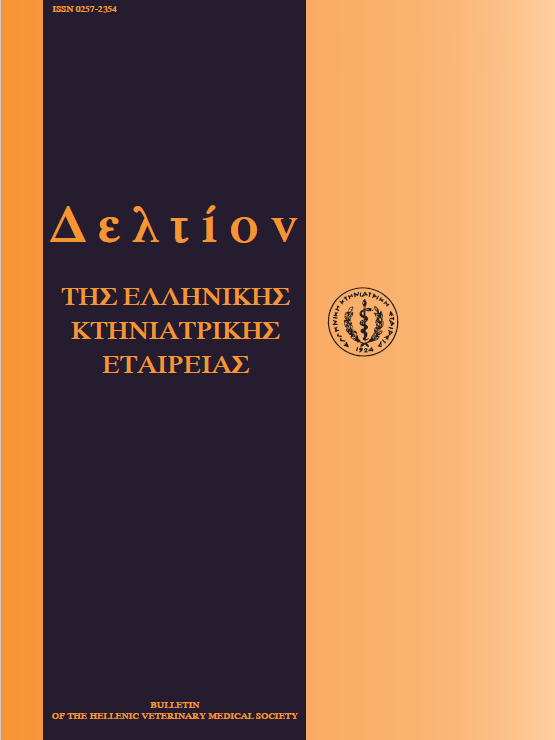 Published: Jan 31, 2018
Keywords:
sows gilts superovulation embryo transfer
Abstract
The feasibility of application of a standardized protocol for estrous synchronization, superovulation and embryo transfer in young pubertal and pre-pubertal gilts under farm conditions was investigated. Two groups of Large white X Landrace crossbreed gilts were used. Group A (n = 16) consisted of pubertal (>6months old ) animals weighing 100-110 kg while group Β (n=ll) consisted of prepubertal gilts weighing 75-80 kg. Superovulation and estrous synchronization was conducted by intramuscular administration of 1500 IU of PMSG and 750 IU of hCG given 12 and 72 hours after the transfer of the gilts to the service area (hour 0), respectively. At hours 96 and 108 the animals that exhibited estrous behavior (81,3 and 72.7% for groups A and Β respectively) were inseminated with fresh semen from a Large White boar containing 3xl09 progressively moving spermatozoa. Embryo collection took place 48 – 52 hours after the second insemination. No differences were detected in ovarian response, in the number of collected oocytes and in the number of fertilized ova between the two groups 31,5 ±16,9, 25,2±15,8, 17,5±9,9 and 44,6±22,4, 38,5 ±23,2, 21,6 ±9,5 for groups A and Β respectively. The proportion of fertilized ova was significantly higher in group A when compared to the one from group Β (75.7 vs 60.6% for group A and Β respectively, Ρ < 0.05). A negative correlation was also observed between the number of corpora lutea and fertilization rate (P< 0.0005). It is concluded that the present superovulation scheme can be used safely for sufficient embryo production from both prepubertal and pubertal gilts under farm conditions.
Article Details
How to Cite

ANASTASIADIS (Α. ΑΝΑΣΤΑΣΙΑΔΗΣ) A., AMIRIDIS (Γ. Σ. ΑΜΟΙΡΙΔΗΣ) G. C., LYMBEROPOULOS (Α.Γ. ΛΥΜΠΕΡΟΠΟΥΛΟΣ) A. G., KORONAKI (Α. ΚΟΡΩΝΑΚΗ) A., & VAINAS (Ε. ΒΑΪΝΑΣ) E. (2018). Superovulation of prepubertal and young pubertal gilts with PMSG. Journal of the Hellenic Veterinary Medical Society, 52(4), 325–329. https://doi.org/10.12681/jhvms.15465
Section
Research Articles
Authors who publish with this journal agree to the following terms:
· Authors retain copyright and grant the journal right of first publication with the work simultaneously licensed under a Creative Commons Attribution Non-Commercial License that allows others to share the work with an acknowledgement of the work's authorship and initial publication in this journal.
· Authors are able to enter into separate, additional contractual arrangements for the non-exclusive distribution of the journal's published version of the work (e.g. post it to an institutional repository or publish it in a book), with an acknowledgement of its initial publication in this journal.
· Authors are permitted and encouraged to post their work online (preferably in institutional repositories or on their website) prior to and during the submission process, as it can lead to productive exchanges, as well as earlier and greater citation of published work.
Downloads
Download data is not yet available.
References
Day BN. Reproductive biotechnologies: current status in porcine reproduction. Anim. Reprod. Sci. 2000,60-61,161-172.
Niemann H., Meineke B. Embryotransfer und assoziierte biotechniken bei Landwirtschaftlichen Nutztieren. Ferdinand Enke Verlag Stuttgart, 1993.
Kräusslich H., Brem G. Tierzucht und Landwirtschaftslehre fur Tiermediziner. Ferdinand Enke Verlag Stuttgart, 1997.
Holz W., Schlieper B. Die superovulation beim Schwein. Dtsch Tierärztl. Wschr 1985,92,165-204.
Martinat-Botte F., Baritean F., Badonard B. and Tequi M. Control of pig reproduction in a breeding program. J.Repr. Fert. 1985,33,211-228.
Kruff B., Lampeter WW. und Kräusslich Η. Untersuchungen für Superovulationserflog und zur Kultur von Embryonen im Rahmen des Embryotransfers beim Schwein. Zuchthygiene 1983,18,1-6.
Schlieper B. und Holtz W. Transfer of pig embryos collected by laparotomy or slaughter. Anim. Reprod. Sci. 1986,12,109-114.
Claus R. and Weiler V. Influence of light and photoperiodicity on pig prolificacy. J. Reprod. Fert. 1985,33,185-197.
Springmann Ν. und Brem G. Embryotransfer beim Schwein im Rahmen von Gentransferprogrammen. Tierarztl Prax. 1989,4,21-25.
Holtz W. and Schlieper B. Unsatisfactory results with the transfer of embryos from gilts superovulated with PMSG and hCG. Theriogenology 1991,35,1237-1249.
Wallenhorst S., Holtz W. Transfer of pig embryos to different Uterine Sites. J. Anim. Sci. 1999,77,2327-2329.
Besenfelder U., Modi J., Müller M. and Brem G. Endoscopic embryo collection and embryo transfer into the oviduct and the uterus of pigs. Theriogenology 1997,47,1051-1060.
Springmann Κ. Embryotransfer beim Schwein. Der Praktische Tierarzt 1987,8,14-16.
Schlieper B. Embryotransfer beim Schwein-Erfolg in Abhängigkeit von Inductions und Gewinnungsmodus (1983). Diss. Agr. Göttingen.
Galvin MJ., Killian DB. and Stewart ANV. A procedure for successful nonsurgical embryo transfer in swine. 1994,1279-1289.