Epizootiologic survey of selenium and vitamin E concentrations in cattle to be slaughtered in Thessaloniki
---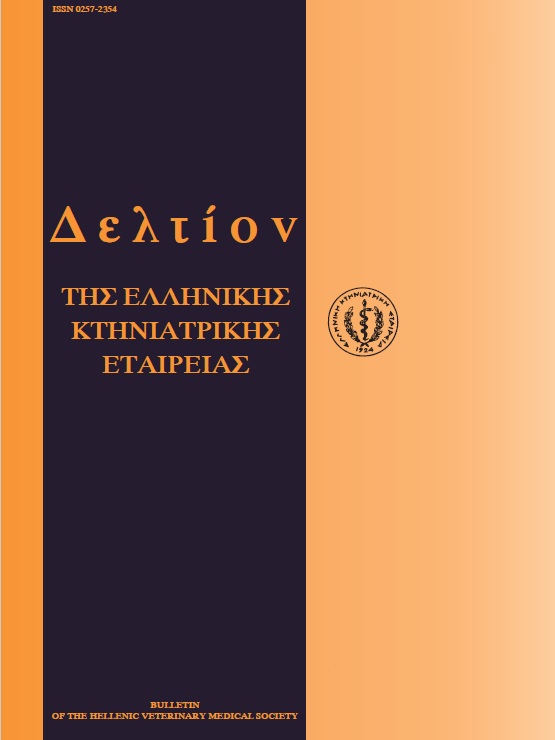 Abstract
The purpose of this survey was the study of selenium (Se) and vitamin E (vit. E) concentrations in cattle to be slaughtered in the area of Thessaloniki. For this purpose, research samples of blood and liver were collected from 205 cattle brought to different slaughter-houses of Thessaloniki. Out of the 205 cattle to be slaughtered, 78% presented deficient concentration of Se in liver (0,110-0,600 μg/g DM), 17% marginally deficient concentration(0,601-0,900 μg/g DM) and only 5% normal concentration (0,901-1,512 μg/g DM). Regarding vit. E, only 5% out of the 205 cattle to be slaughtered presented deficient concentration in liver (<5 μg/g WW). It is concluded from the above that, in Thessaloniki, a significant percentage of cattle run the risk of Se deficiency diseases. On the contrary, the case of vit. E deficiency, should be regarded as improbable for these animals.
Article Details
How to Cite

CHRISTODOULOPOULOS (Γ. ΧΡΙΣΤΟΔΟΥΛΟΠΟΥΛΟΣ) G., ROUBIES (Ν. ΡΟΥΜΠΙΕΣ) N., KARATZIAS (Χ. ΚΑΡΑΤΖΙΑΣ) H., & PAPASTERIADIS (Α. ΠΑΠΑΣΤΕΡΙΑΔΗΣ) A. (2018). Epizootiologic survey of selenium and vitamin E concentrations in cattle to be slaughtered in Thessaloniki. Journal of the Hellenic Veterinary Medical Society, 51(4), 277–280. https://doi.org/10.12681/jhvms.15686
Section
Research Articles
Authors who publish with this journal agree to the following terms:
· Authors retain copyright and grant the journal right of first publication with the work simultaneously licensed under a Creative Commons Attribution Non-Commercial License that allows others to share the work with an acknowledgement of the work's authorship and initial publication in this journal.
· Authors are able to enter into separate, additional contractual arrangements for the non-exclusive distribution of the journal's published version of the work (e.g. post it to an institutional repository or publish it in a book), with an acknowledgement of its initial publication in this journal.
· Authors are permitted and encouraged to post their work online (preferably in institutional repositories or on their website) prior to and during the submission process, as it can lead to productive exchanges, as well as earlier and greater citation of published work.
Downloads
Download data is not yet available.
References
Χριστοδουλόπουλος Γ, Ρουμπιές Ν, Καρατζιάς Χ, Παπαστεριάδης Αχ. Επιζωοτιολογική έρευνα των συγκεντώσεων σεληνίου και βιταμίνης Ε στις γαλακτοπαραγωγές αγελάδες του νομοΰ Θεσσαλονίκης. Δελτίον ΕΚΕ, υπό δημοσίευση
Agiannidis A and Voulgaropoulos Α. Improved procedure for the fluorometric determination of selenium in biological materials. Chimika Chronica, New Series 1990,19:111-118
Flohe L and Brand I. Some hints to avoid pitfalls in Quantitative determination of glutathione peroxidase. Ζ Klin Chem U Klin Biochem 1970,8:156-161
Hansen LG, Warwick WJ. A fluorometric micro method for serum tocopherol. Tech Bull, Reg Med Teeh 1966,36:131-136
Taylor SL, Lamden MP and Tappel AL. Sensitive fluorometric method for tissue tocopherol analysis. Lipids 1976,11,7:530-538
Ζέρβας Γ. Συγκεντρώσεις των κυριώτερων ιχνοστοιχείων σε βιολογικά υλικά αιγοπροβάτων του θεσσαλικού χώρου. Επιθεώρηση Ζωοτεχνικής Επιστήμης 1988,7: 49-63
Scott ML, Thompson JN. Selenium content of feedstuffs and effects of dietary selenium levels upon tissue selenium in chicks and poults. Poult Sci 1971,50:1742-1748
Underwood EJ. Trace elements in human and animal nutrition. 4th ed., Academic Press, New York-San Francisco- London, 1977
Maus RW, Martz FA, Belyea RL and Weiss MF. Relationship of dietary Selenium in plasma and milk from dairy cows. J Dairy Sci 1980,63: 532-537
Scholz RW, Deborah A, Todhunter MS, Lynda S and Cook BS. Selenium content and glutathione peroxidase activity in tissues of young cattle fed supplemented whole milk diets. Am J Vet Res 1981,42,10:1718-1723
Shamberger RJ. Biochemistry of selenium. Frieden Earl (ed), Plenum Press, New York and London, 1983
Χριστοδουλόπουλος Γ. Επιζωοτιολογική έρευνα των συγκεντρώσεων σεληνίου και βιταμίνης Ε στα βοοειδή του νομού Θεσσαλονίκης. Διδακτορική διατριβή, Κτηνιατρικό Τμήμα, ΑΠΘ, 1998
Rammeil CG and Cunliffe. Vitamin E status of cattle and sheep 2: Survey of liver from clinically normal cattle and sheep for a-tocopherol. NZvet J 1983,31: 203-204
Blood DC and Radostits OM. Veterinary Medicine, 7th ed, Bailliere-Tinball, London, 1989
Adams CR. Feedlot cattle need supplemental vitamin E. Feedstuffs 1982, May 3:24-25
Friedrich W. Vitamin E In: Vitamins Friedrich W. (ed), Walter de Gruyter, Berlin-New York, 1988,4: 229-279
Ewan RC. Animal tissues. In: Occurence and distribution of selenium. Milan Inhat (ed), CRC Press, 1989, 7:121-167