Authoritarianism, prejudice and COVID-19: the moderating role of cultural liberalism
---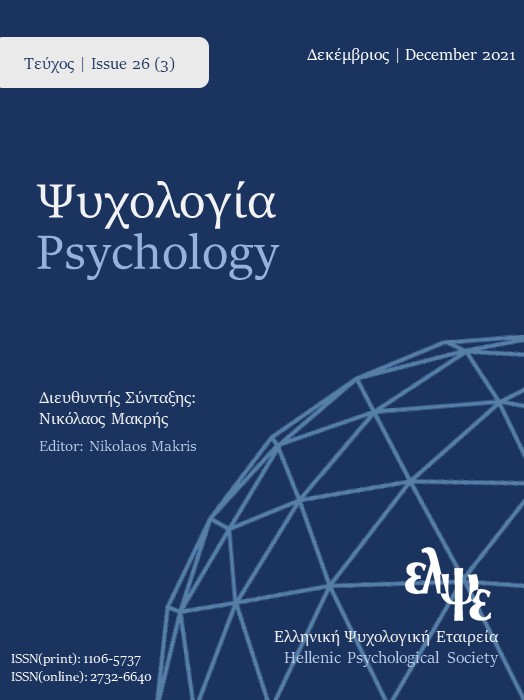 Published: Δεκ 30, 2021
Keywords:
COVID-19 cultural liberalism ideological level prejudice right-wing authoritarianism threat
Abstract
The COVID-19 pandemic has posed an enormous challenge in medical, economic, and political terms during the past months. The threat of disease, the more or less authoritarian biopolitics of the states, the concept of social distancing, dictate the need to examine the consequences of the pandemic on an ideological level. Making use of data collected before the pandemic (N = 82) as a point of reference, the aim of the present study was to test the hypothesis that right-wing authoritarianism (Authoritarianism – Conservatism – Traditionalism; ACT; Duckitt et al., 2010) increases under conditions of threat salience (Adorno et al., 1950; Sales, 1973), while appraising the possible moderating role of cultural liberalism. Furthermore, the hypothesis that threat predicts prejudice (e.g., Florack et al., 2003) was examined. Data were collected during three phases of the pandemic in Greece: the first weeks (N = 85), the lockdown (N = 131) and the lifting of the lockdown measures (N = 126). Results confirmed our hypotheses. An increase was found in Conservatism and Traditionalism, especially among less liberal participants, whereas more liberals appeared to express reduced levels of right-wing authoritarianism during the lifting of lockdown measures compared to the pre-COVID-19 period. A progressive expression of prejudice was also found, with cultural liberalism playing a limited but still moderating role in all three phases. Implications of the pandemic for the ideological level are discussed.
Article Details
How to Cite

Valavani, A., & Prodromitis, G. (2021). Authoritarianism, prejudice and COVID-19: the moderating role of cultural liberalism. Psychology: The Journal of the Hellenic Psychological Society, 26(3), 62–77. https://doi.org/10.12681/psy_hps.28863
This work is licensed under a Creative Commons Attribution-ShareAlike 4.0 International License.
The journal PSYCHOLOGY adopts a Platinum open-access policy. Submission, processing or publication costs are waived by the Hellenic Psychological Society. Papers published in the journal PSYCHOLOGY are licensed under a 'Creative Commons Attribution-ShareAlike 4.0 International' licence. The authors reserve the copyright of their work and grant the journal the right of its first publication. Third-party licensees are allowed to use the published paper immediately after publication as they wish, provided they retain the defined by the license copyright formalities, regarding the reference to its author(s) and its initial publication in the journal PSYCHOLOGY. Moreover, any adjusted work should be shared under the same reuse rights, so with the same CC license.
Downloads
Download data is not yet available.