The indirect effects of adolescents perceptions about father typology on their adjustment through emotion regulation
---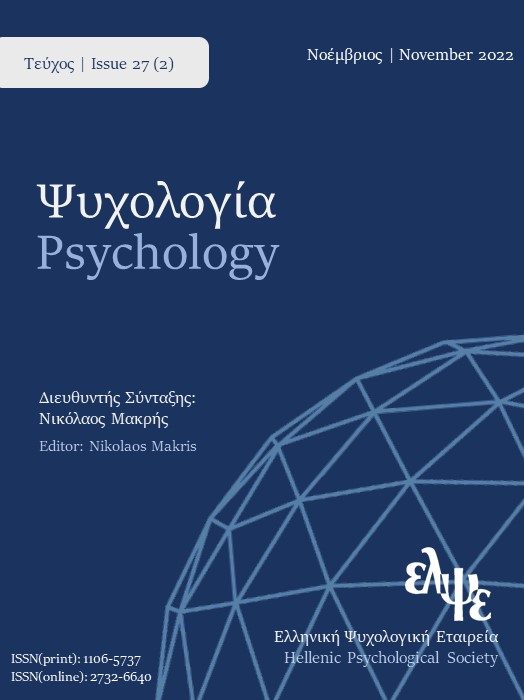 Published: Nov 18, 2022
Keywords:
Father typology emotion regulation adjustment adolescents
Abstract
The present research examines the relationship among 186 Greek adolescents' perceptions about father typology (authoritative, authoritarian, permissive, strict), emotion regulation (cognitive reappraisal, emotion suppression) and psychosocial adjustment (externalizing / internalizing problems, prosocial behavior). Perceived authoritative father style was negatively associated with behavior problems (internalizing and externalizing) and with expressive suppression, whereas perceived authoritarian and permissive father style negatively with cognitive reappraisal. Perceived authoritative father style correlated positively with cognitive reappraisal, whereas permissive father style negatively, and positively with prosocial behavior. Emotion regulation strategies were linked to internalizing and externalizing problems. Gender was found to differentiate internalizing problems and prosocial behavior in favor of girls who, in addition, perceive their fathers as more permissive compared to boys who had higher scores in expressive suppression. Finally, low cognitive reappraisal and high expressive suppression were found to mediate the associations between perceived authoritative and permissive father styles and externalizing and internalizing problems. The findings are discussed in terms of their practical implications.  
Article Details
How to Cite

Milioni, M., Kokkinos, C. M., & Antonopoulou , A. (2022). The indirect effects of adolescents perceptions about father typology on their adjustment through emotion regulation . Psychology: The Journal of the Hellenic Psychological Society, 27(2), 21–39. https://doi.org/10.12681/psy_hps.31760
This work is licensed under a Creative Commons Attribution-ShareAlike 4.0 International License.
The journal PSYCHOLOGY adopts a Platinum open-access policy. Submission, processing or publication costs are waived by the Hellenic Psychological Society. Papers published in the journal PSYCHOLOGY are licensed under a 'Creative Commons Attribution-ShareAlike 4.0 International' licence. The authors reserve the copyright of their work and grant the journal the right of its first publication. Third-party licensees are allowed to use the published paper immediately after publication as they wish, provided they retain the defined by the license copyright formalities, regarding the reference to its author(s) and its initial publication in the journal PSYCHOLOGY. Moreover, any adjusted work should be shared under the same reuse rights, so with the same CC license.
Downloads
Download data is not yet available.