Introduction: Rereading, Re-turning and the Quest of the Political
---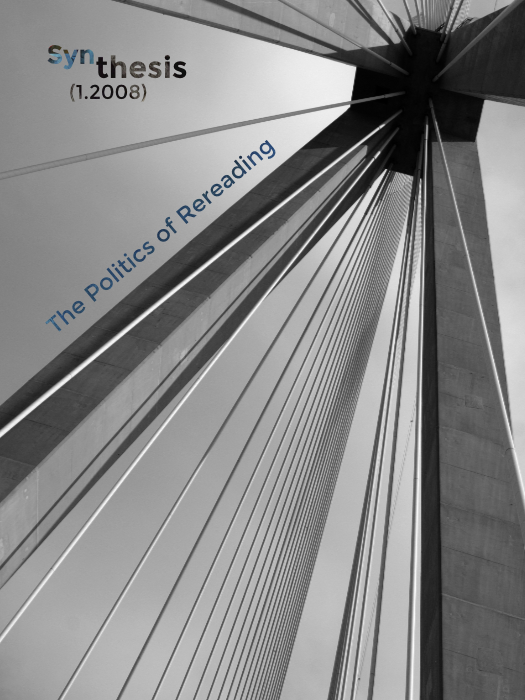 Published: May 1, 2008
Keywords:
poststructuralism deconstruction postcolonialism politics of reading cultural critique ecosystem humanities comparative literature
Article Details
This work is licensed under a Creative Commons Attribution 4.0 International License.
The copyright for articles in this journal is retained by the author(s), with first publication rights granted to the journal. By virtue of their appearance in this open access journal, articles are free to use with proper attribution. Synthesis retains the worldwide right to reproduce, display, distribute, and use published articles in all formats and media, either separately or as part of collective works for the full term of copyright. This includes but is not limited to the right to publish articles in an issue of the Journal, copy and distribute individual reprints of the articles, authorize reproduction of articles in their entirety, and authorize reproduction and distribution of articles or abstracts thereof by means of computerized retrieval systems.
Downloads
Download data is not yet available.
References
Althusser, Louis and Étienne Balibar. Reading Capital. London: Verso, 1979.
Arendt, Hannah. The Promise of Politics. New York: Schocken Books, 2005.
Attridge, Derek. "Introduction. Derrida and the Questioning of Literature." Acts of Literature. New York & London: Routledge, 1992. 1-33.
Blanchot, Maurice. The Writing of the Disaster. Trans. Ann Smock. Nebraska: University of Nebraska Press, 1995.
Colás, Santiago. "Toward and Ethics of Close Reading in the Age of Neo-Liberalism." CR: The New Centennial Review 7.3 (2007): 171-211.
Covi, Giovanna, et al. ReSisters in Conversation: Representation, Responsibility, Complexity, Pedagogy. Yorkshire: Raw Nerve Books, 2006.
Derrida, Jacques. Politics of Friendship. Trans. George Collins. New York: Verso, 1997.
Mufti, Aamir R. "Critical Secularism: A Reintroduction for Perilous Times." Critical Secularism, Ed. Aamir R. Mufti, a special issue of boundary 2 31. 2 (2004): 1-9.
R.Radhakrishnan. History, the Human and the World Between. Durham: Duke University Press, 2008.
R.Radhakrishnan. "Edward Said's Literary Humanism." Cultural Critique 67 (Fall 2007): 13-42.
R.Radhakrishnan. Theory in an Uneven World. Malden & Oxford: Blackwell Publishing, 2003.
Said, Edward. Humanism and Democratic Criticism. New York: Palgrave, 2004.
Said, Edward. Culture and Imperialism. New York: Vintage Books, 1994.
Said, Edward. Orientalism. London: Penguin, 1991.
Spanos, William, V. "Edward Said and the Poststructuralists: Introduction." The Legacy of Edward W. Said. Illinois: University of Illinois Press, 2008.
Ulmer, Gregory. "The Object of Post-Criticism." Postmodern Culture. Ed. Hal Foster. London: Pluto Press, 1985. 83-110.