Reading Contrapuntally, Living in the Present: An Interview with R. Radhakrishnan
---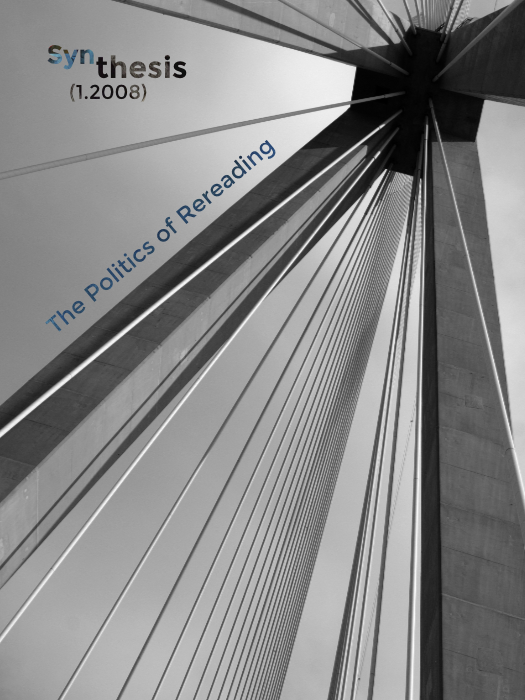 Published: May 1, 2008
Keywords:
reading cultural critique interview R. Radhakrishnan Mina Karavanta
Article Details
This work is licensed under a Creative Commons Attribution 4.0 International License.
The copyright for articles in this journal is retained by the author(s), with first publication rights granted to the journal. By virtue of their appearance in this open access journal, articles are free to use with proper attribution. Synthesis retains the worldwide right to reproduce, display, distribute, and use published articles in all formats and media, either separately or as part of collective works for the full term of copyright. This includes but is not limited to the right to publish articles in an issue of the Journal, copy and distribute individual reprints of the articles, authorize reproduction of articles in their entirety, and authorize reproduction and distribution of articles or abstracts thereof by means of computerized retrieval systems.
Downloads
Download data is not yet available.
References
Anim-Addo, Joan. Touching the Body. History, Language & African Caribbean Women's Writing. London: Mango Publishing, 2007.
Achebe, Chinua. Hopes and Impediments: Selected Essays. New York: Doubleday, Anchor, 1989.
Butler, Judith. Precarious Life. New York & London: Verso, 2004.
Chakrabarty, Dipesh. Provincializing Europe. Princeton: Princeton University Press, 2000.
Karavanta, Mina & Nina Morgan. Eds. Edward Said and Jacques Derrida: Reconstellating Humanism and the Global Hybrid, Newcastle: Cambridge Scholars Publishing, 2008.
Mignolo, Walter D. Local Histories/Global Designs. Princeton: Princeton University Press, 2000.
Mufti, Aamir. "Critical Secularism: A Reintroduction for Perilous Times." boundary 2 (ed. Aamir R. Mufti), 31. 2 (2004): 1-9.
Radhakrishnan, Rajapolan. History, the Human and the World Between. Durham: Duke University Press, 2008.
Radhakrishnan, Rajapolan. Theory in an Uneven World. Malden & Oxford: Blackwell Publishing, 2003.
Radhakrishnan, Rajapolan.. Diasporic Mediations. Between Home and Location. Minneapolis & London: University of Minnesota Press, 1996.
Radhakrishnan, Rajapolan. When is the Political? Durham: Duke University Press, forthcoming.
Said, Edward. Culture and Imperialism. New York: Vintage Books, 1994.
Yaeger, Patricia. "Editor's Column: The End of Postcolonial Theory? A Roundtable with Sunil Agnani, Fernando Coronil, Gaurar Desai, Mamadou Diouf, Simon Gikandi, Susie Tharu, Jennifer Wenzel." PMLA 122. 3 (May 2007): pp. 633-51.