Introduction Knowing Oneself, Untranslatably: Paradoxes of Authenticity in an Age of Globalisation
---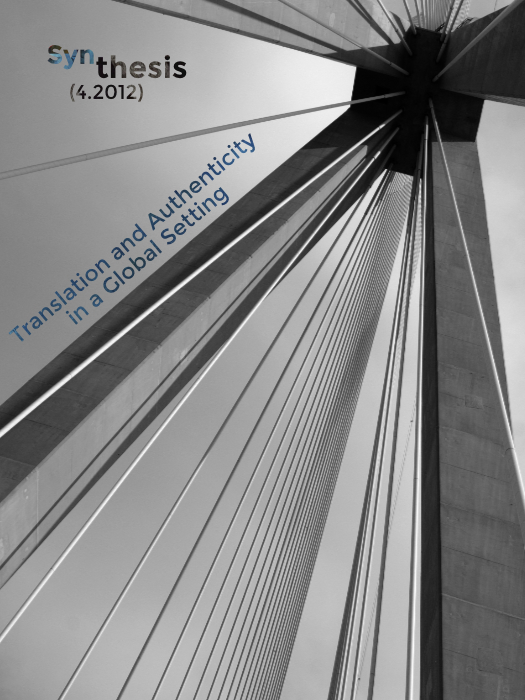 Published: May 1, 2012
Keywords:
translatability translation language globalisation
Article Details
How to Cite

Kapsaskis, D. (2012). Introduction Knowing Oneself, Untranslatably: Paradoxes of Authenticity in an Age of Globalisation. Synthesis: An Anglophone Journal of Comparative Literary Studies, (4), 1–10. https://doi.org/10.12681/syn.17280
The copyright for articles in this journal is retained by the author(s), with first publication rights granted to the journal. By virtue of their appearance in this open access journal, articles are free to use with proper attribution. Synthesis retains the worldwide right to reproduce, display, distribute, and use published articles in all formats and media, either separately or as part of collective works for the full term of copyright. This includes but is not limited to the right to publish articles in an issue of the Journal, copy and distribute individual reprints of the articles, authorize reproduction of articles in their entirety, and authorize reproduction and distribution of articles or abstracts thereof by means of computerized retrieval systems.
Downloads
Download data is not yet available.
References
Adorno, Theodor W. The Jargon of Authenticity. Trans. Knut Tarnowski and Frederic Will. London and Henley: Routledge and Kegan Paul, 1973.
Berman, Antoine. L'Épreuve de l'étranger: culture et traduction dans l'Allemagne romantique. Paris: Gallimard, 1984.
Bernabé, Jean, Patrick Chamoiseau and Raphaël Confiant. Eloge de la Créolité / In Praise of Creoleness.Trans. M.B. Taleb-Kyar. Paris: Gallimard, 1990.
Delanty, Gerard. The Cosmopolitan Imagination. Cambridge: Cambridge UP, 2009.
DeLillo, Don. Cosmopolis. New York: Picador, 2003.
Ferrara, Alessandro. Reflective Authenticity: Rethinking the Project of Modernity. London: Routledge, 1998.
Golomb, Jacob. In Search of Authenticity: From Kierkegaard to Camus. London: Routledge, 1995.
Guignon, Charles. On Being Authentic. London: Routledge, 2004.
Heidegger, Martin. Being and Time.Trans. John Macquarrie and Edward Robinson. Oxford: Blackwell, 1962/1988.
Hutcheon, Linda. A Poetics of Postmodernism: History, Theory, Fiction. London: Routledge, 1988.
Lamy, Laurent. "Clavis hermeneutica: la problématisation du traduire chez Friedrich Schleiermacher, ou l'ébauche du paradigme de la compréhension intersubjective." Meta: journal des traducteurs / Meta: Translators' Journal 52.3 (2007). 588-602.
Msiska, Mpalive-Hangson. Postcolonial Identity in Wole Soyinka. Amsterdam and New York: Rodopi, 2007.
Papastergiadis, Nikos. Cosmopolitanism and Culture. Cambridge, UK and Malden, USA: Polity Press, 2012.
Rushdie, Salman. Shame. London: Picador, 1983.
Sartre, Jean Paul. Anti-Semite and Jew: An Exploration of the Etiology of Hate. Trans. George J. Becker. New York: Schoken Books, 1948.
Schleiermacher, Friedrich. "From 'On the Different Methods of Translating.'" Trans. Waltraud Bartscht. Theories of Translation: An Anthology of Essays from Dryden to Derrida. Ed. Rainer Schulte and John Biguenet. Chicago: The University of Chicago Press, 1992. 36-54 (lecture delivered in 1813).
Soyinka, Wole. Art, Dialogue, and Outrage: Essays on Literature and Culture. New York: Pantheon Books, 1993.
Vannini, Phillip and J. Patrick Williams, eds. Authenticity in Culture, Self, and Society. Farnham, England: Ashgate, 2009.