Developing support networks for successful implementation of innovative education-al programmes: the case of "evidence-based practice in nursing" continuing education programme in Greece
---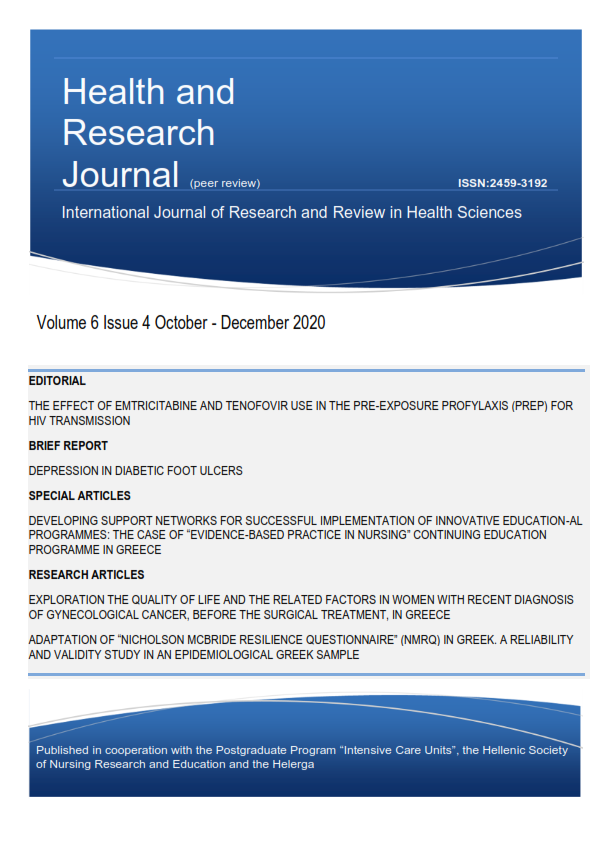 Published: Δεκ 21, 2020
Keywords:
Nursing education programme development evaluation support networks continuing education
Abstract
Developing and evaluating programmes of continuing education in nursing proved to be a challenging and yet a complex task. Nurse educators and evaluators confront a number of demanding issues regarding the development and implementation of continuing education programmes. Exploration of peers' and stakeholders' experience in programme development and evaluation appeared to be a valuable source of knowledge in the field.  The aim of the present paper is to share the experience of planning and evaluating the stage of developing support networks during the implementation of an innovative continuing educational programme in nursing. Throughout the development and evaluation of different programme stages, several issues evolved that attracted programme planners' attention. Development of support networks, group dynamics and communication appeared to be of critical importance for the successful implementation of continuing education programmes in nursing. 
Article Details
How to Cite

Fasoi, G., Kelesi, M., & Stavropoulou, A. (2020). Developing support networks for successful implementation of innovative education-al programmes: the case of "evidence-based practice in nursing" continuing education programme in Greece. Health & Research Journal, 6(4), 107–113. https://doi.org/10.12681/healthresj.25627
A) OPEN ACCESS POLICY

The journal "Health and Research Journal", follows an open access policy both for submission and accessing of articles.

Specifically the journal:

1. Claims no financial or any other gain from the author or authors of an article, neither for submission to the journal for publication, nor for revision and modification when peer reviewed.

2. Claims no financial or any other gain by articles' authors or by readers of the journal, for reading or downloading any article.

3. Reserves the right for the content and format of the printed article, not to be altered and to be used freely, preserving the form, the logo, the layout and the text as it is, a true copy of the file provided by the journal, with free access. (See also section C. Copyright Policy)

[The aforementioned apply equally for everyone and there is not any differentiation, restriction or other specific condition]

You can also ask more on the subject, from the editorial team of the journal, by sending mail to the journal. 


B) SELF-ARCHIVING POLICY

The journal "Health and Research journal", allows self-archiving of articles by the author or authors, under the following terms.

The journal allows:

1. The free self-archiving from the author, of a pre-printed article, at any stage of preparation it is, without limitations. As pre-printed, we consider the work that the author has not submitted yet to the journal and that certainly has not yet been peer reviewed.

2. The free self-archiving from the author, of the final, pre-printed article, that has been corrected and reviewed from the journal, with the expressed obligation to indicate that the article will be published by the journal "Health and Research Journal" and that it has been reviewed (or it is currently reviewed) by the journal's peer review process.

3. The free self-archiving from the author, of the final, printed article that has been published in the journal ""Health and Research Journal" with the expressed obligation to use only the printed pdf file of the journal (exact copy), that has the same logo, format and layout, as it is shared freely by the journal.

For more information on self-archiving policy, please contact the following link: OASIS (Open Access Scholarly Information Sourcebook)

You can also ask more on the subject, from the editorial team of the journal, by sending mail to journal.


C) COPYRIGHT POLICY

The journal "Health and Research Journal" reserves the rights for copyright of the content of the website and also the copyright of the articles published.

Specifically:

1. Does not allow any reproduction of part or whole of the content of the journal's website, if the original source is not explicitly stated.

2. Does not allow the usage, by third party, of journal's direct links to the pdf files (printed articles), if the original source is not explicitly stated (necessarily the name of the journal and optionally: year, volume, issue, pages).

3. All the members of the editorial board accept and comply with the national and international laws regarding copyrighted material, plagiarism and text-piracy, both for the content of the journal's website, as for the content of the published articles.

You can also ask more on the subject, from the editorial team of the journal, by sending mail to the journal.


D) PLAGIARISM POLICY

The journal "Health and Research Journal", reserves the right for detecting plagiarism, including duplicate publication of the author's own work, in whole or in part without proper citation, either with the use of special software or manually, at any stage before publication. For published articles by the journal, originality may also be checked after specific private complaint.

In case of plagiarism detection:

1. If the percentage of the manuscript's plagiarism is below 26%, the journal will contact and inform the author, asking for further revision and resubmission.

2. If the percentage of the manuscript's plagiarism is over 25%, the journal will contact and inform the author about the rejection of the article, without editorial review. Author is then advised to fully revise the manuscript before its new sumbission.
Downloads
Download data is not yet available.
References
Stavropoulou A. Updating nurse graduate knowledge – the development of the "Evidence Based Practice in Nursing" Con-tinuing Educational Programme. Health and Research Journal 2016; 2(1): 23-33.
Kenney J, Newcombe E. Adopting a Blended Learning Ap-proach: Challenges Encountered and Lessons Learned in an Action Research Study. Journal of Asynchronous Learning Net-work 2011; 15: 45-57.
Heaney C A, Walker N C. The challenges and opportunities of teaching sport and exercise psychology at a distance. Sport & Exercise Psychology Review 2012; 8(2): 65-71.
Levin S, Whitsett D, Wood G. Teaching MSW social work prac-tice in a blended online learning environment. Journal of Teaching in Social Work 2013; 33: 408420.
Gedik N, Kiraz E, Ozden Y. Design of a blended learning envi-ronment: Considerations and implementation issues. Australa-sian Journal of Educational Technology 2013; 29(1): 1-19.
Casson S. George C. Culture Change for Total Quality: An Ac-tion Guide for Managers in Social and Health Services. London 1995; Pitman.
Stavropoulou A. Introducing Quality Assurance in Nursing: A Theoretical Approach. Athens 2013; Lagos Medical Editions.
Bianchi M, Bagnasco A, Bressan, V, et al. A review of the role of nurse leadership in promoting and sustaining evidence‐based practice. Journal of Nursing Management 2018; 26: 918– 932.
Courtney S. Why Adults Learn. London 1992; Routledge.
West L. Beyond Fragments. London 1996; Routledge.
Rogers A, Horrocks N. Teaching Adults. England 2010; Open University Press McGraw Hill.
Wlodkowski RJ, Ginsberg MB. Enhancing Adult Motivation to Learn: A Comprehensive Guide for Teaching All Adults 4th Edi-tion. San Francisco 2017; Jossey Bass Wiley Brand
Knowles M S. A modern practice of adult education. Adragogy v Pedagogy. UK 1970; Association Press.
Harris J, Croot L, Thompson J, et al. How stakeholder participa-tion can contribute to systematic reviews of complex interven-tions. Journal of Epidemiology and Community Health 2016; 70:207-214.
Forsyth DR. Group Dynamics 3rd Edition. 1999; Brooks/Cole Wadsworth. ITP
Thomasson AL. The ontology of social groups. Synthese 2019; 196: 4829– 4845.
Bronstein L R, Abramson J S. Group process dynamics and skills in interdisciplinary teamwork. In C. D. Garvin, L. M. Gutiérrez, & M. J. Galinsky (Eds.) Handbook of social work with groups. 2017; The Guilford Press.
O'Connor S. An Interprofessional Approach: The New Paradigm in Nursing Education. Journal of Advanced Nursing 2018; 74(7): 1440 – 1442.
Queralt M. The social environment and human behavior: A di-versity perspective. Boston 1996; Allyn and Bacon.
Arnold EC, Boggs KU. Interpersonal Relationships E-Book: Pro-fessional Communication Skills for Nurses. 2020; Elsevier.
Forsyth DR. Group Dynamics 7th Edition. Australia 2019; CEN-GAGE.
McGrath JE. Groups: Interaction and Performance. Englewood Cliffs 1984; NJ: Prentice Hall.
McGrath JE, Arrow H, Berdahl JL. The Study of Groups: Past, Present, and Future. Personality and Social Psychology Review 2000; 4(1): 95-105.
Arrow H, McGrath JE, Berdahl JL. Small Groups as Complex Sys-tems: Formation, Coordination, Development, and adaptation. London 2000; Sage Publications.
Kellett P, Fitton C. Supporting transvisibility and gender diversi-ty in nursing practice and education: embracing cultural safety. Nursing Inquiry 2017; 24: e12146; 1-7.
Tengelin E, Bulow P H, Berndtsson I, Dahlborg Lyckhage E. Norm-Critical Potential in Undergraduate Nursing Education Curricula. Advances in Nursing Science 2019; 42(2): E24–E37.
Ifanti AA, Argyriou AA, Kalofonou FH, Kalofonos HP. Financial crisis and austerity measures in Greece: Their impact on health promotion policies and public health care. Health Policy 2013; 113 (1–2): 8-12.
Harris TE, Sherblom JC. Small Group and Team Communication 5th Edition. Long Grove Illinois 2011; Wavel and Press Inc.
Chewning L V. Communication Networks. In: Nicotera AM. Ori-gins and Traditions of Organizational Communication: A Com-prehensive Introduction to the field. New York 2020; Routledge.
Nicotera, AM. (Ed.). Origins and Traditions of Organizational Communication. New York 2020; Routledge.
Mastoory Y, Harandi SR, Abdolvand N. The effects of commu-nication networks on students' academic performance: the syn-thetic approach of social network analysis and data mining for education. International Journal on Integrating Technology in Education 2016; 5(4):23-34.
Rogers EM. Diffusion of innovations 5th Edition. New York 2003; Free Press.
Miquel E, Duran D. Peer Learning Network: implementing and sustaining cooperative learning by teacher collaboration. Jour-nal of Education for Teaching 2017; 1-12.
Mavropoulos A, Sipitanou A, Pampouri A. Training of Adult Trainers: Implementation and Evaluation of a Higher Education Program in Greece. International Review of Research in Open and Distributed Learning 2019; 20 (1): 279-288.
Yusof N, Rosna RA , Valdez NP , Yaacob A. Managing diversity in higher education A strategic communication approach. Journal of Asian Pacific Communication 2018; 28 (1): 41 – 60.
Henderson S, Barker M, Mak A. Strategies used by nurses, aca-demics and students to overcome intercultural communication challenges. Nurse Education in Practice 2016; 16 (1): 71-78.
Smith C. The Seven Barriers of Communication. New Orleans 2013; Strafford Brothers.
Triandis HC. Culture and Social Behavior. 1994; McGraw-Hill, Inc.
Fawaz MA, Hamdan-Mansour AM, Tassi A. Challenges facing nursing education in the advanced healthcare environment. International Journal of Africa Nursing Sciences 2018; 9: 105-110.
Bednarz H, Schim S, Doorenbos A. Cultural diversity in nursing education: perils, pitfalls and pearls. Journal of Nursing Educa-tion 2010; 49 (5): 253-260.