Correlation of the working environment with the quality of nursing care
---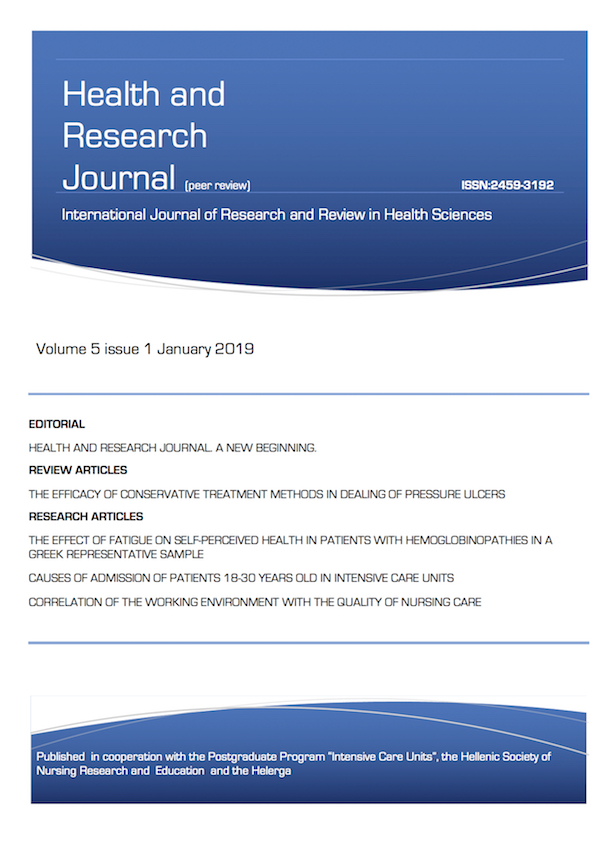 Published: Jan 1, 2019
Keywords:
Workplace quality autonomy working conditions.
Abstract
Introduction: Improvement of the quality of health care and patients' satisfaction during their hospitalisation depends on many interconnected factors.
Aim: This research study intends to investigate four aspects of the nursing environment (autonomy, relationships between doctors and nurses, commanding support and checking working conditions) and the effect they have on nursing care.
Material and Methods: The study sample consists of 127 public hospital nurses with a mean age of 45 years (SD = 6.8 years). The questionnaire which was used was based on the revised version of NURSING WORK INDEX-REVISED (NWI-R).  Data analysis was performed by the statistical package SPSS 19.0.
Results: Of the total sample, 72.4% of participants agree that supervisors support their staff and 60.6% thinks that there is support from nurses for the decisions of their colleagues. Also 10.3% agree that there are enough resources that allow them to spend time with patients, while 65.3% claims that they spend their personal time on different duties. Furthermore, correlation was detected among the aspects of autonomy, relationships between doctors and nurses and ''Control over the practice setting''. The workplace affects the autonomy's percentages (p<0.020), control of working conditions (p<0.004) and was related to organisational support (p<0.020). According to the above, nurses due to lowest direction's rating have less satisfaction from their research (p<0.004).
Conclusion: The nurses' job satisfaction is significantly related to the ''autonomy'' factor and affects the quality of care provided to the patient. By investing in actions and practices that increase autonomy ,improve the control of working conditions as well as the cooperation between nurses and doctors and by increasing organisational support for the employee, there is significant improvement of the quality of nursing care and increased job satisfaction.
Article Details
How to Cite

Ntatseri, E., Gerogianni, G., Kelesi, M., & Fasoi, G. (2019). Correlation of the working environment with the quality of nursing care. Health & Research Journal, 5(1), 30–37. https://doi.org/10.12681/healthresj.19504
Section
Original Articles
Copyright notice:
The journal "Health and Research Journal" reserves the rights for copyright of the content of the website and also the copyright of the articles published.
By virtue of their appearance in this journal, the articles are free to be used for non-commercial purposes. However, the articles cannot and must not be used in anyway, published elsewhere or modified without any reference to the author and the first publication of the article.
Downloads
Download data is not yet available.
References
Μαντάς, Ν.Β. Διοίκηση προσωπικού. Αθήνα: Εκδόσεις Σύγχρονη Εκδοτική, 1992. [Book in Greek]
Μπουραντάς, Δ. Ηγεσία, Ο δρόμος της διαρκούς επιτυχίας. Αθήνα: Εκδόσεις Κριτική Α.Ε., 2005.[Book in Greek]
Hughes, M., Kroheler, J.C. Κοινωνιολογία, Οι βασικές έννοιες. Εισαγωγή και επιστημονική επιμέλεια Ιωσηφίδης Θεόδωρος. Αθήνα: Εκδόσεις Κριτική Α.Ε., 2007. [Book in Greek]
Gershon RR, Stone PW, Zeltser M, Faucett J, MacDavitt K, Chou SS. Organisational climate and nurse health outcomes in the United States: a systematic review. Ind Health 2007;45(5), 622-36.
Aiken LH, Smith HL, Lake ET. Lower Medicare mortality among a set of hospitals known for good nursing care. Med Care 1994;32(8):771-87.
Kramer M, Hafner LP. Shared values: impact on staff nurse job satisfaction and perceived productivity. Nurs Res 1989; 38(3):172-7.
Schubert M, Glass TR, Clarke SP, Aiken LH, Schaffert-Witvliet B, Sloane DM, et al. Rationing of nursing care and its relationship to patient outcomes: the Swiss extension of the International Hospital Outcomes Study. Int J Qual Health Care 2008;20(4):227-37.
Διπλωματική Εργασία Μαστροκώστας, Α. «Η επίδραση του εργασιακού περιβάλλοντος του νοσοκομείου στην υγεία των νοσηλευτών» Κεφ.''Εργαλεία Μέτρησης –Ερωτηματολόγια΄΄σελ.33-34. [MSc thesis in Greek]
Pozoukidou A, Theodorou Μ, Kaitelidou D. Job satisfaction of nursing and paramedical personnel of a public general hospi-tal. Nosileftiki 2007;46(4):537-544.
Rose L, Nelson S, Johnston L, Presneill JJ. Workforce profile, organisation structure and role responsibility for ventilation and weaning practices in Australia and New Zealand intensive care units. Journal of clinical nursing 2008; 17(8):1035-43.
Charalambous, M. & Charalambous, A., A Critical Investigation of Perceptions of Nurses of Surgical Oncology for Factors In-volved in Decision Making in Postoperative Trauma Manage-ment: A Descriptive Study. Hellenic Journal of Nursing Science 2010;3(1):1-11. [Article in Greek]
Bucknall T, Thomas S. Critical care nurse satisfaction with levels of involvement in clinical decisions. Journal of Advanced Nurs-ing 1996;26:571-577.
Blegen MA, Goode C, Johnson M, Maas Μ, Chen L, Moorhead S. Preferences for decision-making autonomy.Image: Journal of Nursing Scholarship 1993; 25(4):339-344.
McCloskey JK. Two requirements for job contentment: auton-omy and social integration.Image. Journal of Nursing Scholar-ship 1990;22(3):140-143.
Suominen T, Leino-Kilpi H, Merja M, Doran DI, Puukka P. Staff empowerment in Finnish intensive care units. Intensive Critιcal Care Nursing 2001;17(6):341-347.
Facteau LM, Nelson MA. Creating a learning environment for tomorrow healthcare workforce Semin. Nurse Manager 2000;8(2):91-7.
Halpern RS, Perry St, Narayan S. Developing clinical practice environments supporting the knowledge work of nurses. Computers in Nursing 2001;19(1):17-23.
Williams S, McGowan S. Professional autonomy: a pilot study to determine the effect of a professional development pro-gram on nurses' attitudes. Journal of Nursing Staff Develop-ment 1995;11:150–155.
Babatsikou F, Gerogianni G. Nursing department: criteria of creation of an achieved mode. Rostrum of Asclepius 2012;11(1):17-27.
Makris M, Theodorou M, Middleton N. Job satisfaction in the public general hospitals in Cyprus. Archives of Hellenic Medi-cine 2011;28(2):234-244.