A retrospective study of medical emergency management in a Health Center in Greece
---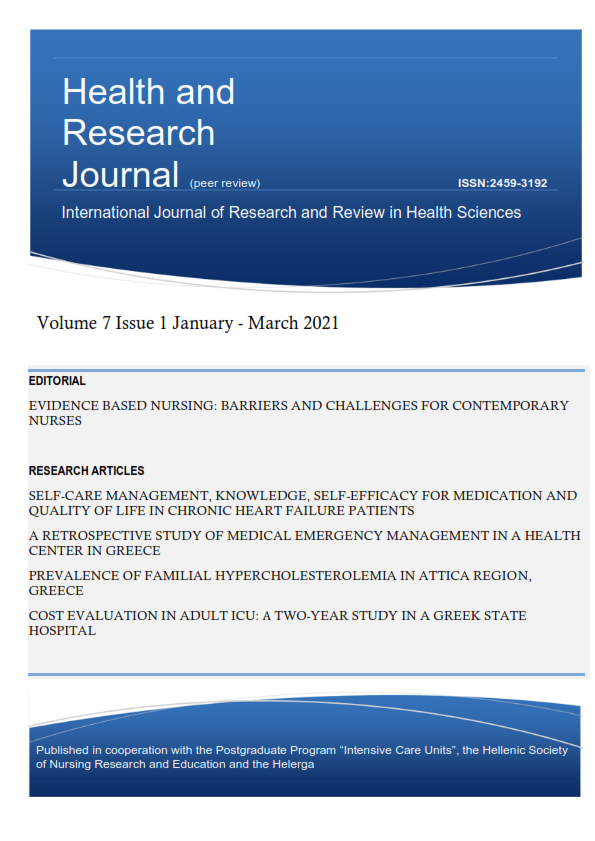 Published: Feb 11, 2021
Keywords:
Health Center emergency management
Abstract
Ιntroduction: Primary Health Centers face a plethora of emergencies of different nature and severity and it is necessary  a decision -whether or not to refer patients to the nearest hospital for further treatment and investigation- to be made.
Aim: The aim of the present study was to investigate the management of emergencies in a HC of regional type near a large urban center.
Material and Methods: This was a retrospective study. The data of 400 randomly selected patients admitted to the health center with acute conditions during the years 2017-2018 were recorded.
Results: Out of all cases examined, 22% were rated as truly medical emergencies and 44% as not; 34% were classified as urgent; 25.9% of patients had arrived within the first hour of onset of symptoms, while 81.7% had already reached within the first 24 hours. Pain and respiratory diseases were the most common problems. In 15% of cases the patient was ambulance-transported to hospital. The proportion of ambulance referral to the nearest hospital was higher in patients with comorbidities (18.8%) than in those without (14.9%); 76% of cases were treated in accordance with evidence-based practice.
Conclusions: Despite the significant progress made in treating patients in the community, it is necessary to improve management of non-emergency cases, as well as to improve the procedures for emergencies management in the HCs.
Article Details
How to Cite

Kampouridou, G., Arkouda, A., Toylia, G., Gerogianni, G., & Marvaki, C. (2021). A retrospective study of medical emergency management in a Health Center in Greece. Health & Research Journal, 7(1), 17–25. https://doi.org/10.12681/healthresj.26095
Section
Original Articles
Copyright notice:
The journal "Health and Research Journal" reserves the rights for copyright of the content of the website and also the copyright of the articles published.
By virtue of their appearance in this journal, the articles are free to be used for non-commercial purposes. However, the articles cannot and must not be used in anyway, published elsewhere or modified without any reference to the author and the first publication of the article.
Downloads
Download data is not yet available.
References
Hixon AL, Maskarinec GG, The Declaration of Alma Ata on Its 30th Anniversary: Relevance for Family Medi-cine Today.Fam Med 2008;40(8):585-8.
Gianasmidis A, Tsiaousi M. Time trend study on the in-stitutional framework of the Greek Primary Health Care System (1980−2008) and experience of the British and Swedish models. Archives of Hellenic Medicine. 2011 29(1):106-115
Adamakidou T, Kalokerinou-Anagnostopoulou A. The organizational frame of the Greek primary health care system. Hellenic journal of Nursing.2008,47;(3):320-333.
Economou C, Kaitelidou D, Karanikolos M, Maresso A. Greece: Health system review. Health Systems in Tran-sition. 2017; 19(5):1–192
Vrachatis D, Papadopoulos A. Primary health care in Greece: Current data and perspectives. Nosilefti-ki.2012; 51: 10-17.
Lionis C, Symvoulakis K E, Markaki A,Petelos E. Inte-grated people-centred primary health care in Greece: unraveling Ariadne's tread. Primary Health Care 2019, 25(20):113.
Tzartas K, Obenhauser PN, Marion- Veyron R, Bour-guin C, Senn N, Stiefer FF, General practitioners refer-ring patients to specialists in tertiary healthcare: a qualitative study. BMC Family Practice 2019,(20):165
Kotsiou OS, Srivastava DS, Kotsios P, Exadaktylos AK, Gourgoulianis KI. The Emergency Medical System in Greece: Opening Aeolus' Bag of Winds. Int J Environ Res Public Health. 2018;15(4):745.
Soultan-Al Shaqsi, Models of international Emergency Medical Servise (EMS) Systems. Oman Med J 2010,25(4):320-323.
Jacobson KE, Menctao Dai, Caroline C, Jestin NC, Mann NC. National characteristics of Emergency Med-ical Servises Responces in the United States. Prehosp. Emerg. Care 2013,17(1):8-14
Azeredo TR, Chianca TC, Guedes HM, Rebero de Al-meida RA, Martins JC. Efficacy of the Manchester Tri-age system: a systematic review.Int. Emerg Nurs 2015,23(2):47-52.
Akturk Z, Atesoglu D, Ciftci E. Patient satisfaction with family practice in Turkey: three-year trend from 2010 to 2012. European Journal of General Practice 2015, 21:238–45.
Lucas HR, Sanford MS. An analysis of frequent users of emergency care at an urban university hospital. Annals of Emergency Medicine 1998,32 (5): 563–68.
Akpinar Y, Demirci H, Budak E, Baran AK, Candar A, Ocakoglu G. Why do patients with minor complaints choose emergency departments and does satisfaction with primary care services influence their decisions? Prim Health Care Res Dev. 2018,19(4):398–406.
Beland, F., Lemay, A. and Boucher, M. 1998: Pattern of visits to hospital-based emergency rooms. Social Sci-ence & Medicine 47(2), 165–79.
Ovens, HJ, Chan GT. Heavy users of emergency ser-vices: a population-based review. Canadian Medical Association Journal 2001, 165(8): 1049–50.
Sun BC, Burstin HR, Brennan TA Predictors and out-comes of frequent emergency department users. Aca-demic Emergency Medicine 2003,10(4):320–28.
Hajikokolaki M.Performance evaluation of Greek health centers.Dissertation. Faculty of Nursing, NKUA, Athens, 2003
Maliarou M, Sarafis P. Financial crisis. How it affects the public health and health systems.Rostrum of As-clepius 2012, 11 (1): 204-212.
Kress DH, Su Y, Wang H. Assessment of Primary Health Care System Performance in Nigeria: Using the Primary Health Care Performance Indicator Conceptual Framework. Health Syst Reform 2016, 2(4):302-318
Mohey A, Al Azmi F. Primary healthcare emergency in Aexandria, Egypt. Qual Prim Care 2017,25(5):303-315
Rajmil L, Fernadez de Sanmamed Mj. Austerity policies and Mortality Rates in European Countries, 2011-2015. Am J Public Health 2019,109(5):768-770.