Musculoskeletal pain management in the Emergency Department
---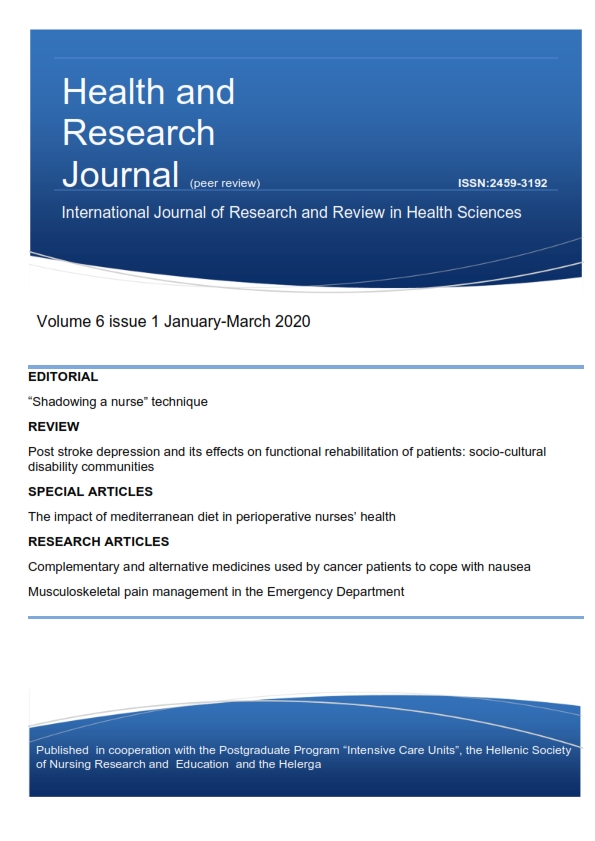 Published: Μαρ 18, 2020
Keywords:
Μusculoskeletal pain emergency department analgesia oligoanalgesia acute pain pain management
Abstract
Introduction: The intensity of acute musculoskeletal pain is underestimated by health providers. Analgesia in adults that receive treatment for acute musculoskeletal pain varies from 11-29%. The timely and effective treatment of pain should become priority for the adequate pain management.
Aim: The aim of the present study was to explore musculoskeletal pain management in the emergency department (ED).
Material and Method: This is a descriptive study. The studied sample consisted of 82 patients, who admitted in the ED of Athen's general hospital, due to acute musculoskeletal pain. For data collection, a special designed registration form was used. Related measurements were completed at two time points; the first time point was during patients' admission to ED and the second one, 30 minutes post treatment or post ED discharge.
Results: Patients average pain score was 7.25 ± 1.85 (first time point) and 3.76 ± 2.66 (second time point). Analgesia was provided to 51.2% of the sample and non-invasive methods were used in 51.2%. As for the frequency of the administrated drugs, analgesics were mostly preferred (29.3%), nonsteroidal anti-inflammatory drugs (NSAIDs) at 25.6% and opioids were used only at 9.8%. The mean time to first anministrated analgesic therapy was 16.56 ± 32.89 min.
Conclusions: In spite of the extensive research and international guidelines for pain management, the fulfillment of the patients' expectations for adequate and timely relief remains a challenge. The key for successful pain management lies to further education of medical stuff.
Article Details
How to Cite

Seremeti, K., Vasilopoulos, G., Toylia, G., Kadda, O., Sapountzis, I., Kourousi, E., Karimali, D., Kalogianni, A., & Rozis, M. (2020). Musculoskeletal pain management in the Emergency Department. Health & Research Journal, 6(1), 36–46. https://doi.org/10.12681/healthresj.23061
Section
Original Articles
Copyright notice:
The journal "Health and Research Journal" reserves the rights for copyright of the content of the website and also the copyright of the articles published.
By virtue of their appearance in this journal, the articles are free to be used for non-commercial purposes. However, the articles cannot and must not be used in anyway, published elsewhere or modified without any reference to the author and the first publication of the article.
Downloads
Download data is not yet available.
References
Pierik JG, IJzerman MJ, Gaakeer MI, et al. Pain management in the emergency chain: the use and effectiveness of pain management in patients with acute musculoskeletal pain. Pain Med 2015;16(5):970–984.
Walsh NE, Brooks P, Hazes JM, et al. Standards of care for acute and chronic musculoskeletal pain: the Bone and Joint Decade (2000-2010). Arch Phys Med Rehabil. 2008;89(9):1830–1845.
Berben SA, Meijs TH, van Dongen RT, et al. Pain prevalence and pain relief in trauma patients in the Accident & Emergency department. Injury. 2008;39(5):578–585.
Cordell W. The high prevalence of pain in emergency medical care. Am J Emerg Med 2002;20:165-69
Cecilia Anthonysamy. Randomised Controlled Trial of the effect of display of pain score on the administration of analgesia in stable trauma patient in the emergency department in HKL.M.Med(ED) dissertation USM 2008
Scott DA & McDonald WM. Assessment, measurement and history. In: Clinical Pain Management: Acute Pain, 2nd edition. Macintyre P, Rowbotham D, Walker S. 2008.
Machway-Jones K., Marsden J., Windle J. Emergency Triage: Manchester Triage Group. BMJ Books, Blackwell Publishing, 2nd Edt,2006.
Stalnikowicz R, Mahamid R, Kaspi S, Brezis M. Undertreatment of acute pain in the emergency department: a challenge. International Journal for Quality in Health Care 2005; 17(2):173-176
Goodacre SW, Roden RK. A protocol to improve analgesia use in the accident and emergency department. Accid Emerg Med 1996;13:177-179.
Butti L, Bierti O, Lanfrit R, Bertolini R, Chittaro S, Delli Compagni S et al.Evaluation of the effectiveness and efficiency of the triage emergency department nursing protocol for the management of pain. Journal of Pain Research 2017;10:2479-2488
Patrick PA, Rosenthal BM, Iezzi CA, Brand DA. Timely pain management in the emergency department. J Emerg Med. 2015;48(3):267–273.
Jennings N, Kansal A, O'Reilly G, Mitra B, Gardner G. Time to analgesia for care delivered by nurse practitioners in the emergency department – a retrospective chart audit. Int Emerg Nurs. 2015;23(2):71–74.
Finn J, Gibson N, Swift R, Watters T, Jacobs I.G. Reducing time to analgesia in the emergency department using a nurse-initiated pain protocol: a before-and-after study. Contemporary Nurse: A Journal for the Australian Nursing Profession 2012; 43:29-37.
Kelly A, Gunn B, Acute pain management in the emergency department. In: Clinical Pain Management: Acute Pain, 2nd edition. Macintyre P, Rowbotham D, Walker S. 2008
Fry M, Bennets S, Huckson S. An Australian audit of ED pain management patterns. J Emerg Nurs 2011;37:269-74.
Kuusniemi K, Olkkola K. Opioids in emergency medicine- Are we treating pain adequately? Scandinavian Journal of Pain. 2011;2:185-186.
Bounes V, Barniol C, Minville V, Houze-Cerfon C, Ducasse J. Predictors of pain relief and adverse events in patients receiving opioids in a prehospital setting. Am J Emerg Med 2011;29:512-7.
Chandanwale A, Sundar S, Latchoumibadi K, Biswas S, Gabhane M, Naik M et al. Efficacy and safety profile of compination of tramadol-diclofenac versus tramadol-paracetamol in patients with acute musculoskeletal conditions, postoperative pain and acute flare of osteoarthritis and rheumatoid arthritis: a Phase III, 5-day open-label study. Journal of Pain Research 2014;7:455-463.
The College of Emergency Medicine: Best Practice Guidline. Management of Pain in Adults. December 2014.
Rupp T, Delaney K. Inadequate Analgesia in Emergency Medicine. Ann Emerg Med 2004;43:4.
Motov S, Khan A. Problems and barriers of pain management in the emergency department: Are we ever going to get better? J Pain Res. 2009; 2:5-11.
Filippatos G, Problems and obstacles in the management of pain in Emergency Departments. Hellenic Journal of Nursing 2012;51(1):18-25.