Advantages and disadvantages of patients' hospitalization in Intensive Care Units
---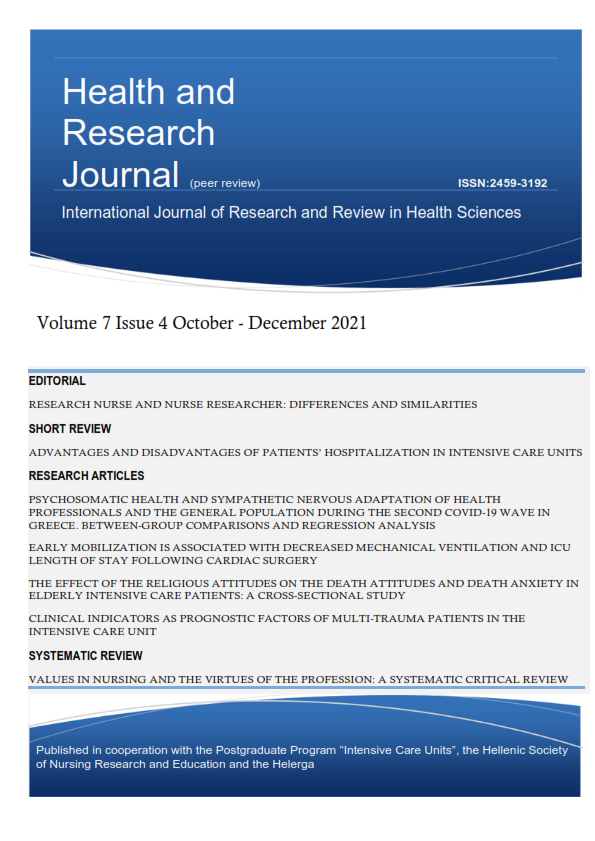 Published: Oct 9, 2021
Keywords:
Advantages disadvantages intensive care unit hospitalization
Abstract
Background: An Intensive Care Unit (ICU) is a special hospital department with many advantages and disadvantages for the patient.
Aim: The aim of the present systematic review was to explore the advantages and disadvantages of hospitalized ICU patients.
Material and Method: A literature review in international databases (Pubmed, Cinahl, Google Scholar, Cochrane Library) was conducted. A time limited criteria was applied with respect to the publication of articles (articles published in the last 15 years). Ten articles were found that met the criteria for participation in the present review.
Results: Results thematic analysis revealed the following advantages and disadvantages of ICU hospitalization: Advantages related to patients care in ICU and advantages related to team work. Disadvantages related to the ICU environment (noise, lighting) that complicate the patient's hospitalization status and cause the patient's sleep disturbances and / or delirium. Additionally, it was found that financial cost of hospitalization is a very significant disadvantage for both patient and health care providers.
Conclusions: Preparation and successful implementation of significant strategies will convert disadvantages of ICU hospitalization into advantages in daily clinical practice through increased use of protocols, the maintenance of a checklist, evidenced based practice, data recording, development of interdisciplinary groups and finally the extensive application of technology for patient' s benefit.
Article Details
How to Cite

Kafantaris, S., & Kadda, O. (2021). Advantages and disadvantages of patients' hospitalization in Intensive Care Units. Health & Research Journal, 7(4), 155–159. https://doi.org/10.12681/healthresj.28159
Copyright notice:
The journal "Health and Research Journal" reserves the rights for copyright of the content of the website and also the copyright of the articles published.
By virtue of their appearance in this journal, the articles are free to be used for non-commercial purposes. However, the articles cannot and must not be used in anyway, published elsewhere or modified without any reference to the author and the first publication of the article.
Downloads
Download data is not yet available.
References
Vincent JL. Critical care--where have we been and where are we going? Crit Care 2013;17 Suppl 1(Suppl 1):S2.
King AT, Wenstone R, Morrison J, Cloherty L, Welters ID. Equipment-related critical incidents in a general inten-sive care unit. Intensive Care Med Exp 2015;3(Suppl 1):A70.
Kelly FE, Fong K, Hirsch N, Nolan JP. Intensive care med-icine is 60 years old: the history and future of the inten-sive care unit. Clin Med (Lond) 2014;14(4):376-9.
Khalafi A, Elahi N, Ahmadi F. Holistic Care for Patients During Weaning from Mechanical Ventilation: A Quali-tative Study. Iran Red Crescent Med J 2016;18(11):e33682.
Roffey P, Thangathurai D. Increased use of protocols in ICU settings. Intensive Care Med 2011;37(8):1402.
Abuejheisheh A, Tarawneh O, Qaddumi JAS, Almahmoud O, Darawad MW. Predictors of Intensive Care Unit Nurses' Practice of Evidence-Based Practice Guidelines. Inquiry 2020;57:46958020902323.
Rathert C, Fleming DA. Hospital ethical climate and teamwork in acute care: the moderating role of lead-ers.Health Care Manage Rev 2008;33(4):323-31.
Zaheer S, Ginsburg LR, Wong HJ, Thomson K, Bain L.Importance of safety climate, teamwork climate and demographics: understanding nurses, allied health pro-fessionals and clerical staff perceptions of patient safe-ty.BMJ Open Qual 2018;7(4):e000433.
Sandahl C, Gustafsson H, Wallin CJ, Meurling L, Øvretve-it J, Brommels M, Hansson J. Simulation team training for improved teamwork in an intensive care unit. Int J Health Care Qual Assur 2013;26(2):174-88.
Wenham T, Pittard A, Intensive care unit environment. Continuing Education in Anaesthesia Critical Care & Pain 2009; 9(6):178–183.
Khademi Gh, Imani B. Noise pollution in intensive care units: a systematic review article. Rev Clin Med 2015;2(2):58-64
Simons KS, Verweij E, Lemmens PMC, et al. Noise in the intensive care unit and its influence on sleep quality: a multicenter observational study in Dutch intensive care units. Crit Care 2018;22(1):250.
Zaal IJ, Spruyt CF, Peelen LM, et al. Intensive care unit environment may affect the course of delirium. Intensive Care Med 2013;39(3):481-488.
Engwall M, Fridh I, Johansson L, Bergbom I, Lindahl B. Lighting, sleep and circadian rhythm: An intervention study in the intensive care unit. Intensive Crit Care Nurs 2015;31(6):325-335.
Giménez MC, Geerdinck LM, Versteylen M, Leffers P, Meekes GJ, Herremans H, de Ruyter B, Bikker JW, Kuijpers PM, & Schlangen LJ. Patient room lighting in-fluences on sleep, appraisal and mood in hospitalized people. Journal of Sleep Research 2016;2, 236–246.
Pulak LM, & Jensen L. Sleep in the Intensive Care Unit: A Review. Journal of Intensive Care Medicine 2014; 1:14–23.
Bihari S, Doug McEvoy R, Matheson E, Kim S, Woodman RJ, & Bersten AD. Factors affecting sleep quality of pa-tients in intensive care unit. Journal of Clinical Sleep Medicine 2012; 3, 301–307.
Matthews EE. Sleep disturbances and fatigue in critically ill patients.AACN Adv Crit Care 2011;22(3):204-24.
Naik RD, Gupta K, Soneja M, Elavarasi A, Sreenivas V, Sinha S.Sleep Quality and Quantity in Intensive Care Unit Patients: A Cross-sectional Study.Indian J Crit Care Med 2018;22(6):408-414.
Datta R.ICU Visitors - Is it Time for a Change in Visitation Policy?Med J Armed Forces India 2007;63(3):308.
da Silva Ramos FJ, Fumis RR, Azevedo LC, Schettino G. Perceptions of an open visitation policy by intensive care unit workers.Ann Intensive Care 2013;3(1):34.
Kahn JM, Rubenfeld GD, Rohrbach J, Fuchs BD. Cost savings attributable to reductions in intensive care unit length of stay for mechanically ventilated patients. Med Care 2008;46(12):1226–1233.
Wunsch H, Gershengorn H, Scales DC. Economics of ICU organization and management. Crit Care Clin 2012;28(1):25-37, v.
Hawari FI, Al Najjar TI, Zaru L, Al Fayoumee W, Salah SH, Mukhaimar MZ. The effect of implementing high-intensity intensive care unit staffing model on outcome of critically ill oncology patients. Critical Care Medicine 2009;37(6):1967–1971.