"Shadowing a nurse" technique
---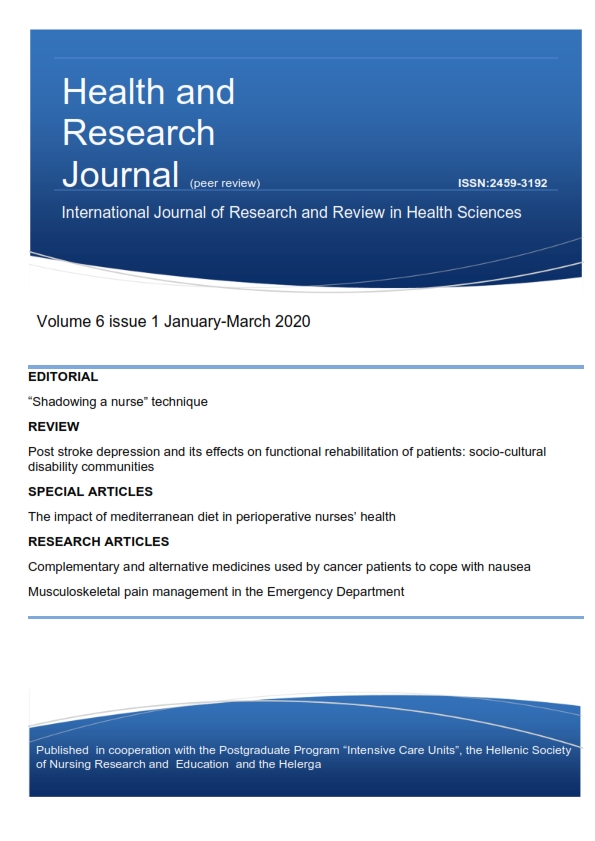 Abstract
No abstract available
Article Details
How to Cite

Kadda, O. (2020). "Shadowing a nurse" technique. Health & Research Journal, 6(1), 1–2. https://doi.org/10.12681/healthresj.22509
Copyright notice:
The journal "Health and Research Journal" reserves the rights for copyright of the content of the website and also the copyright of the articles published.
By virtue of their appearance in this journal, the articles are free to be used for non-commercial purposes. However, the articles cannot and must not be used in anyway, published elsewhere or modified without any reference to the author and the first publication of the article.
Downloads
Download data is not yet available.
References
Kusnoor AV, Stelljes LA. Interprofessional learning through shadowing: Insights and lessons learned. Med Teach 2016;38(12):1278-1284.
Lalleman P, Bouma J, Smid G, Rasiah J, Schuurmans M.Peer-to-peer shadowing as a technique for the develop-ment of nurse middle managers clinical leadership. Leadersh Health Serv (Bradf Engl) 2017;30(4):475-490.
Nolte JA. Physician-nurse relationships after participation in a shadowing program. Nursing 2018;48(12):66-69.
Jain A, Luo E, Yang J, Purkiss J, White C. Implementing a nurse-shadowing program for first-year medical students to improve interprofessional collaborations on health care teams. Acad Med 2012;87(9):1292-5
Eades J, Hill K, Craig J. The shadowing experience for nursing students. Nurs Stand 2005;20(12):48-51.
Messmer PR, Jones SG, Taylor BA. Enhancing knowledge and self-confidence of novice nurses: The "Shadow-A-Nurse" ICU program. Nurs Educ Perspect 2004;25(3):131-6.
Paskiewicz LS. The shadowing experience: valuing the link between faculty practice and student learning. J Prof Nurs 2002;18(4):238-42.
Monahan L, Sparbel K, Heinschel J, Rugen KW, Rosenberger K. Medical and pharmacy students shadowing ad-vanced practice nurses to develop interprofessional competencies. Appl Nurs Res 2018;39:103-108.
Riva JJ, Lam JM, Stanford EC, Moore AE, Endicott AR, Krawchenko IE. Interprofessional education through shad-owing experiences in multi-disciplinary clinical settings. Chiropr Osteopat 2010;18:31.