Social self, family, and social attitudes during the period of the Covid-19 pandemic constraints in 2020
---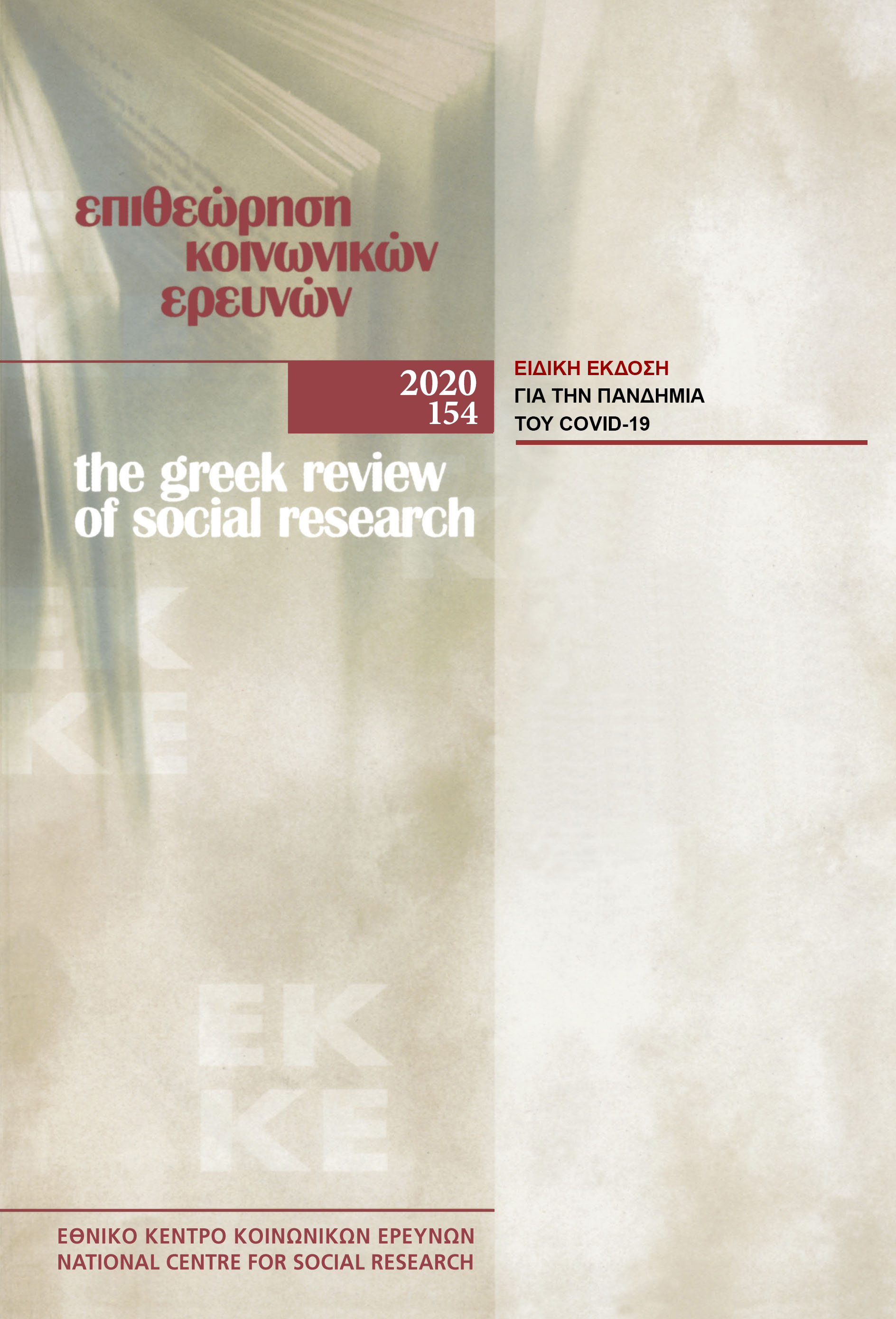 Published: May 21, 2020
Keywords:
pandemic Covid-19 social - self social implosion family social atrophy
Abstract
The current pandemic Covid-19 health crisis is both the beginning and the result of a parallel social and economic crisis. In this dynamic field, social management requires resilient social institutions and a social self coping with the main negative effects of the pandemic namely social atrophy and social implosion in a creative and innovative way. Studying the social self and its recovery methods from social trauma resulting from the current Covid-19 pandemic requires understanding crucial social self dimensions and functions not only in the present crisis of social implosion but also in the precursor state in which the modern social self is characterized by an explosion of dense with strong intensity of networks of communication, economic exchange and every day social life.
The purpose of this text is to provide a research plan and research data for a method of reflection and resilience of our social self in the current conditions of strong social distance, self-restraint and disconnection from the economy. This article concludes with suggestions for a Clinical Sociology Implementation of a protocol ensuring the resilience of individuals and communities s that have suffered under the Covid-19 pandemic and some suggestions for an individual and collective strategy.
Article Details
How to Cite

Chtouris, S., & Zissi, A. (2020). Social self, family, and social attitudes during the period of the Covid-19 pandemic constraints in 2020. The Greek Review of Social Research, 154, 41–64. https://doi.org/10.12681/grsr.23228
This work is licensed under a Creative Commons Attribution-NonCommercial 4.0 International License.
Authors who publish with this journal agree to the following terms:
Authors retain copyright and grant the journal right of first publication with the work simultaneously licensed under a Creative Commons Attribution Non-Commercial License that allows others to share the work with an acknowledgement of the work's authorship and initial publication in this journal.
Authors are able to enter into separate, additional contractual arrangements for the non-exclusive distribution of the journal's published version of the work (e.g. post it to an institutional repository or publish it in a book), with an acknowledgement of its initial publication in this journal.
Authors are permitted and encouraged to post their work online (preferably in institutional repositories or on their website) prior to and during the submission process, as it can lead to productive exchanges, as well as earlier and greater citation of published work (See The Effect of Open Access).
Downloads
Download data is not yet available.
References
Illouz, E. (2017). Ψυχρή τρυφερότητα: Η άνοδος του συναισθηματικού καπιταλισμού. Αθήνα: Oposito.
Χτούρης, Σ. (2004). Συμβολικά Ορθολογικά Δίκτυα. Αθήνα: Νήσος.
Χτούρης, Σ. (2017). Οι νέοι στην Ελλάδα σήμερα. Αθήνα: Επίκεντρο.
Χτούρης, Σ. (2019). H δυναμική αμφίδρομη σχέση εμπειρικών δεδομένων και θεωρητικών εννοιών. Ένα πλαίσιο για την καταγραφή και κατανόηση των κοινωνικών φαινομένων. Επιθεώρηση Κοινωνικών Ερευνών, 151, σελ 137-170.
http://dx.doi.org/10.12681/grsr.19859
Baudrillard, J. (1985). The masses: The implosion of social in the media. (Trans.: Marie Maclean). New Literary History, 16 (3), pp. 577-89. JSTOR, The Johns Hopkins University Press.
Baumeister, R.F. (ed.) (1999). The self in social psychology: Key readings. Philadelphia: Psychology Press.
Bhaskar, R. (1975). Realist theory of science. Leeds: Leeds Books.
Brown, J.D. (1998). The self. New York: McGraw-Hill.
Bourdieu, P. (1986) The forms of capital. In J. Richardson (ed.) Handbook of Theory and Research for the Sociology of Education pp. 241-258). New York: Greenwood.
Bourdieu, P. (1991). Language & symbolic power (Trans.: G. Raymond and M. Adamson). Cambridge: Polity (Original work published 1980).
Bourdieu, P. and Wacquant, L. (1992). An invitation to reflexive sociology. Chicago: University of Chicago Press.
Chtouris, S. (2019). Family as a multifunctional system in times of economic crisis: The Greek case after 2010: Keynote address. Proceedings. Families amidst global and local processes: Economic, political and cultural change. Rhodes, 6-7-2019: International Sociological Association.
Chtouris S. and Miller, S.D. (2014). Social accumulation of value for economic recovery–research model (saver). In Nicholas P. Petropoulos and George O. Tsobanoglou (eds), The debt crisis in the Eurozone: Social impacts (pp. 541). Newcastle upon Tyne, U.K.: Cambridge Scholars Publishing.
Chtouris, S. and Miller, S.D. (2017). Refugee flows and volunteers in the current humanitarian crisis in Greece. Journal of Applied Security Research, 12 (1), pp. 61-77, doi:10.1080/19361610.2017.1228025
Chtouris, S. and Zissi, A. (2019). Refugees, trauma and volunteers involvement in their positive and negative dialectics of identity. In Andreas Hamburger et al. (ed.), Forced migration and social trauma. Interdisciplinary from Psychoanalysis, Psychology, Sociology, Politics. NY: Routledge.
Fromm, E., (1932). Die psychoanalytische Charakterologie und ihre Bedeutung für die Sozialpsychologie (pp. 253–277). Zeitschrift für Sozialforschung, Bd. 1.
Lawson, T. (1997). Economics and reality. London: Routledge.
Mead, G.Η. (1913). The social self. Journal of Philosophy, Psychology and Scientific Methods, 10, pp. 374- 380.