Neutralization of sludge and purification of wastewater from Sindos industrial area of Thessaloniki (Greece) using natural zeolite
---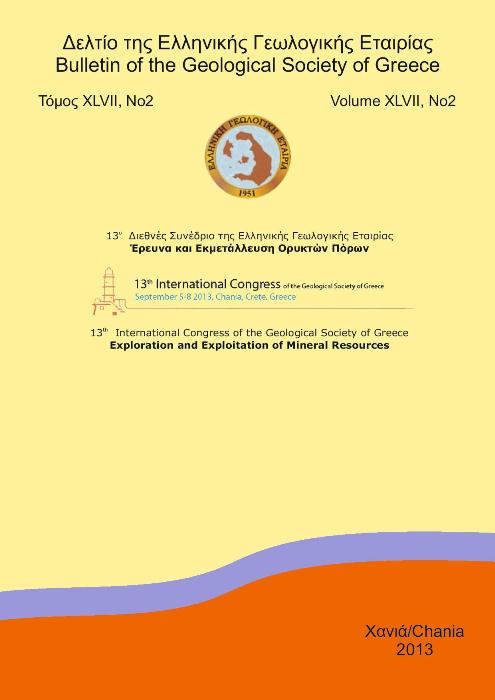 Published: Jan 24, 2013
Keywords:
Key words Economic Geology Waste treatment environmental mineralogy waste management
Abstract
The commixture of sludge from Sindos industrial area of Thessaloniki with high quality HEU-type natural zeolite (tuff with 86 wt.% clinoptilolite-heulandite) in equal proportions, resulted in odourless and cohesive zeosludge. Also, the treatment of wastewater of pH 7.8 from the same area with high quality HEU-type natural zeolite (88 wt.% clinoptilolite-heulandite) resulted in production of clear water of pH 7.3, free of odours and improved quality parameters by 60% for the NO3 - content, 76% for the chemical oxygen demand (COD), 100% for P2O5 and Cr contents. Simultaneously, a precipitate of odourless and cohesive zeosludge was produced. The odourless and cohesive zeosludge produced either by the commixture of sludge with the natural zeolite or as precipitate from the treatment of industrial wastewater with the natural zeolite and coagulants, is suitable for safe deposition, since the fixation of the hazardous components in the micro/nano-pores of the HEU-type zeolite, as well as the meso- and macro-porous of natural zeolite, prevents their leaching by the rain water, protecting thus the quality of soils, surface and ground waters.
Article Details
How to Cite

Filippidis, A., Godelitsas, A., Kantiranis, N., Gamaletsos, P., Tzamos, E., & Filippidis, S. (2013). Neutralization of sludge and purification of wastewater from Sindos industrial area of Thessaloniki (Greece) using natural zeolite. Bulletin of the Geological Society of Greece, 47(2), 920–926. https://doi.org/10.12681/bgsg.11131
Section
Environmental Geology
Authors who publish with this journal agree to the following terms:
Authors retain copyright and grant the journal right of first publication with the work simultaneously licensed under a Creative Commons Attribution Non-Commercial License that allows others to share the work with an acknowledgement of the work's authorship and initial publication in this journal.
Authors are able to enter into separate, additional contractual arrangements for the non-exclusive distribution of the journal's published version of the work (e.g. post it to an institutional repository or publish it in a book), with an acknowledgement of its initial publication in this journal. Authors are permitted and encouraged to post their work online (preferably in institutional repositories or on their website) prior to and during the submission process, as it can lead to productive exchanges, as well as earlier and greater citation of published work.
Downloads
Download data is not yet available.