European Green Deal and Policies Towards the Green Transition in the EU
---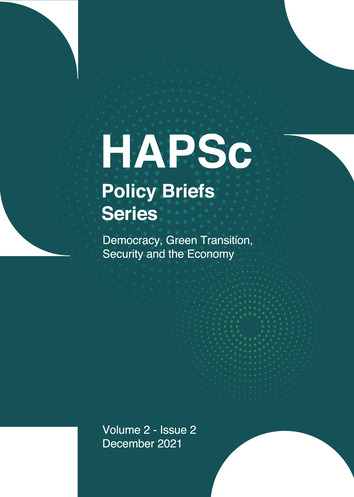 Δημοσιευμένα: Dec 29, 2021
Περίληψη
This paper will pursue to demonstrate the aspects of the environmental policies and initiatives inside the European Union, with reference to legislative content. The research starts with a historical retrospect of the EU policies for the environment. Afterwards, it focuses on the new European Green Deal, launched in 2019, its climate targets, areas which it covers and the actions needed for its accomplishment. Policy instruments are presented quite analytically, with special reference to a just transition, along with other policies. Additionally, the basic impacts and difficulties in the implementation of environmental legislation inside the European Union are explained. In the end, an overall assessment of the topic is carried out.
Λεπτομέρειες άρθρου
Πώς να δημιουργήσετε Αναφορές

Konstantonis, N. (2021). European Green Deal and Policies Towards the Green Transition in the EU. HAPSc Policy Briefs Series, 2(2), 239–249. https://doi.org/10.12681/hapscpbs.29511
Οι συγγραφείς των άρθρων που δημοσιεύονται στο περιοδικό διατηρούν τα δικαιώματα πνευματικής ιδιοκτησίας επί των άρθρων τους, δίνοντας στο περιοδικό το δικαίωμα της πρώτης δημοσίευσης. Άρθρα που δημοσιεύονται στο περιοδικό διατίθενται με άδεια Creative Commons 4.0 και σύμφωνα με την άδεια μπορούν να χρησιμοποιούνται ελεύθερα, με αναφορά στο/στη συγγραφέα και στην πρώτη δημοσίευση με δικαίωμα τροποποίησης μόνον με παρόμοια διανομή (αν αναμείξετε, τροποποιήσετε, ή δημιουργήσετε πάνω στο υλικό, πρέπει να διανείμετε τις δικές σας συνεισφορές υπό την ίδια άδεια όπως και το πρωτότυπο).
Λήψεις
Τα δεδομένα λήψης δεν είναι ακόμη διαθέσιμα.