First Report in the presence of Post-Weaning Multisystemic Wasting Syndrome and Porcine Circo virus type 2 in Greece
---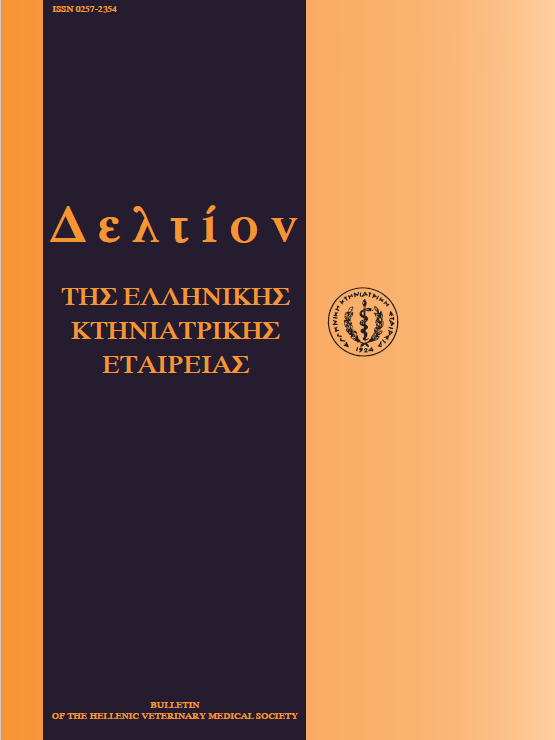 Abstract
Post-weaning Multisystemic Wasting Syndrome (PMWS) is a new infectious disease of pigs at nursery and growing phase of production. A new strain of porcine circovirus (PCV), PCV type 2, seems to be the cause. The aim of this study was to investigate whether outbreaks of disease with clinical signs similar to those of PMWS, observed in several farms in Greece, were associated to the presence of PCV2. To establish a diagnosis in two pig farms suspected of being positive to PMWS, ten affected pigs were euthanised. The clinical and post-mortem findings in these pigs were highly suggestive of PMWS. Histopathology has revealed interstitial pneumonia and infiltration of mononuclear cells in periportal areas of the liver and in mesenteric lymph nodes. According to previous studies these are characteristic lesions of PMWS. The final diagnosis was confirmed by demonstrating antigens and nucleic acid in PCV2-affected tissues using immunohistochemistry and in situ-hybridisation methods.
Article Details
How to Cite

KYRIAKIS (ΣΠ. Κ. ΚΥΡΙΑΚΗΣ) S. C., KENNEDY, S., SAOULIDIS (Κ. ΣΑΟΥΛΙΔΗΣ) K., LEKKAS (Σ. ΛΕΚΚΑΣ) S., MILIOTIS (Χ.Κ.ΜΗΛΙΩΤΗΣ) C. C., BALKAMOS (Γ.Κ. ΜΠΑΛΚΑΜΟΣ) G. C., & PAPOUTSIS (Π.Α. ΠΑΠΟΥΤΣΗΣ) P. A. (2018). First Report in the presence of Post-Weaning Multisystemic Wasting Syndrome and Porcine Circo virus type 2 in Greece. Journal of the Hellenic Veterinary Medical Society, 52(4), 281–285. https://doi.org/10.12681/jhvms.15458
Authors who publish with this journal agree to the following terms:
· Authors retain copyright and grant the journal right of first publication with the work simultaneously licensed under a Creative Commons Attribution Non-Commercial License that allows others to share the work with an acknowledgement of the work's authorship and initial publication in this journal.
· Authors are able to enter into separate, additional contractual arrangements for the non-exclusive distribution of the journal's published version of the work (e.g. post it to an institutional repository or publish it in a book), with an acknowledgement of its initial publication in this journal.
· Authors are permitted and encouraged to post their work online (preferably in institutional repositories or on their website) prior to and during the submission process, as it can lead to productive exchanges, as well as earlier and greater citation of published work.
Downloads
Download data is not yet available.
References
Clark EG. Post-Weaning Multisystemic Wasting Syndrome. Proceedings of the American Association of Swine Practitioners 1997:499-500
Harding JC. Post-Weaning Multisystemic Wasting Syndrome (PMWS) Preliminary Epidemiology and Clinical Presentation. Proceedings of the American Association of Swine Practitioners 1997:503
Daft B, Nordhausen RW, Latimer KS, Niagro FD. Interstitial
Segales J, Sitjar M, Domingo M, Dee S, DelPozo M, Noval R, Sacristan C, DeLasHeras A, Latimer KS. First report of postweaning multisystemic wasting syndrome in pigs in Spain. Vet Ree 1997,141:600-601
Lecann P, Alpina E, Madec F, Cariolet R, Jestin A. Piglet wasting disease. Vet Ree 1997,141:660
Kennedy S, Allan GM, McNeilly F, Adair B, Hughes A, Spillane P. Porcine Circovirus in Northern Ireland. Vet Ree 1998,142:495-496
Harding JCS, Clark EG. Post-Weaning Multisystemic Wasting Syndrome (PMWS): Preliminary Epidemiology and Clinical Presentation. Proceedings of the 15th International Pig Veterinary Society Congress 1998,2: 213
Tischer Ι, Gelderblom Η, Vetterman W, Koch ΜΑ. A very small porcine virus with circular single-stranded DNA. Nature 1982,295:64-66
Tischer I, Mields W, Wolff D, Vagt M, Griem W. Studies on the pathogenicity of porcine circovirus. Arch Virol 1986, 91:271-276
Dulac GC, Afshar A. Porcine circovirus antigens in PK15 cell line (ATCC CCL-33) and evidence of antibodies to circovirus in Canadian pigs. Can J Vet Res 1998,53:431-433
Edwards S, Sands JJ. Evidence of circovirus infection in British pigs. Vet Ree 1994,134:680-681
Ellis J, Hassard L, Clark E, Harding J, Allan G, Willson P, Strokappe J, Martin K, McNeilly F, Meehan B, Todd D, Haines D. Isolation of circovirus from lesions of pigs with postweaning multisystemic wasting syndrome. Can Vet J 1998,39:44-51
Allan GM, McNeilly F, Kennedy S, Daft B, Clark ED, Ellis JA, Haines DM, Meehan BM, Adair BM. Isolation of porcine circovirus-like viruses from pigs with a wasting disease in the United States of America and Europe. J Vet Diag Inv 1998, 10:3-10
McNeilly F, Kennedy S, Moffett D, Meehan BM, Foster JC, Clarke EG, Ellis JA, Haines DM, Adair BM, Allan GM. A comparison of in situ hybridization and immunohistochemistry for the detection of a new porcine circovirus in formalin-fixed tissues from pigs with postweaning multisystemic wasting syndrome. J V Method 1999,80:123-128
Harding JCS, Clark EG. Recognizing and diagnosing postweaning multisystemic wasting syndrome. Swine Health Prod 1997,5:201-203
Clark EG, Harding JCS. Porcine Circovirus and Post-Weaning Multisystemic Wasting Syndrome. Proceedings of the American Association of Swine Practitioners 1998:445-447
Harding JCS, Clark EG, Ellis JA. The clinical expression of porcine circovirus. Proceedings of A.D. Leman Swine Conference 1999:252
Segales J, Domingo M, Balasch M, Plana-Duran J, Latimer KS, Majo N. Lesions and distribution of porcine circovirus genome in the liver from post-weaning multisystemic wasting syndrome (PMWS) affected pigs. Proceedings of the 15th
International Pig Veterinary Society Congress 1998,2:209
Gresham ACJ. Post-Weaning Multi-Systemic Wasting Syndrome (PMWS) in pigs - A review and assessment of the situation in the United Kingdom. The Pig Journal 1999, 43:72-79
Segales J, Domingo M. Clinical and pathological findings of PMWS cases in Europe. Proceedings of A.D. Leman Swine Conference 1999:246-249
Kennedy S, Moffett D, McNeilly F, Meehan B, Ellis J, Krakowka S, Allan GM. Reproduction of lesions of postweaning multisystemic wasting syndrome by experimental infection of conventional pigs with porcine circovirus type 2 alone or in combination with porcine parvovirus. J Comp Pathology 2000,122:9-24
Kyriakis SC, Kennedy S, Saoulidis K, Lekkas S, Miliotis ChC, Balkamos GC, Papoutsis PA. First report of the presence of post-weaning Multisystemic Wasting Syndrome and porcine circovirus type 2 in Greece. Proceedings of the 16th
International Pig Veterinary Society Congress 2000: 633
Saoulidis K, Kyriakis SC, Kennedy S, Lekkas S, Miliotis ChC, Allan G, Balkamos GC, Papoutsis PA. First report of postweaning multisystemic wasting syndrome and porcine dermatitis and nephropathy syndrome in pigs in Greece. J Vet Med B. 2001, (submitted for publication)
Kyriakis SC, Andersson G. Wasting pig syndrome in weaners - treatment with amperozide. J Vet Pharm Therapeutics 1989, 12:232-236
Kyriakis SC, Tzika ED, Lyras DN, Tsinas AC, Saoulidis C. Effect of an inactivated Parapoxvirus based immunomodulator (Baypamun) on postweaning diarrhoea syndrome of piglets. Research in Veterinary Science 1998,64:187-190