Canine pemphigus folliaceus: report of five clinical case
---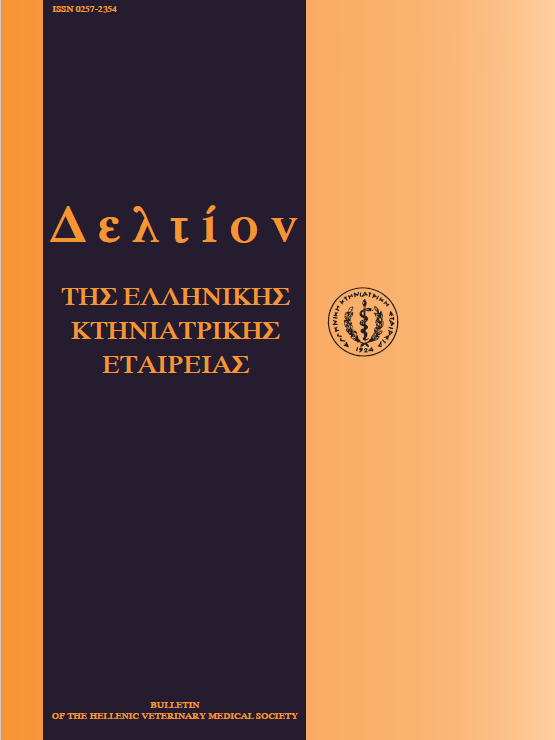 Abstract
Pemphigus folliaceus (PF), which is considered the most common autoimmune skin disease in the dog, is associated with the formation of autoantibodies directed against the desmosomes of the upper third of the epidermis, that result in loss of keratinocyte adhesion (acantholysis) and subsequent epidermal cleft formation. The clinical and histopathological findings, along with the response to treatment in 5 PF cases, either idiopathic (3/5) or secondary to trimethoprim-sulfonamides (1/5) and to allergic dermatitis (1/5), are presented and discussed, accordingly. All the 5 dogs exhibited hypotrichosis-alopecia (4/5), erythema (4/5), vesicles (1/5), pustules (5/5), crusts (5/5), epidermal collarettes (3/5), excoriations (1/5), erosions (3/5), ulcers (1/5), fissures (1/5), lichenification, thickening and folding of the skin (1/5), and footpad hyperkeratosis (1/5), that were pruritic in 3 of them. These lesions were located on the head (4/5), pinnae (4/5), limbs (3/5), body trunk (3/5) and the footpads (2/5). Diagnosis was based on the results of lesionai histopathology where the most striking finding was the presence of subcorneal pustules filled with normally looking neutrophils and acanthocytes. Moreover, pustule or crust cytology that was carried out in 3 cases, revealed clusters of acantholytic cells in 2 dogs. The treatment, that was instituted in 2/5 dogs and resulted in a complete resolution of skin lesions, was based on prednisolone in immunosuppressive dosage along with azathioprine (PF secondary to allergic dermatitis), or on a combination of dapsone, Oxytetracycline and vitamin E (idiopathic PF). The remaining 3 cases were left untreated, because one showed a spontaneous remission following withdrawal of the offending medication and the other 2 were lost to follow-up.
Article Details
How to Cite

LIAPI (Μ.Β. ΛΙΑΠΗ) M. V., SARIDOMICHELAKIS (Μ.Ν. ΣΑΡΙΔΟΜΙΧΕΛΑΚΗΣ) M. N., KOUTINAS (Α. Φ. ΚΟΥΤΙΝΑΣ) A. F., & LEKKAS (Σ. ΛΕΚΚΑΣ) S. (2018). Canine pemphigus folliaceus: report of five clinical case. Journal of the Hellenic Veterinary Medical Society, 52(4), 273–280. https://doi.org/10.12681/jhvms.15457
Authors who publish with this journal agree to the following terms:
· Authors retain copyright and grant the journal right of first publication with the work simultaneously licensed under a Creative Commons Attribution Non-Commercial License that allows others to share the work with an acknowledgement of the work's authorship and initial publication in this journal.
· Authors are able to enter into separate, additional contractual arrangements for the non-exclusive distribution of the journal's published version of the work (e.g. post it to an institutional repository or publish it in a book), with an acknowledgement of its initial publication in this journal.
· Authors are permitted and encouraged to post their work online (preferably in institutional repositories or on their website) prior to and during the submission process, as it can lead to productive exchanges, as well as earlier and greater citation of published work.
Downloads
Download data is not yet available.
References
Suter MM, de Bruin A, Wyder M, Wurm S, Credule Κ, Crameri FM, Muller E. Autoimmune diseases of domestic animals: an update. In: Kwotchka KW, Willemse T, von Tscharner C (Editors), Advances in Veterinary Dermatology, Vol III. Butterworth-Heinemann, Boston, 1998. pp 321-326.
Rosenkrantz WS. Pemphigus foliaceus. In: Griffin CE, Kwotchka KW, Mc Donald JM (Editors), Current Veterinary Dermatology. Mosby-Year Book, St Louis, 1993. pp 141-148.
Scott DW, Miller WH Jr, Griffin CE. Pemphigus folliaceus. In: Müller and Kirk's Small Animal Dermatology, 5th edition. WB Saunders, Philadelphia, 1995. pp 565- 573.
Yager JA, Wilcock BP. Pemphigus foliaceus. In: Yager JA, Willcock BP (Editors), Color Atlas and Text of Surgical Pathology of the Dog and Cat; Dermatopathology and Skin Tumors. Mosby-Year Book, St. Louis, 1994. pp 165-166.
Ihrke PJ, Stannard AA, Ardans AA, Griffin C. Pemphigus foliaceus in dogs: a review of 37 cases. J Am Vet Med Assoc 1985,186: 59-66.
Lewis RM, Wolfe MA, Scott DW. Non viral bullous skin diseases in small animal medicine. Proc 47th Ann Meet AAHA, 1980. pp 163-167.
Gross TL, Ihrke PJ, Walder EJ. Pemphigus folliaceus. In:Veterinary Dermatopathology. Mosby-Year Book, St. Louis, 1992. pp. 16-17.
Suter MM, Flavio M, Crameri FM, Olivry T, Muller E, von Tscharner C, Jensen PJ. Keratinocyte biology and pathology. Vet Dermatol 1997,8: 67-100.
Suter MM, de Bruin A, Caldelari, R, Muller E. Structure and function of the epidermis. Proc 16th Ann Congr ESVDECVD, 1999. pp 32-34.
Day M J, Shaw SE. Pemphigus foliaceus. In: Day M J (Editor), Clinical Immunology of the Dog and Cat. Manson Publishing-The Veterinary Press, London, 1999. pp 111-112.
Olivry T. Pemphigus in domestic animals: comparative aspects. In: Immunodermatology 2000: from the laboratory to the clinic, advances in the diagnosis and pathogenesis of animal skin diseases.Proc. ESVD 2000.
Scott DW. Immunological skin diseases in the dog. Proc 48th Ann Meet AAHA, 1981. pp. 47-50.
Noxon JA, Meyers K. Pemphigus foliaceus in two Shetland Sheepdog littermates. J Am Vet Med Assoc 1989,194:545-546.
Willemse T. Pustular dermatosis in dogs. Proc WSAVAFECAVACongr 2000. pp 81-84.
Carlotti DN, White SD, Pin D. Drug-related superficial pemphigus in the dog: a report of 3 cases. Proc 16th Ann Cong ESVD-ECVD, 1999. pp 40.
Medleau L, Shanley KJ, Rackich P, Goldschmidt ΜΗ. Trimethoprim sulfonamide associated drug eruptions in dogs. J AmVet Med Assoc 1990,26: 305-311.
Miller WH Jr. Cutaneous drug reactions. Proc 12th Ann CongESVD-ECVD, 1995. pp 32-33
Noli C, Koeman JP, Willemse T. A retrospective evaluation of adverse reactions to trimethiprim sulfonamide combinations in dogs and cats. VetQ 1995,17:123-128.
Mason I, Shearer D. Pemphigus foliaceus. Clinical problemswith the histopathological diagnosis and histopathological problems with the clinical diagnosis. Proc 15th Ann Cong
ESVD-ECVD, 1998. pp 109-112
Willemse T. Pemphigus. In: Clinical Dermatology of the Dog and Cat. Wetenschappelijke Uitgeverji Bungue, Utrecht, 1998. pp 47-50.
Ginel Ρ J, Mozos E, Fernandez A, Martinez A, Molleda JM. Canine pemphigus foliaceus associated with leishmaniasis. Vet Ree 1993,133: 526-527.
Koutinas AF, Scott DW, Kontos V, Lekkas S. Skin lesions in canine leishmaniasis (Kala-Azar): A clinical and histopathological study on 22 spontaneous cases in Greece. Vet Dermatol 1993, 3 :121-130.
Scott DW, Walton DK, Slater MR. Immune mediated dermatosis in domestic animals: Ten years after-Part I. Comp ContEduc 1987,9: 424-435.
Scott DW. Differential diagnosis of sterile pustular dermatosis in the dog. In: Kirk RW (Editor), Current Veterinary Therapy-Small Animal Practice IX. WB Saunders, Philadelphia, 1987. pp 554-557.
Noli C. Practical laboratory methods for the diagnosis of dermatologie diseases.In: Bonagura JB (Editor), Current Veterinary Therapy-Small Animal Practice XIII. WB Saunders, Philadelphia, 2000. pp 526-530.
Kuhl KA, Shofer FS, Goldschmidt ΜΗ. Comparative histopathology of pemphigus foliaceus and superficial folliculitis in the dog. Vet Pathol 1994,31:19-27.
Shinya K, Nomura K, Wada S, Morioka H, Umemura T. Pemphigus foliaceus with typical histological and immunohistological findings in a dog. J Vet Med Sci 1996, 194: 815-817.
Kummel Β. Medical treatment of canine pemphigus and pemrhigoid. In: Bonagura JB (Editor), Current Veterinary Therapy-Small Animal Practice XII. WB Saunders, Philadelphia, 1995. pp 636-638.
Scott DW, Manning TO, Smith CA, Lewis RM. Observations on the immunopathology and therapy of canine pemphigus and pemphigoid. J Am Vet Med Assoc 1982,180: 48-52.
Behrend EN, Kempainen RJ. Glucocorticoid therapy. Vet Clin North Am-Small Anim Pract 1997,27:187-213.
White D, Rosychuk W, Reinke SI, Paradis M. Use of tetracycline and niacinamide for treatment of autoimmune skin disease in 31 dogs. J Am Vet Med Assoc 1992,200:1497-