Cardiac tamponade secondary to hemorrhagic pericardial effiision in five dogs
---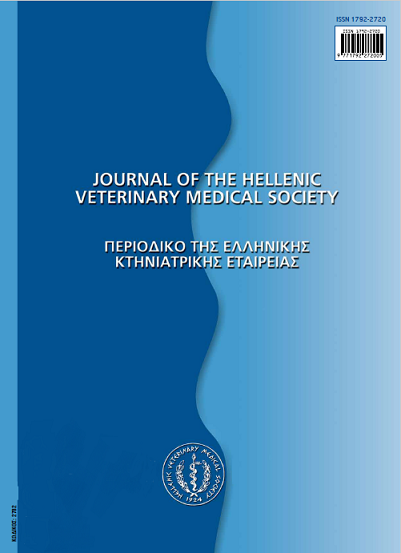 Published: Nov 29, 2017
Keywords:
cardiac tamponade hemorrhagic pericardial effusion dog
Abstract
A 7-year old female collie (case 1), a 3-year old male Caucasian-cross (case 2) and three male German shepherds with an age of 11 (case 3), 8.5 (case 4) and 10 (case 5) years, respectively, were admitted with a history of decreased appetite, depression, exercise intolerance, dyspnea and progressive abdominal enlargement, for the last 10 to 60 days. Poor body condition (5/5), muffled heart sounds (5/5), weak femoral pulse (5/5), ascites (5/5), inspiratory or inspiratory-expiratory dyspnea (5/5), pulsus paradoxus (2/5) and jugular vein distension (2/5) were the prominent clinical findings, while mature neutrophilic leukocytosis (3/5), lymphopenia (3/5), eosinopenia (3/5), hypoproteinemia (5/5) and increased urea nitrogen (3/5) were the most prevalent clinicopathologic abnormalities. Apart from a space-occupying lesion onto the right atrial wall of one dog (case 4), radiographic and ultrasound examination showed a globe-shaped cardiac silhouette (5/5), pericardial effusion (5/5), ascites (5/5) and pleural effusion (4/5). A large amount of non-clotting hemorrhagic effusion was drained during pericardiocentesis, resulting in rapid clinical recovery. Physical, chemical and cytological evaluation of the pericardial fluid was non-contributory in the differentiation between neoplastic and non-neoplastic causes of these effusions. Case 3 died 25 days post-pericardiocentesis; right atrium hemangiosarcoma and pulmonary metastases were documented on post mortem histopathological examination. Another dog (case 5) died of unknown causes one month after pericardiocentensis. On the contrary, dogs 1, 2 and 4 were still clinically healthy for a followup period of 16, 2 and 8 months, respectively.
Article Details
How to Cite

HATZIGIANNAKIS (Χ.Γ. ΧΑΤΖΗΓΙΑΝΝΑΚΗΣ) C. G., MYLONAKIS (Μ. Ε. ΜΥΛΩΝΑΚΗΣ) M. E., SARIDOMICHELAKIS (Μ.Ν. ΣΑΡΙΔΟΜΙΧΕΛΑΚΗΣ) M. N., PATSIKAS (Μ. ΠΑΤΣΙΚΑΣ) M., PSALLA (Δ. ΨΑΛΛΑ) D., & KOUTINAS (Α.Φ. ΚΟΥΤΙΝΑΣ) A. F. (2017). Cardiac tamponade secondary to hemorrhagic pericardial effiision in five dogs. Journal of the Hellenic Veterinary Medical Society, 56(1), 9–19. https://doi.org/10.12681/jhvms.15064
Section
Research Articles
Authors who publish with this journal agree to the following terms:
· Authors retain copyright and grant the journal right of first publication with the work simultaneously licensed under a Creative Commons Attribution Non-Commercial License that allows others to share the work with an acknowledgement of the work's authorship and initial publication in this journal.
· Authors are able to enter into separate, additional contractual arrangements for the non-exclusive distribution of the journal's published version of the work (e.g. post it to an institutional repository or publish it in a book), with an acknowledgement of its initial publication in this journal.
· Authors are permitted and encouraged to post their work online (preferably in institutional repositories or on their website) prior to and during the submission process, as it can lead to productive exchanges, as well as earlier and greater citation of published work.
Downloads
Download data is not yet available.
References
Alleman R (2003) Abdominal, thoracic and pericardial effusions. Vet Clin Small Anim, 33: 89-118
Aronsohn M (1985) Cardiac hemangiosarcoma in the dog: A review of 38 cases. J Am Vet Med Assoc, 187: 922-926
Aronsohn MG, Carpenter JL (1999) Surgical treatment of idiopathic pericardial effusion in the dog: 25 cases (1978-1993). J Am Anim Hosp Assoc, 35: 521-525
Berg JR, Wingfield W (1984) Pericardial effusion in the dog: A review of 42 cases. J Am Anim Hosp Assoc, 20: 721-730
Berg JR, Wingfield WE, Hoopes JP (1984) Idiopathic hemorrhagic pericardial effusion in eight dogs. J Am Vet Med Assoc, 185: 988-992
Bouvy BM, Bjorling DE (1991a) Pericardial effusion in dogs and cats. Part I.. Normal pericardium and causes and pathophysiology of pericardial effusion. Compend Cont Educ Pract Vet, 13: 417-421
Bouvy BM, Bjorling DE (1991b) Pericardial effusion in dogs and cats. Part II. Diagnostic approach and treatment. Compend Cont Educ Pract Vet, 13: 633-641
Day MJ, Martin MW (2002) Immunohistochemical characterization of the lesions of canine idiopathic pericarditis. J Small Anim Pract, 43: 382-387
Dunning D, Monnet E, Orton CE, Salman MD (1998) Analysis of prognostic indicators for dogs with pericardial effusion: 46 cases (1985-1996). J Am Vet Med Assoc, 212: 1276-1280
Edwards J (1996) The diagnostic value of pericardial fluid Ph determination. J Am Anim Hosp Assoc, 32: 63-67
Fine DM, Tobias AH, Jacob KA (2003) Use of pericardial fluid pH to distinguish between idiopathic and neoplastic effusions. J Vet Intern Med, 17: 525-529
Font A, Durali Ν, Domingo M, Closa JM, Mascort J, Ferrer L (1993) Cardiac tamponade in a dog with visceral leishmaniasis. J Am Anim Hosp Assoc, 29: 95-100
Kerstetter KK, Krähwinkel DJ, Millis DL, Hahn Κ (1997) Pericardiectomy in dogs: 22 cases (1978-1994). J Am Vet Med Assoc, 211: 736-740
Kittleson MD, Kienle RD (1998) Pericardial disease and cardiac neoplasia. In: Small Animal Cardiovascular Medicine. Mosby, St. Louis: 413-430
Madron E, Prymak C, Hendricks J (1987) Idiopathic hemorrhagic pericardial effusion with organized thrombi in a dog. J Am Vet Med Assoc, 191:324-326
Miller MW, Sisson DD (2000) Pericardial disorders. In: Textbook of Veterinary Internal Medicine. 5th ed, Saunders W B, Philadelphia: 923-936
Nelson RW, Couto CG (1998) Pericardial Diseases. In: Small Animal Internal Medicine. 2nd ed, Mosby, St. Louis: 181-192
Polizopoulou ZS, Koutinas AF, Saridomichelakis MN, Patsikas MN, Leontidis LS, Roubles NA, Desiris AK (2000) Clinical and laboratory observations in 91 dogs infected with Dirofilaria immitis in northern Greece. Vet Ree, 146: 466-469
Sisson D, Thomas WP, Ruehl WW, Zinkl JG (1984) Diagnostic value of pericardial fluid analysis in the dog. J Am Vet Med Assoc, 184: 51-55
Sisson D, Thomas WP (1999) Pericardial disease and cardiac tumors. In: Textbook of Canine and Feline Cardiology. 2nd ed, Saunders WB, Philadelphia: 679-699
Smith F W, Rush J E (2000) Diagnosis and treatment of pericardial effusion. In: Kirk's Current Veterinary Therapy XIII Small Animal Practice. Saunders WB, Philadelphia: 772-777
Stepien RL, Whitley NT, Dubielzig RR (2000) Idiopathic or mesothelioma- related pericardial effusion: clinical findings and survival in 17 dogs studied retrospectively. J Small Anim Pract, 41:342-347
Vicari ED, Brown DC, Holt DE, Brockman DJ (2001) Survival times and prognostic indicators for dogs with heart base masses: 25 cases (1986-1999). J Am Vet Med Assoc, 219: 485-487
Ware WA (2003) Pericardial diseases and cardiac tumors. In: Small Animal Internal Medicine. 3rd ed, Mosby, St. Louis: 185-197