First report of Besnoitia besnoiti seropositive cattle in Greece
---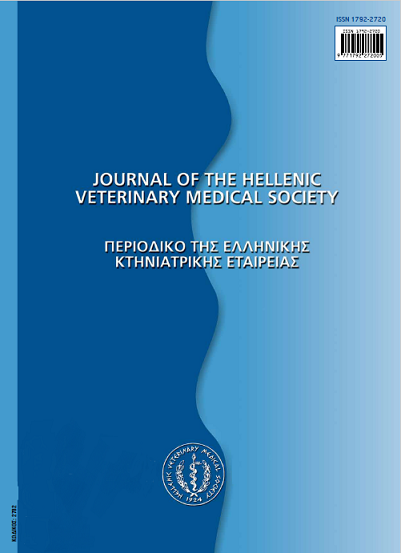 Published: Dec 21, 2017
Keywords:
Besnoitia besnoiti dairy cattle emerging disease Greece protozoan parasite
Abstract
Aim of this study was to investigate presence of Besnoitia besnoiti infection in indigenous and imported cattle in Greece. A total of 450 bovine blood sera samples from 15 dairy herds of Northern Greece were tested using a commercially available kit to detect specific anti-B. besnoiti antibodies. Ninety-eight cows were found to be seropositive to B. besnoiti (22%). Seropositivity varied among herds from 0% to 35%. Results were analysed using a univariate analysis of variance. A full factorial model was developed, using as independent variables area of sampling (Thrace, Macedonia) and origin of cattle (local, imported). No significant effect was found of the variables included into the model (P > 0.05). It is concluded that seropositive dairy cows are present in Northern Greece; however, impact of this parasite on animal production in Greece remains a key topic for further investigation.
Article Details
How to Cite

PAPADOPOULOS (Η. ΠΑΠΑΔΟΠΟΥΛΟΣ) E., ARSENOS (Γ. ΑΡΣΕΝΟΣ) G., PTOCHOS (Σ. ΠΤΩΧΟΣ) S., KATSOULOS (Π. ΚΑΤΣΟΥΛΟΣ) P., OIKONOMOU (Γ. ΟΙΚΟΝΟΜΟΥ) G., KARATZIA (Μ.Α. ΚΑΡΑΤΖΙΑ) M. A., & KARATZIAS (Χ. ΚΑΡΑΤΖΙΑΣ) H. (2017). First report of Besnoitia besnoiti seropositive cattle in Greece. Journal of the Hellenic Veterinary Medical Society, 65(2), 115–120. https://doi.org/10.12681/jhvms.15527
Section
Research Articles
Authors who publish with this journal agree to the following terms:
· Authors retain copyright and grant the journal right of first publication with the work simultaneously licensed under a Creative Commons Attribution Non-Commercial License that allows others to share the work with an acknowledgement of the work's authorship and initial publication in this journal.
· Authors are able to enter into separate, additional contractual arrangements for the non-exclusive distribution of the journal's published version of the work (e.g. post it to an institutional repository or publish it in a book), with an acknowledgement of its initial publication in this journal.
· Authors are permitted and encouraged to post their work online (preferably in institutional repositories or on their website) prior to and during the submission process, as it can lead to productive exchanges, as well as earlier and greater citation of published work.
Downloads
Download data is not yet available.
References
Alvarez-Garcia G, Frey C, Ortega Mora LM, Schares G (2013) A century of bovine besnoitiosis: an unknown disease re emerging in Europe. Trends Parasitol 29:407-415.
Basso W, Lesser M, Grimm F, Hilbe M, Sydler T, Trösch L, Ochs H, Braun U, Deplazes P (2013) Bovine besnoitiosis in Switzerland: imported cases and local transmission. Vet Parasitol 198:265-273.
Bigalke RD (1968) New concepts on the epidemiological features of bovine besnotiosis as determined by laboratory and field investigations. Onderstepoort J Vet Res 35:3-137.
Cortes H, Leitao A, Vidal R, Vila-Vicosa MJ, Ferreira ML, Caeiro V, Hjerpe CA (2005) Besnoitiosis in bulls in Portugal. Vet Rec 157:262-264.
Cortes H, Reis Y, Waap H, Vidal R, Soares H, Marques I, Pereira da Fonseca I, Fazendeiro I, Ferreira ML, Caeiro V, Shkap V, Hemphill A, Leitao A (2006) Isolation of Besnoitia besnoiti from infected cattle in Portugal. Vet Parasitol 141:226-233.
Dubey JP, van Wilpe E, Blignaut DJ, Schares G, Williams JH (2013) Development of early tissue cysts and associated pathology of Besnoitia besnoiti in a naturally infected bull (Bos taurus) from South Africa. J Parasitol 99:459-466.
Fernandez-Garcia A, Alvarez-Garcia G, Risco-Castillo V, Aguado-Martinez A, Marcen JM, Rojo-Montejo S, Castillo JA, Ortega-Mora LM (2010) Development and use of an indirect ELISA in an outbreak of bovine besnoitiosis in Spain. Vet Rec 166:818-822.
Frey CF, Gutierrez-Exposito D, Ortega-Mora LM, Benavides J, Marcen JM, Castillo JA, Casasus I, Sanz A, Garcia-Lunar P, Esteban-Gil A, Alvarez-Garcia G (2013) Chronic bovine besnoitiosis: intra-organ parasite distribution, parasite loads and parasite-associated lesions in subclinical cases. Vet Parasitol 197:95-103.
Gentile A, Militerno G, Schares G, Nanni A, Testoni S, Bassi P, Gollnick NS (2012) Evidence for bovine besnoitiosis being endemic in Italy - first in vitro isolation of Besnoitia besnoiti from cattle born in Italy. Vet Parasitol 184:108-115.
Gutierrez-Exposito D, Ortega-Mora LM, Marco I, Boadella M, Gortazar C, San Miguel-Ayanz JM, Garcia-Lunar P, Lavin S, Alvarez-Garcia G (2013) First serosurvey of Besnoitia spp. infection in wild European ruminants in Spain. Vet Parasitol 197:557-564.
Jacquiet P, Lienard E, Franc M (2010) Bovine besnoitiosis: Epidemiological and clinical aspects Vet Parasitol 174:30–36.
Lienard E, Salem A, Grisez C, Prevot F, Bergeaud JP, Franc M, Gottstein B, Alzieu JP, Lagalisse Y, Jacquiet PA (2011) Longitudinal study of Besnoitia besnoiti infections and seasonal abundance of Stomoxys calcitrans in a dairy cattle farm of southwest France. Vet Parasitol 177:20-27.
Rinaldi L, Maurelli MP, Musella V, Bosco A, Cortes H, Cringoli G (2013) First cross-sectional serological survey on Besnoitia besnoiti in cattle in Italy. Parasitol Res 112:1805-1807.
Schares G, Basso W, Majzoub M, Cortes HC, Rostaher A, Selmair J, Hermanns W, Conraths FJ, Gollnick NS (2009) First in vitro isolation of Besnoitia besnoiti from chronically infected cattle in Germany. Vet Parasitol 163:315-322.
Schares G, Basso W, Majzoub M, Rostaher A, Scharr JC, Langenmayer MC, Selmair J, Dubey JP, Cortes HC, Conraths FJ, Haupt T, Puerro M, Raeber A, Buholzer P, Gollnick NS (2010) Evaluation of a commercial ELISA for the specific detection of antibodies against Besnoitia besnoiti. Vet Parasitol 175: 52-59.
Schares G, Langenmayer MC, Scharr JC, Minke L, Maksimov P, Maksimov A, Schares S, Baerwald A, Basso W, Dubey JP, Conraths FJ, Gollnick NS (2013) Novel tools for the diagnosis and differentiation of acute and chronic bovine besnoitiosis. Int J Parasitol43:143-154.