Lamb mortality due to bronchopneumonia secondary to orf infection and control by vaccination
---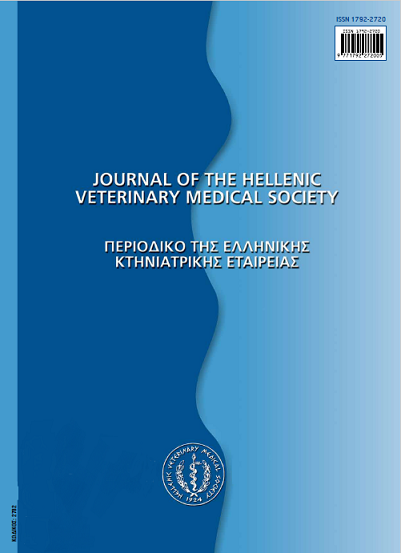 Published: Jan 29, 2018
Keywords:
orf lambs mortality bronchopneumonia vaccines
Abstract
Newborn lambs of a sheep flock in Greece showed clinical signs of bronchopneumonia with high perinatal mortality. All different therapeutic protocols that were applied were ineffective. Clinical examination of 4 lambs confirmed that the animals exposed signs of bronchopneumonia and contagious ecthyma. Haematological parameters of all the 4 lambs were within normal limits, while gross pathologic findings were compatible with bronchopneumonia. Lung and scab specimens were taken from all 4 animals for microbiological examination. Orf virus was isolated from all scab specimens, while lung specimens were found negative. In contrast, all lung specimens yielded colonies of Pasteurella multocida, Manheimia haemolytica and Mycoplasma spp. All the remaining pregnant ewes of the flock were vaccinated against orf virus with a commercial live attenuated vaccine. It resulted in diminishment of bronchopneumonia cases in the newborn lambs. In conclusion, it is supported that the lambs in the present flock were immune-suppressed due to orf infection and therefore exposed secondary bronchopneumonia.
Article Details
How to Cite

GIADINIS (Ν.Δ. ΓΙΑΔΙΝΗΣ) N. D., ARSENOPOULOS (Κ. ΑΡΣΕΝΟΠΟΥΛΟΣ) K., KRITSEPI-KONSTANTINOU (Μ. ΚΡΙΤΣΕΠΗ-ΚΩΝΣΤΑΝΤΙΝΟΥ) M., TSAKOS (Π. ΤΣΑΚΟΣ) P., ILIADOU (Π. ΗΛΙΑΔΟΥ) P., MANGANA-VOUGIOUKA (ΜΑΓΚΑΝΑ-ΒΟΥΓΙΟΥΚΑ) O., & ABD EL-TAWAB, M. M. (2018). Lamb mortality due to bronchopneumonia secondary to orf infection and control by vaccination. Journal of the Hellenic Veterinary Medical Society, 67(2), 117–122. https://doi.org/10.12681/jhvms.15630
Section
Research Articles
Authors who publish with this journal agree to the following terms:
· Authors retain copyright and grant the journal right of first publication with the work simultaneously licensed under a Creative Commons Attribution Non-Commercial License that allows others to share the work with an acknowledgement of the work's authorship and initial publication in this journal.
· Authors are able to enter into separate, additional contractual arrangements for the non-exclusive distribution of the journal's published version of the work (e.g. post it to an institutional repository or publish it in a book), with an acknowledgement of its initial publication in this journal.
· Authors are permitted and encouraged to post their work online (preferably in institutional repositories or on their website) prior to and during the submission process, as it can lead to productive exchanges, as well as earlier and greater citation of published work.
Downloads
Download data is not yet available.
References
Brugere- Picoux J (1994) Maladies des moutons, Editions France Agricole, Paris.
Buddle BM, Pulford HD (1984) Effect of passively-acquired antibodies and vaccination on the immune response to contagious ecthyma virus. Vet Microbiol 9:515-522.
Darbyshire JH (1961) A fatal ulcerative mucosal condition of sheep associated with the virus of contagious pustular dermatitis. Br Vet J 117:97-105.
Giadinis ND, Filioussis G, Lafi SQ, Panousis N, Pourliotis K, Bojkovski J, Karatzias H (2007) Field evaluation of an orf vaccine in sheep and goat flocks with high neonatal mortality. Vet Glasn 61:301-312.
Gunmrell RC, McGregor DA (1997) Outbreak of severe fatal orf in lambs. Vet Rec 141:150-151.
Haig DM (2006) Orf virus infection and host immunity. Curr Opin Infect Dis 19:127-131.
Kottaridi C, Nomikou K, Lelli R, Markoulatos P, Mangana O (2006) Laboratory diagnosis of contagious ecthyma: Comparison of different PCR protocols with virus isolation in cell culture. J. Virol Meth 134:119-124.
Mangana-Vougiouka O, Markoulatos P, Koptopoulos G, Nomikou K, Bakandritsos N, Papadopoulos O (1999) Sheep poxvirus identification by PCR in cell cultures. J Virol Meth 77:75–79.
Mangana-Vougiouka O, Markoulatos P, Koptopoulos G, Nomikou K, Bakandritsos N, Papadopoulos O (2000) Sheep poxvirus identification from clinical specimens by PCR, cell culture, immunofluorescence and agar gel immunoprecipitation assay. Molec Cell Probes 14:305–310.
Mayr A, Herlyn M, Mahnel H, Danco A, Zach A, Bostedt H (1981) Control of ecthyma contagiosum (pustular dermatitis) of sheep with a new parenteral cell culture live vaccine. J Vet Med B 28:535-552.
McElroy MC, Bassett HF (2007) The development of oral lesions in lambs naturally infected with orf virus. Vet J 174:663.
McKeever DJ, Reid HW (1987) The response of the supramammary lymph node of sheep to secondary infection with orf virus. Vet Microbiol 14:3–13.
McKeever DJ, Reid HW, Inglis NF, Herring AJ (1987) A qualitative and quantitative assessment of humoral antibody response of sheep to orf virus infection. Vet Microbiol 15:229–241.
Nandi S, Ujjwal K, Chowdhury S (2011) Current status of contagious ecthyma or orf disease in goat and sheep—A global perspective. Small Rumin Res 96:73–82.
Nettleton PF, Brebner J, Pow I, Gilray JA, Bell GD, Reid HD (1996) Tissue culture- propagated orf virus vaccine protects lambs from orf virus challenge. Vet Rec 138:184-186.
Panousis NK, Kritsepi-Konstantinou M, Giadinis ND, Kalaitzakis E, Polizopoulou Z, Karatzias H (2007) Haematology values and effect of age and reproductive stage on haematological parameters of Chios sheep. J Hell Vet Med Soc 58:124-136.
Pye D (1990) Vaccination of sheep with cell culture grown orf virus. Aust Vet J 67:182.
Quinn PJ, Markey BK, Carter ME, Donnely WJ, Leonard FC (2002) Veterinary Microbiology and Microbial Diseases. Blackwell Science, UK.
Reid HW, Rodger SM (2007) Orf. In: (ed: Aitken ID) Diseases of sheep, 4th ed., Blackwell Science, UK, pp. 297-302.
Robinson AJ, Balassu TC (1981) Contagious pustular dermatitis (orf). Vet Bull 51:771–782.
Spais A (2005) Diseases of sheep and goat, Thessaloniki, pp. 95-98.
Stampoulis D, Giadinis ND, Papanastassopoulou M, Kritas SK (2010) Novel views upon the treatment and prevention of contagious ecthyma infection in small ruminants: with emphasis upon the problem in Greek sheep and goat production. J Hell Vet Med Soc 61:351-358.
VET01S (2015) Performance standards for antimicrobial disk and dilution susceptibility tests for bacteria isolated from animals, 3rd ed.