Hypocalcemic tetany in a pet lamb fed with cow milk
---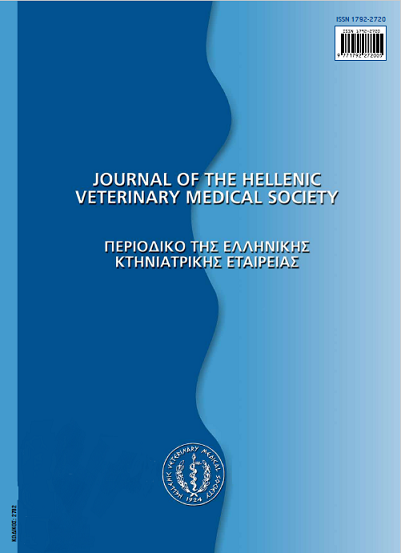 Published: Jan 29, 2018
Keywords:
Hypocalcemic tetany lamb cow milk treatment diagnosis
Abstract
A 30-days old pet lamb, that was fed with cow milk and pieces of bread was admitted to the Clinic of Farm Animals, because on the same morning it was found inappetent and depressed. A few minutes after admission it developed muscular tremors and convulsions. On clinicopathological evaluation serum calcium concentration was lower than normal. Treatment with calcium borogluconate was very effective in alleviating the signs. Hypocalcemic tetany can occur in young lambs fed with cow milk.
Article Details
How to Cite

GIADINIS (Ν.Δ. ΓΙΑΔΙΝΗΣ) N. D., ABD EL-TAWAB, M. M., POLIZOPOULOU (Ζ.Σ. ΠΟΛΥΖΟΠΟΥΛΟΥ) Z. S., ARGIROUDIS (Σ. ΑΡΓΥΡΟΥΔΗΣ) S., & KARATZIAS (X. ΚΑΡΑΤΖΙΑΣ) H. (2018). Hypocalcemic tetany in a pet lamb fed with cow milk. Journal of the Hellenic Veterinary Medical Society, 67(1), 47–50. https://doi.org/10.12681/jhvms.15876
Authors who publish with this journal agree to the following terms:
· Authors retain copyright and grant the journal right of first publication with the work simultaneously licensed under a Creative Commons Attribution Non-Commercial License that allows others to share the work with an acknowledgement of the work's authorship and initial publication in this journal.
· Authors are able to enter into separate, additional contractual arrangements for the non-exclusive distribution of the journal's published version of the work (e.g. post it to an institutional repository or publish it in a book), with an acknowledgement of its initial publication in this journal.
· Authors are permitted and encouraged to post their work online (preferably in institutional repositories or on their website) prior to and during the submission process, as it can lead to productive exchanges, as well as earlier and greater citation of published work.
Downloads
Download data is not yet available.
References
Brozos C, Mavrogianni VS, Fthenakis GC (2011) Treatment and control of peri-parturient metabolic diseases: pregnancy toxemia, hypocalcemia, hypomagnesemia. Vet Clin North Am-Food Anim Pract 27:105-113.
Cockroft PD, Whiteley P (1999) Hypocalcemia in 23 ataxic/recumbent ewes: clinical signs and likelihood ratios. Vet Rec 144:529-532.
Ermilio EM, Smith MC (2011) Treatment of emergency conditions in sheep and goats. Vet Clin North Am-Food Anim Pract 27:33-45.
Goff JP, Reinhardt TA, Horst RL (1991) Enzymes and factors controlling vitamin D metabolism and action in normal and milk fever cows. J Dairy Sci 74:4022-4032.
Jensen R, Swift BL (1982) Diseases of sheep, 2nd ed., Lea & Febiger, Philadelphia, USA.
Oetzel GR, Goff JP (1999) Milk fever (parturient paresis) in cows, ewes and doe goats. In: (ed: Howard), Current Veterinary Therapy-4: Food Animal Practice, 9th ed., Saunders Company, Philadephia, USA.
Papasteriades AA (1973) Hypocalcemia in sheep under Greek conditions. Scientific Yearbook of the Veterinary Faculty, Aristotle University, Thessaloniki.
Pulina G, Nudda A (2004) Milk production. In: (ed: Pulina G), Dairy Sheep Nutrition, CABI Publishing, UK.
Radostits OM, Gay CC, Hinchcliff KW, Constable PD (2010) Veterinary Medicine, 10th ed., Elsevier Saunders, London, UK.
Roubies N, Panousis N, Fytianou A, Katsoulos PD, Giadinis N, Karatzias H (2006) Effects of age and reproductive stage on certain serum biochemical parameters of Chios sheep under Greek rearing conditions. J Vet Med A 53:277-281.
Sweeny HJ, Cuddeford D (1987) An outbreak of hypocalcemia in ewes associated with dietary mismanagement. Vet Rec 120:114.
Thompson KG, Dittmer KE, Blair HT, Fairley RA, Sim DFW (2007) An outbreak of rickets in Corriedalle sheep: Evidence for a genetic aetiology. N Z Vet J 55:137-142.
Underwood EJ, Suttle NF (2004) Calcium. In: The Mineral Nutrition of Livestock, 3rd ed., CABI Publishing, Wallingford, UK.
Van Saun RJ (2004) Vitamin D-responsive rickets in neonatal lambs. Can Vet J 45:841–844.