Το πρόγραμμα «ΠΕΡΠΑΤΑ»: Φυσική Δραστηριότητα στους Δημοτικούς Παιδικούς Σταθμούς
---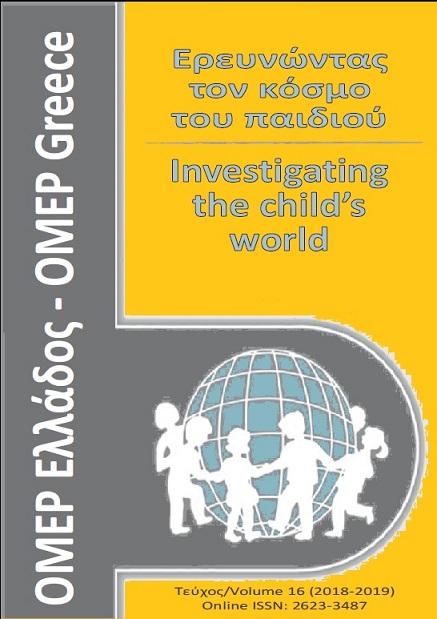 Δημοσιευμένα: Mar 9, 2020
Λέξεις-κλειδιά:
Πρόγραμμα παρέμβασης Βήματα Προσχολική ηλικία Βηματόμετρα
Περίληψη
Σκοπός της εργασίας είναι ο έλεγχος της επίδρασης του προγράμματος "ΠΕΡΠΑΤΑ" στην αύξηση της Βηματομετρικής Φυσικής Δραστηριότητας (ΒΦΔ) σε Δημοτικούς Παιδικούς Σταθμούς του Δήμου Καβάλας. Το δείγμα αποτέλεσαν 143 παιδιά ηλικίας 5 ετών (61.51±1.85 μηνών) Εφαρμόστηκε πρόγραμμα παρέμβασης διάρκειας 45΄-50΄, τέσσερις φορές την εβδομάδα, για ένα σχολικό έτος. Η ΒΦΔ μετρήθηκε με το βηματόμετρο Omron HJ-720IT-E2 για πέντε συνεχόμενες μέρες (Δευτέρα έως Παρασκευή) σε τρεις χρονικές περιόδους. Πραγματοποιήθηκαν έξι μετρήσεις κατά τους μήνες Οκτώβριο, Φεβρουάριο και Μάιο, δυο για κάθε μήνα, η πρώτη χωρίς και η δεύτερη με την εφαρμογή του προγράμματος Τα αποτελέσματα έδειξαν ότι τα παιδιά της πειραματικής ομάδας (ΠΟ) κατέγραψαν στατιστικά σημαντικά περισσότερα βήματα από τα παιδιά της ομάδας ελέγχου (ΟΕ) τις εβδομάδες εφαρμογής του προγράμματος. Η μελέτη αυτή αναδεικνύει την αποτελεσματικότητα του προγράμματος ''ΠΕΡΠΑΤΑ'', στην ΒΦΔ των παιδιών, που επιτεύχθηκε από την συνεργασία παιδαγωγών και εκπαιδευτικών ΦΑ.
Λεπτομέρειες άρθρου
Πώς να δημιουργήσετε Αναφορές

Αϊβαζίδης (Dimitris Aivazidis) Δ. Ι., Βενετσάνου (Venetsanou Fotini) Φ., Αγγελούσης (Aggelousis Nikolaos) Ν., & Καμπάς (Kampas Antonis) Α. (2020). Το πρόγραμμα «ΠΕΡΠΑΤΑ»: Φυσική Δραστηριότητα στους Δημοτικούς Παιδικούς Σταθμούς. Ερευνώντας τον κόσμο του παιδιού, 16, 6–17. https://doi.org/10.12681/icw.18404
Ενότητα
Επιστημονική αρθρογραφία & εκπαιδευτικές δράσεις
Οι Συγγραφείς που δημοσιεύουν εργασίες τους σε αυτό το περιοδικό συμφωνούν στους παρακάτω όρους:
Οι Συγγραφείς διατηρούν τα Πνευματικά Δικαιώματα και χορηγούν στο περιοδικό το δικαίωμα της πρώτης δημοσίευσης ενώ ταυτόχρονα τα πνευματικά δικαιώματα της εργασίας προστατεύονται σύμφωνα με την Creative Commons Attribution License που επιτρέπει σε τρίτους - αποδέκτες της άδειας να χρησιμοποιούν την εργασία όπως θέλουν με την προϋπόθεση της διατήρησης των διατυπώσεων που προβλέπονται στην άδεια σχετικά με την αναφορά στον αρχικό δημιουργό και την αρχική δημοσίευση σε αυτό το περιοδικό.
Οι Συγγραφείς μπορούν να συνάπτουν ξεχωριστές, και πρόσθετες συμβάσεις και συμφωνίες για την μη αποκλειστική διανομή της εργασίας όπως δημοσιεύτηκε στο περιοδικό αυτό (π.χ. κατάθεση σε ένα ακαδημαϊκό καταθετήριο ή δημοσίευση σε ένα βιβλίο), με την προϋπόθεση της αναγνώρισης και την αναφοράς της πρώτης δημοσίευσης σε αυτό το περιοδικό.
Το περιοδικό επιτρέπει και ενθαρρύνει τους Συγγραφείς να καταθέτουν τις εργασίες τους μέσω διαδικτύου (π.χ. σε ένα ακαδημαϊκό καταθετήριο ή στους προσωπικές τους ιστοσελίδες) πριν και μετά από τις διαδικασίες της δημοσίευσης, καθώς αυτό μπορεί να οδηγήσει σε παραγωγική ανταλλαγή ιδεών και σκέψεων καθώς επίσης και σε γρηγορότερη και μεγαλύτερη χρήση και ευρετηρίαση της δημοσιευμένης εργασίας (See The Effect of Open Access).
Λήψεις
Τα δεδομένα λήψης δεν είναι ακόμη διαθέσιμα.